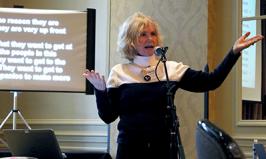 AccessComputing is proud to highlight two new resources for accessible presentations. DO-IT Director Sheryl Burgstahler created a brochure titled Tips for Delivering an Accessible Presentation. Recently, AccessComputing PI Richard Ladner and AccessComputing Partner Kyle Rector also released Making Your Presentation Accessible. Both articles provide insights into creating dynamic, effective and accessible conference presentations.
Burgstahler's brochure advises that to be effective, a presentation should be accessible to all types of people who may be in your audience. It is necessary to make these presentations accessible to assure that everyone in the audience acquires the same information as someone who does not have a disability. An accessible presentation can be accomplished by following the sixteen guidelines to develop and deliver a properly effective presentation. By following these guidelines to an accessible presentation for people with disabilities, presentations will be more useful to everyone.
In Ladner and Rector's article, their main suggestion is to center demonstrations around the presenter rather than the supplemental presentation materials. The article specifically targets presenters at large-scale events and conferences who much reach large audiences. Their advice includes minimizing the amount of text on slides and providing full descriptions of charts, graphs, figures and pictures to ensure blind and low-vision audience members can participate.
Check out Making Your Presentation Accessible and Tips for Delivering an Accessible Presentation to more meaningfully engage your audience!