University Of Washington
Featured Story Slideshow
Curating the future
At the Jacob Lawrence Gallery, curatorial interns get hands-on preparation for careers in the art world — and roles in the community.
Clearing the air
Move over, air purifiers — civil and environmental engineers at the UW have modified a common houseplant to remove hazardous compounds from the air around it.
No needles required
Dr. Sheena Hembrador, Res. '17, combined UW Medicine and College of Engineering expertise to design a tiny device that can help find a patient's artery without the help of needles.
Reaching across generations
Building on a lifetime of connections with older adults, Melissa Krook, '18, left a thriving fashion career to conduct research in geropsychology at the UW.
News & Events
Cherry Blossom Watch
Historic snowstorms not expected to slow down cherry blossoms
The Seattle area just endured record-setting snow and a string of unusual below-freezing temperatures, but Mother Nature will deliver on one important promise: The cherry blossoms are coming.
Honors and Awards
UW is a top producer of Fulbright recipients
Fifteen graduate and undergraduate students from the University were awarded Fulbright grants for 2018-2019 — among the leading research schools in the country and more than any other institution in the state.
Diversity
Introducing Equity Focus
Advancing the values of diversity, equity and inclusion is core to our mission at the University of Washington. Explore stories, news and events that highlight the great work happening across the UW.
Fast Facts
Did you know?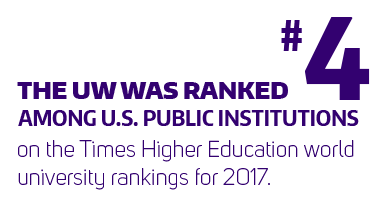 #UWdiscovers