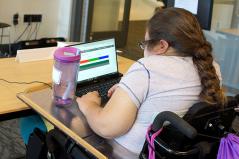 As the National Science Foundation promotes a greater focus on broadening participation to Computer and Information Science and Engineering (CISE) projects, AccessComputing has created a resource that helps grant writers proactively include accessibility in their current and future projects.
AccessComputing staff have compiled a website that provides advice on including people with disabilities and universal design in outreach opportunities, internships, hiring, curriculum and instruction, and digital resources, as well as offers a variety of useful videos, publications, and other resources. These resources can give grant grant writers and administrators a place to start in making sure all of their programs are accessible. 
Learn more about how to get started in addressing disability-related issues in a grant proposal and funded project on the Getting Started in Addressing Disability-Related Issues in a Grant Proposal and Funded Project webpage.