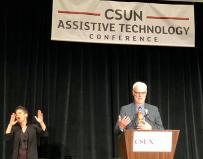 AccessComputing and AccessCSforAll PI Richard Ladner was recently honored with the Strache Leadership Award for his work in accessibility education and research. He got his award from the Center on Disabilities at California State University, Northridge (CSUN), which hosts the CSUN Assistive Technology Conference each year--the largest international conference to focus on assistive technology.
Ladner has been a leading researcher in the field of accessibility for over thirty years, and his work--both through our programs, AccessComputing and AccessCSforAll, and in his teaching and research at the University of Washington--has increased access for people with disabilities to technology and computing careers.
Learn more about his award and his background from the Allen School Newsletter. Congrats, Richard!