Registration Transactions
The Registration Transaction Inquiry screen displays all transactions that affect a student's registration, including adds, drops, withdrawals, and restriction overrides. When you specify the student number, you will see all registration transactions for that student for the current quarter in the order of transaction date/time.
The screen will display the Schedule Line Number affected, the action taken and the User ID that made the change. If the student made the change using the telephone registration system, STAR will be shown in the User ID field.
To display the Registration Transactions Inquiry:
[Home]
"SRF120"
[Send]
A blank screen appears, as shown below: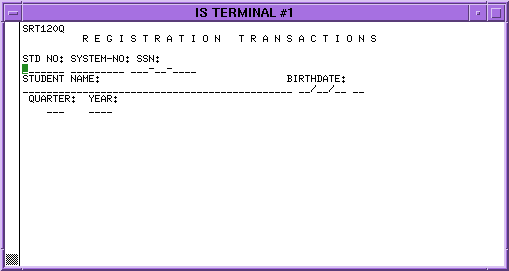 To retrieve registration information for a student:
"student number"
[Send]
The registration activity will appear on the screen for the current quarter.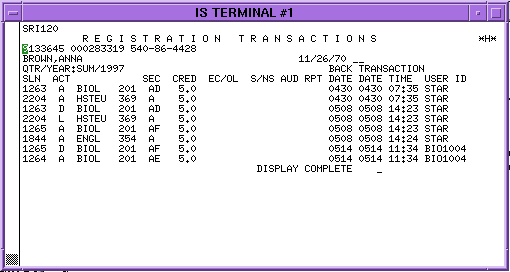 If you wish to display transactions for a different quarter:
[Tab] to the QTR/YR field
"quarter and year"
[Send]
A description of the screen's fields follows:
SLN:

Schedule Line Number. If an alphabetic character follows the SLN, it indicates that this was a duplicate course.

ACT:

Action Taken.

A Add
D Drop
C Change
W University Withdrawal (after 1st day)
L University Withdrawal (before 1st day)


SEC:

The section of the course.

CRED:

The number of credits for the course.

EC/OL:

Entry Code/Overload.

X Restriction overridden or Sections accepted authorization to allow registration
T Time conflict overridden by Sections

P Peremptory drop used

H Hardship drop used

S/NS:

Satisfactory/Not Satisfactory grading selected.

AUD:

Student elected to audit the course.

RPT:

Student is repeating the course.

For S/NS, AUD, and RPT:
X Selected
@ Removed

BACK DATE:

Effective date of the transaction (MMDD). Sections can date transactions retroactively for billing or transcript posting reasons.

TRANSACTION DATE/TIME:

The actual date and time of the transaction in a 24-hour clock format. All transactions on the screen are displayed in date/time order.

USER ID:

Identifies who entered the transaction.

STAR

Student using STAR telephone registration system.

SECnnnn
SPSnnnn
RGSnnnn
AUDnnnn

Common User IDs used by the Registrar's Office.

Other User IDs in the field identify departmental advisors with access to the Departmental Registration Screen (SRF104).
Other Topics in this Guide: