Office of Minority Affairs & Diversity
Articles
---
December 11, 2019
At their monthly meeting in November, the Friends of EOP Board took time to prepare special care packages in time for finals for students affiliated with OMA&D's Champions Program.
---
November 14, 2019
OMA&D hosted a "Friday Night Lights" version of its annual UW Football viewing party, bringing alumni and friends together to cheer on the Huskies to a Pac-12 victory over the Oregon State Beavers, Nov. 8.
---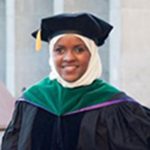 Dr. Anisa Ibrahim's inspirational journey to become the director of Harborview Medical Center's Pediatrics Clinic in Seattle was recently featured by CNN.
---
November 8, 2019
Kristian Wiles, executive director of OMA&D Retention and Academic Support Programs, just concluded his one-year term as COE Board of Directors chair, the same organization leading Nov. 8's First-Gen College Celebration.
---
November 5, 2019
Billy (Bill) Hilliard, who helped build the foundation for the UW Office of Minority Affairs & Diversity as one of its first leaders, passed away on Oct. 2, 2019, at the age of 78.
---
October 31, 2019
The Bothell, Seattle and Tacoma campuses will join universities across the country in elevating the success and presence of our first-gen community members.
---
October 8, 2019
During the first week of August, 56 rising seventh and eighth grade students from South King County spent a few days living in the residence halls on the UW campus and learning about engineering and mathematics.
---
September 23, 2019
Seattle music heritage night at the University of Washington football game on Sept. 7, had an extra special meaning for the Office of Minority Affairs & Diversity (OMA&D) and the Instructional Center (IC).
---
August 20, 2019
Jaime Soto, '10, was named the new director for the UW Office of Minority Affairs & Diversity's Multicultural Outreach & Recruitment (M.O.R.) team, effective July 11.
---
July 18, 2019
Prominent contemporary artist and UW Professor Emeritus Marvin Oliver passed away on July 17, at the age of 73. Over his 40-year career, Oliver became one of the Northwest's most renowned sculptors and printmakers.
---
Next page