Diversity at the UW
Advancing the values of diversity, equity and inclusion is core to our mission at the University of Washington. Equity Focus amplifies a sampling of the stories, news and events that highlight this great work happening across our tri-campus community.
Feature Stories
From radical youth to senior statesman, Larry Gossett is an activist for us all. The 2021 Alumnus Summa Laude Dignatus award recognizes his lifetime of service.
The Nehemiah Studio, a UW class on mitigating gentrification in Seattle's Central District designed by Rachel Berney, Donald King and Al Levine with support from College of Built Environments Dean Renée Cheng, has been honored by the Lincoln Institute of Land Policy.
Read highlights about the work of the SPH EDI team and School-wide anti-racism efforts. For example, one of the first steps they have taken on their larger EDI roadmap includes implementing a series of School-wide anti-racism trainings.
the University of Washington is announcing the creation of a new fund to support first-generation, low income and underserved students at the UW who are studying health care.
Three University of Washington juniors have been selected for the prestigious Truman Scholarship, the first time since the program began in 1977 that three UW students were chosen in a single year.
To address the pandemic's impact on Latino communities, researchers from the University of Washington sought to understand the effects of COVID-19 on Latino immigrant households in King County.
No content inside the accordion element. Make sure your close your accordion element. Required stucture: [accordion][section]content[/section][/accordion]
More stories
No content for this tile. Make sure you wrap your content like this:
No content inside the box element. Make sure your close your box element. Required stucture: [box][tile]content[/tile][/box]
As hate against Asian, Asian-American and Pacific Islanders is again on the rise, and in the wake of the recent murders of eight women in the Atlanta area, Dean Reneé Cheng reflects on her and her Mother's experience as Chinese-American women in America, and her role as a University leader.
University of Washington undergraduates are part of a nationwide organization collecting used video-enabled devices and donating them to medical facilities for low-income and senior patients.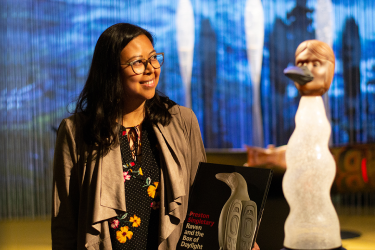 Miranda Belarde-Lewis probably was always destined to study art. On her father's side, she is Zuni Pueblo, a tribe in the Southwest U.S. with a rich aesthetic tradition and love of adornment.
Megan Ming Francis, University of Washington associate professor of political science, has been named one of 12 grant-supported "Freedom Scholars" in a new $3 million initiative by the Marguerite Casey Foundation and Group Health Foundation, working together.
New book released by UW Professor Celia Aragon, "Flying Free", highlights the joys and challenges of her journey as a competitive pilot.
Upcoming book by Daudi Abe explores Seattle's hip hop timeline and the people, places and performances that transformed the city.
The University of Washington announced a $6 million anonymous gift earmarked to bolster diversity in the education workforce, a key driver in ultimate K-12 student success, especially for students of color.
Students finding new approaches to communicating across difference with intergenerational community of learners. Faculty collaboration with local organization dedicated Black art, history and culture.
The Center for Communication, Difference and Equity develops new ways to learn from often-unheard voices around issues of race and injustice: Radical Listening.
UW professor and alumni work with a set of local governments around the country to understand considerations of equity into the design and implementation of their COVID-19 small businesses programs.
From classrooms to clubs to diversity committees, UW students are creating a more inclusive graduate school experience
Campus Executive Chef Tracey MacRae and UW Dining staff are offering a month's worth of African-originated cuisine.
Be The Match is highlighting and raising awareness for Sickle Cell Disease that has debilitated the Black and African American community for generations.
This year's lecture will be held in conjunction with the fifth anniversary of the wǝɫǝbʔaltxʷ – Intellectual House, March 12.
Safiya Bansfield seeks to cultivate a community of Black students on campus through her leadership role.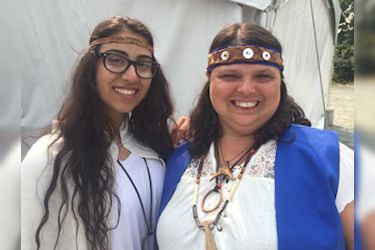 As a first-generation student, a Native American experiencing homelessness and a single mother, Maizy Brown, '11, found a home at UW Bothell.
An owner of three Bronze stars, the Hon. Ronald E. Cox is UWAA's 2019 Distinguished Alumni Veteran Award recipient.
Mama Amaan is a partnership between the Somali Health Board of Tukwila and the UW, supported by a grant from the UW Population Health Initiative.
READ MORE IN THE ARCHIVES
[/section]
[/accordion]
CONTACT
Leilani Lewis, associate director for Diversity Communications & Outreach, lanil@uw.edu
Story pitches or ideas may also be submitted through this form.