Diversity at the UW
Advancing the values of diversity, equity and inclusion is core to our mission at the University of Washington. Equity Focus amplifies a sampling of the stories, news and events that highlight this great work happening across our tri-campus community.
Feature Stories
University of Washington undergraduates are part of a nationwide organization collecting used video-enabled devices and donating them to medical facilities for low-income and senior patients.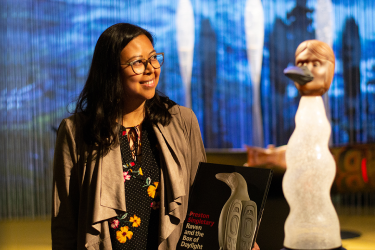 Miranda Belarde-Lewis probably was always destined to study art. On her father's side, she is Zuni Pueblo, a tribe in the Southwest U.S. with a rich aesthetic tradition and love of adornment.
Megan Ming Francis, University of Washington associate professor of political science, has been named one of 12 grant-supported "Freedom Scholars" in a new $3 million initiative by the Marguerite Casey Foundation and Group Health Foundation, working together.
New book released by UW Professor Celia Aragon, "Flying Free", highlights the joys and challenges of her journey as a competitive pilot.
Upcoming book by Daudi Abe explores Seattle's hip hop timeline and the people, places and performances that transformed the city.
The University of Washington announced a $6 million anonymous gift earmarked to bolster diversity in the education workforce, a key driver in ultimate K-12 student success, especially for students of color.
CONTACT
Leilani Lewis, associate director for Diversity Communications & Outreach, lanil@uw.edu
Story pitches or ideas may also be submitted through this form.