Office of Minority Affairs & Diversity
July 30, 2018
Dorsey Named President & CEO of College Success Foundation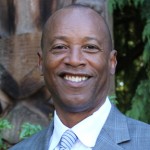 After serving as executive director of the Office of Minority Affairs & Diversity's Washington MESA program for 10 years, James Dorsey has been named president and CEO of the College Success Foundation, the organization announced July 25.
Dorsey, who had also been serving as the president of MESA USA, has 35 years of experience in education reform and leading national, statewide and campus-based programs with a focus on promoting historically underrepresented communities into STEM fields.
Washington MESA builds pathways to college and careers in science, technology, engineering and mathematics (STEM) for K-community college students from backgrounds traditionally underrepresented in STEM fields (African Americans, American Indian/Alaska Natives, Latino/as, Pacific Islanders and women).
The College Success Foundation (CSF) provides a unique integrated system of supports and scholarships to inspire underserved, low-income students to finish high school, graduate from college and succeed in life. CSF is a 501(c)3 nonprofit headquartered in Bellevue, Washington with offices in Seattle, Tacoma and Spokane. The organization serves students in Washington state, Washington, D.C. and colleges in every state of the nation.
Read the full release on the CSF web site.