UW TODAY
Thursday, October 8, 2020
Miranda Belarde-Lewis probably was always destined to study art. On her father's side, she is Zuni Pueblo, a tribe in the Southwest U.S. with a rich aesthetic tradition and love of adornment.
"If there's something that we could paint on, we're gonna paint it," said the University of Washington Information School assistant professor. "We're gonna make it beautiful."
On her mother's side, Belarde-Lewis is Takdeintaan Clan from the Tlingit tribe, one of the Native groups in Alaska who cherish stories of the trickster Raven figure: "There's this phrase that Ravens like shiny things. So, either way …"
There's a less happy reason why Belarde-Lewis studies Native American art, a reason that dates back nearly a half a millennium.
"I'm so invested in Native art because it's something that has survived 500 years of intense colonization," Belarde-Lewis said. "It represents activities and ceremonies that were directly outlawed and banned and targeted for eradication through various federal policies."
For many years, the only safe way for American Indians to express their culture was through artwork, commodities often sold to tourists, she said. Belarde-Lewis has studied Native art, first in her work at museums and now in her academic career at the UW.
To further her study, Belarde-Lewis was recently named the inaugural recipient of the Joseph and Jill McKinstry Endowed Faculty Fellowship in Native North American Indigenous Knowledge, the first endowment for the iSchool in this area of study.
The award comes with funding that Belarde-Lewis can use with a great deal of discretion to apply for federal grants, bring speakers to the campus and the community, and aid in other ways with her research.
Associate Professor Emerita Cheryl A. Metoyer, director of the iSchool's Native North American Indigenous Knowledge research initiative, is ecstatic for her former student and current iSchool colleague. "I'm doing my happy dance," Metoyer said. "I absolutely could not be more pleased."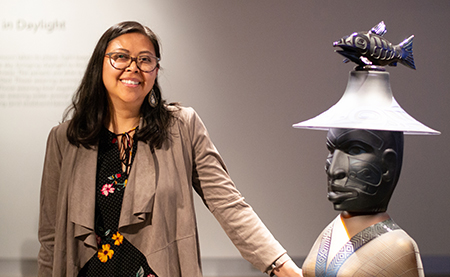 The fellowship is a bright spot, but another achievement for Belarde-Lewis is on hold at least for now. Belarde-Lewis curated a Tlingit glass art exhibit called "Preston Singletary: Raven and the Box of Daylight" created by glass artist Preston Singletary. It features the Tlingit story of how Raven transformed the world.
The exhibit was headed to the Smithsonian's National Museum of the American Indian this fall, but the opening has been pushed back due to COVID-19 until at least spring 2021.
Metoyer takes in pride in Belarde-Lewis, recalling fondly watching her former student demonstrate her teaching method to a class when applying for a full-time iSchool position.
"She was able explain not only the process of creating the pottery and all of the layers of symbolism that you see there, but also talk about the information that's part of the creation process from the start to the finish," Metoyer said.
The general public often is ignorant of Indigenous issues, Belarde-Lewis said. One of the ways to reclaim the narrative for Native Americans is through art.
"Native art is information," Belarde-Lewis said. "It's knowledge, and how that can be expressed on our own terms is just incredibly inspiring and empowering."
Pictured at top: Miranda Belarde-Lewis gazes at a glass sculpture by artist Preston Singletary at the Tacoma Museum of Glass during a 2019 exhibit. (Photos by Doug Parry)