UW News
For UW employees
---
February 24, 2016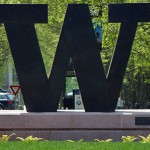 UW employees are invited to attend an open forum March 2 to learn more about the university's plans to create an HR/Payroll Integrated Service Center.
---
February 18, 2016
David Levy of the UW Information School discusses his new book, "Mindful Tech: How to Bring Balance to our Digital Lives," published in January by Yale University Press.
---
February 9, 2016
If you are a University of Washington supervisor, you have probably participated in the Strategic Leadership Program — a customized training program enhancing communication and managerial skill. Developed and taught by University of Washington Professional & Organizational Development, the program has graduated over 4000 supervisors since it launched almost 16 years ago. On Feb. 4,…
---
February 1, 2016
A UW dance faculty member will walk down the side of Meany Hall on Friday, Feb. 5, performing a dance piece titled "Man Walking Down the Side of a Building" by famed choreographer Trisha Brown, a retrospective of whose work is being performed Feb. 4-6 on the Meany stage.
---
January 15, 2016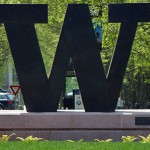 The University of Washington Combined Fund Drive, the workplace giving campaign, raised a record $2,204,089 during the fall campaign. UW faculty, staff and retirees pledged to more than 1,800 nonprofits during the drive which ran Oct. 22 to Dec. 4, 2015. Each year, the UWCFD selects a featured charity, and the selection this year went to…
---
December 15, 2015
University of Washington working parents and caregivers balancing responsibilities at work and home will soon have more choices. To offset the waitlists parents experience at UW's four child care centers, new full-time care options will be available in January at designated Bright Horizons and KinderCare centers. Enrollment priority will be offered by both centers and…
---
November 20, 2015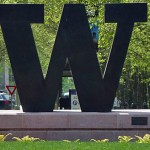 Faculty and staff have until Dec. 4 to contribute to this year's UW Combined Fund Drive, the UW's workplace giving campaign. Donors can pledge a one-time donation or give all year through payroll deduction to support local programs and global nonprofits. There are more than 5,000 vetted organizations to choose from, and donations are tax…
---
November 13, 2015
The University of Washington held its first ever Innovation Summit today in Shanghai, China. The event brought together industry leaders from China and the United States, who discussed how they are turning ideas into impact, connecting academia to industry and helping solve the world's most pressing problems.
---
November 12, 2015
At its regular meeting today, the University of Washington Board of Regents approved a five-year contract for president Ana Mari Cauce.
---
Pacific Lutheran University and the University of Washington announced today PLU's intent to sell its broadcasting rights and facilities associated with KPLU to KUOW.
---
October 29, 2015
Alexia Whitaker, who had previously served as a program manager in the Office of Affirmative Action at Arkansas State University, has joined the University of Washington as its affirmative action officer.
---
October 26, 2015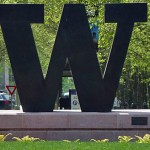 Celebrate the remarkable accomplishments of a colleague or team with a nomination for the Distinguished Staff Award, the University of Washington's highest staff honor, and celebrate outstanding leadership with a nomination for the David B. Thorud Award. Recipients of the Distinguished Staff Award are those who achieve excellence and exude a passionate commitment to the…
---
October 20, 2015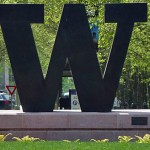 The UW Combined Fund Drive begins its fall campaign with a Charity Fair & Silent Auction on Thursday, Oct. 22, in the HUB ballroom from 11 a.m. to 1:30 p.m. Representatives from more than 80 nonprofits will be on hand ready to describe their community work. The UWCFD, UW's workplace giving campaign, raised more than $2…
---
October 12, 2015
Continuing a recent string of noteworthy accolades, the University of Washington held its place at No. 5 in the world on the National Taiwan University Ranking of Scientific Papers, which was released Friday. The ranking is based on performance of scientific papers in three major categories — research productivity, research impact and research excellence. "One…
---
October 8, 2015
The University of Washington is shifting $3 million to expand child care facilities on campus as part of a major initiative to enhance the culture of service in UW's central administration, interim Provost Jerry Baldasty announced this week. The need for child care was one of several needs brought to light over the summer in…
---
October 6, 2015
Meeting schedule 5:30 to 7:30 p.m. Wednesday, Oct. 14 at the University Temple Church, 1415 NE 43rd St. Noon to 2 p.m. Thursday, Oct. 15 at the Husky Union Building, Room 340, on the UW campus. For more information, check the Campus Master Plan FAQ The University of Washington is inviting students, staff, faculty and…
---
September 28, 2015
A diverse coalition of public and private colleges and universities including the University of Washington is coming together with the goal of improving the college admission application process for all students.  The Coalition is developing a free platform of online tools to streamline the experience of planning for and applying to college. The initial iteration…
---
The University of Washington announced today that, consistent with its earlier commitment to Seattle's minimum wage law, it intends to raise the minimum wage of its workers — including student workers in Seattle — to $15 an hour. Subject to the successful conclusion of on-going negotiations with its unions, the increase will take effect in…
---
September 23, 2015
Chinese President Xi Jinping presented the gift of a dawn redwood tree to the Global Innovation Exchange (GIX), a new partnership between the University of Washington and Tsinghua University, during a ceremony at Microsoft headquarters Wednesday.
---
September 16, 2015
The University of Washington is the most innovative public university in the world, according to a new ranking by Reuters released Wednesday. The UW is ranked fourth overall, behind only Stanford, MIT and Harvard. "Innovation and turning ideas into action are at the center of everything we do," UW Interim President Ana Mari Cauce said….
---
August 24, 2015
For the second consecutive year, the University of Washington held the No. 7 spot in the nation in Washington Monthly's annual College Guide, which rates universities on students' social mobility, civic engagement and research. Washington Monthly also rates colleges that are doing the best job of helping lower-income students attain marketable degrees at affordable prices,…
---
August 17, 2015
The University of Washington remained No. 15 on the 2015 Academic Ranking of World Universities, conducted by researchers at the Center for World-Class Universities of Shanghai Jiao Tong University, which was released Monday. The UW again ranked 13th among U.S. universities and fourth among public institutions worldwide. The ranking considers several indicators of academic or research…
---
July 22, 2015
In recognition of their outstanding records of scientific achievement, 12 University of Washington professors will be inducted this fall into the Washington State Academy of Sciences. The professors will be honored for their "willingness to work on behalf of the academy" to bring top-quality scientific methods to research issues pertaining to Washington state. The induction ceremony will be…
---
July 20, 2015
The University of Washington has been recognized as a "Great College to Work For" by the Chronicle of Higher Education in its 2015 survey.
---
July 16, 2015
University of Washington Facilities Services, Puget Sound Energy, McKinstry and the Washington State Department of Commerce celebrated the completion of a $2.3 million energy conservation project Wednesday that will improve teaching and research laboratories within the iconic Physics/Astronomy Building. The capital retrofit project has drastically reduced ventilation system waste by installing high-tech controls, drives and…
---
June 30, 2015
"On behalf of University of Washington students, faculty, staff and alumni, I want to express my thanks and appreciation to our elected officials for making investments in higher education a true budget priority during the 2015 legislative session…"
---
June 18, 2015
In pursuit of solutions to some of the biggest global challenges, two of the world's leading research universities, the University of Washington and Tsinghua University, are partnering to create the Global Innovation Exchange (GIX), an institute dedicated to educating the next generation of innovators. With $40 million in foundational support from Microsoft, GIX will bring…
---
June 15, 2015
The University of Washington has received notice from the United States Department of Education Office for Civil Rights (OCR) that a complaint has been filed by a student alleging discrimination under Title IX of the Education Amendments of 1972 for failing to provide the student with a prompt and equitable grievance process after the student…
---
June 11, 2015
The University of Washington recognized and honored faculty, staff, students and distinguished alumni for the amazing work they do for the UW, for our local communities, for the citizens of Washington, and for our world. The Awards of Excellence were presented at Meany Hall on June 11, 2015. The following is based on remarks made…
---
A record 5,600-plus graduates, along with more than 40,000 family members, friends, faculty and other observers, are expected to attend the 140th University of Washington commencement ceremonies June 13 at Husky Stadium.
---
June 10, 2015
Juan Felipe Herrera, visiting professor of ethnic studies at the University of Washington, was named the 21st United States Poet Laureate on Wednesday. Herrera, who for the past two years has been the California Poet Laureate, is the first Latino honored since the U.S. Consultant in Poetry program began in 1937 (the title changed to…
---
June 1, 2015
Drumheller Fountain, one of the University of Washington's campus icons, reopened Monday, one week ahead of schedule after having been closed by Facilities Services crews April 27 for its biannual cleaning and maintenance. "Drumheller Fountain is the centerpiece of our campus," maintenance supervisor Dale Baxmann said. "We need to be good stewards of our campus landmarks; responsible…
---
May 19, 2015
Christine Gregoire, who served as Washington's 22nd governor from 2005 to 2013, will be the featured speaker at the University of Washington's Commencement exercises June 13. Gregoire, a 1969 graduate of the UW, was named director of the Washington Department of Ecology in 1988. Four years later, she became the first woman elected to the position of attorney…
---
May 14, 2015
The University of Washington Board of Regents on Thursday voted to prohibit direct investment of endowment funds in publicly traded companies whose principal business is the mining of coal for use in energy generation. The Board also reaffirmed the importance of the University's wide-ranging sustainability efforts. The vote is the culmination of a process that…
---
The University of Washington Board of Regents took another critical step in selecting its next president Thursday by naming the members of its Presidential Search Advisory Committee and selecting a national search firm to assist in the process. Kenyon Chan, chancellor emeritus and professor at UW Bothell, will chair the committee comprising 27 additional members,…
---
The Daniel J. Evans School of Public Affairs at the University of Washington has a new name following approval by the university's Board of Regents during a meeting Thursday. Effective July 1, the university's largest graduate degree program will be known as the Daniel J. Evans School of Public Policy and Governance. "The Regents' action…
---
April 30, 2015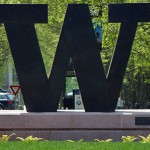 The University of Washington Board of Regents began the process of selecting its next president, and board Chairman Bill Ayer is inviting students, faculty, staff and the public to a series of open forums about what they are looking for in the next leader of the university.
---
April 10, 2015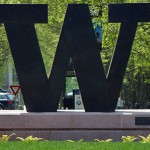 The University of Washington announced today it is increasing the minimum pay for its student workers to $11 an hour, effective April 1, 2015, consistent with its announcement March 31 that it was moving 70 non-student staff earning below $11 to the new level. Approximately 2,600 student workers are affected. On March 31, the University…
---
April 2, 2015
Sally J. Clark, who has served on the Seattle City Council since February 2006, has been appointed director of regional and community relations at the University of Washington, effective May 18, 2015. "I am thrilled to welcome Sally to the University," said Randy Hodgins, UW vice president for external affairs. "She brings a wealth of…
---
March 31, 2015
The following statement is from University of Washington Interim President Ana Mari Cauce: "While I am very pleased to see that the Senate budget not only provides most of the state funding needed to pay for its tuition reduction bill, and makes additional investments for the next biennium, there are some troubling aspects to the…
---
Previous page
Next page