UW News
News releases
---
May 14, 2021
The University of Washington today announced that the School of Social Work and Department of Psychiatry and Behavioral Sciences, and the Behavioral Health Institute at Harborview Medical Center are part of a transformational $38 million set of gifts from Ballmer Group to support a broad, collaborative response to the state's behavioral health crisis. The gifts aim to address the state of Washington's serious workforce shortage in the community behavioral health system, in large part by supporting statewide education and training innovations at partner institutions developed through the University of Washington.
---
May 10, 2021
Sally Jewell, U.S. Secretary of the Interior under President Barack Obama and former CEO of REI, has been appointed as the Edward V. Fritzky Endowed Chair in Leadership at the UW Foster School of Business for the 2021-2022 school year. Established in 2002, this prestigious faculty position is designed to bring distinguished leaders to campus to share their expertise with faculty and students.
---
May 3, 2021
The U.S. Geological Survey, the University of Washington-based Pacific Northwest Seismic Network, and state emergency managers on Tuesday, May 4, will activate the system that sends earthquake early warnings throughout Washington state. This completes the rollout of ShakeAlert, an automated system that gives people living in Washington, Oregon and California advance warning of incoming earthquakes.
---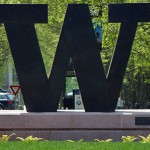 The University of Washington on Monday announced it will require all students on all three of its campuses to be vaccinated against COVID-19 before the start of the autumn quarter. The announcement comes with six weeks remaining in the spring quarter to provide time for students who are in the area to get vaccinated before summer.
---
April 29, 2021
Five faculty members and one affiliate professor at the University of Washington are among 120 new members and 30 international members elected to the National Academy of Sciences: Anna Karlin, professor of computer science and engineering; Rachel Klevit, professor of biochemistry; Randall LeVeque, professor emeritus of applied mathematics; Julie Theriot, professor of biology; Rachel Wong, professor of biological structure; and Julie Overbaugh, professor at the Fred Hutchinson Cancer Research Center and a UW affiliate professor of microbiology.
---
April 28, 2021
The University of Washington's Spokane Center will soon serve the community and its constituents from new offices in Spokane's historic Spokane Inland Empire Railroad (SIERR) Building, located in the heart of Spokane's growing University District. The UW Spokane Center will relocate May 1, 2021, to new offices at 850 E. Spokane Falls Blvd. from its office at 201 West Main, where it has been housed since 2015.
---
Leveraging the tectonic laboratory of the Cascadia subduction zone, the University of Washington today announced a new effort to best understand how to study and live with the threats of earthquakes, tsunamis, volcanos, landslides and other seismic hazards. Dubbed the GeoHazards Initiative, the interdisciplinary work aims to develop and promote the adoption of early detection systems both on land and at sea to help prevent the loss of human life and property.
---
April 26, 2021
Four University of Washington faculty members have been inducted into the American Academy of Arts & Sciences.
---
April 21, 2021
Using satellite photos of three cities and drawing upon methods used to manipulate video and audio files, a team of researchers led by the University of Washington set out to identify new ways of detecting fake satellite photos and warn of the dangers of falsified geospatial data.
---
April 20, 2021
The federal government, in its response to the COVID-19 pandemic, could learn from how the nation responded to Hurricane Katrina, 9/11 and the H1N1 swine flu, a new University of Washington study found.
---
A new study led by UW researchers borrowed image-analysis methods from engineering to spot the minute movements of a stony coral.
---
April 19, 2021
UW researchers worked with almost 260 people to understand online disagreements and to develop potential design interventions that could make these discussions more productive and centered around relationship-building.
---
April 14, 2021
Three University of Washington juniors have been selected for the prestigious Truman Scholarship, the first time since the program began in 1977 that three UW students were chosen in a single year. Two recipients, Andre Jimenez and Chanise Jackson attend UW Tacoma, and Naomi See attends the UW campus in Seattle.
---
April 8, 2021
Since 1964, the University of Washington Haring Center for Inclusive Education has provided innovative special education and early learning, improving the lives of children and youth with neurodevelopmental disorders and other disabilities.
---
April 7, 2021
With a lethal, airborne virus spreading fast, hospitals had to change how they treated patients and policies for how caregivers provided that treatment. But for maternity patients and nurses some of those changes had negative outcomes, according to a new University of Washington study. "We found that visitor restrictions and separation policies were harming families…
---
The first results from the Muon g-2 experiment hosted at Fermi National Accelerator Laboratory show fundamental particles called muons behaving in a way not predicted by the Standard Model of particle physics. These results confirm an earlier experiment of the same name performed at Brookhaven National Laboratory. Combined, the two results show strong evidence that our best theoretical model of the subatomic world is incomplete. One potential explanation would be the existence of undiscovered particles or forces.
---
April 1, 2021
Fewer than half of inmates in jails and prisons surveyed in a study by the CDC and University of Washington said they would accept a COVID-19 vaccine, while the majority either said they wanted to wait before getting the vaccine or would refuse one. "This is a population already at risk for COVID-19, and outbreaks…
---
A UW-led team has developed a method that uses the camera on a person's smartphone or computer to take their pulse and breathing rate from a real-time video of their face.
---
March 29, 2021
The University of Washington's graduate and professional degree programs were widely recognized as among the best in the nation, according to U.S. News & World Report's 2022 Best Graduate School rankings released March 30.
---
March 22, 2021
Lightning strikes in the Arctic tripled from 2010 to 2020, a finding University of Washington researchers attribute to rising temperatures due to human-caused climate change. The results, researchers say, suggest Arctic residents in northern Russia, Canada, Europe and Alaska need to prepare for the danger of more frequent lightning strikes.
---
March 19, 2021
A year ago, seemingly overnight, streets emptied, shops boarded up, grocery shelves were cleared, schools closed and the University of Washington led universities nationwide in moving all instruction online. Nearly all of us disappeared inside, stunned and staring out at a world suddenly paralyzed by something we'd only seen in movies or read about in books:…
---
March 18, 2021
Thanks to 20 years of observations from thousands of citizen scientists, University of Washington researchers have discovered distinct patterns in the mass strandings of by-the-wind sailor jellies. Specifically, large strandings happened simultaneously from the northwest tip of Washington south to the Mendocino coast in California, and in years when winters were warmer than usual.
---
March 11, 2021
Amid a growing mental health crisis among teens and young adults nationwide, a pilot program teaching mindfulness and coping techniques to students at the University of Washington has helped lower stress and improve emotional well-being.
---
March 10, 2021
A new University of Washington study finds that an identification with all humanity, as opposed to identification with a geographic area like a country or town, predicts whether someone will engage in "prosocial" behaviors particular to the pandemic, such as donating extra masks or coming to the aid of a sick person.
---
Computer engineers at the world's largest companies and universities are using machines to scan through tomes of written material. The goal? Teach these machines the gift of language. Do that, some even claim, and computers will be able to mimic the human brain.
---
March 9, 2021
UW researchers have developed a new skill for a smart speaker that for the first time monitors both regular and irregular heartbeats without physical contact.
---
March 8, 2021
The University of Washington once again is asking people to enjoy the iconic campus cherry blossoms virtually this year to promote physical distancing and safety during the ongoing COVID-19 pandemic.
---
March 4, 2021
With the help of about 200 human puzzle-takers, a computer model and functional MRI images, University of Washington researchers have learned more about the processes of reasoning and decision making, pinpointing the brain pathway that springs into action when problem-solving goes south.
---
February 25, 2021
Writing in the New England Journal of Medicine that they "do not believe that ignoring race will reduce health disparities" but rather that "such an approach is a form of naive 'color blindness' that is more likely to perpetuate and potentially exacerbate disparities," five Black geneticists set out to explain the pitfalls of leaving race…
---
February 24, 2021
The Arctic Ocean's Beaufort Sea has increased its freshwater content by 40% over the past two decades. When conditions change this freshwater will travel to the Labrador Sea off Canada, rather than through the wider marine passageways that connect to seas in Northern Europe. This has implications for local marine environments and global ocean circulation.
---
A new study published Feb. 24 in the journal Royal Society Open Science documents the earliest-known fossil evidence of primates. These creatures lived less than 150,000 years after the Cretaceous-Paleogene mass extinction event that killed off non-avian dinosaurs and saw the rise of mammals.
---
February 23, 2021
To understand how Puget Sound has changed, we first must understand how it used to be. But unlike most major estuaries in the U.S., long-term monitoring of Puget Sound fish populations did not exist until 1990. Now researchers have discovered an unconventional method to help fill in gaps in the data: old vessel logbooks.
---
February 22, 2021
The University of Washington today announced an initiative to further the UW's goals for diversity, equity and inclusion, including $5 million in funding for faculty hiring in the next two years. The initiative builds upon and supports efforts University wide and aims to accelerate and benchmark progress on an annual basis.
---
Insomnia — trouble falling asleep, staying asleep or waking up too early — is a common condition in older adults. Sleeplessness can be exacerbated by osteoarthritis, the most common form of arthritis causing joint pain. While there are effective therapies for treating insomnia in older adults, many people cannot get the treatment they need because…
---
February 19, 2021
At our nation's research universities, including the University of Washington, underrepresented minorities make up less than 6% of the faculty across non-medical science, technology engineering and mathematics (STEM) fields. This severe underrepresentation among faculty has persisted for decades and comes, in part, from a lack of diversity among the doctoral students and postdoctoral scholars in these fields who elect to pursue faculty positions.
---
After more than 15 years serving as Vice Provost for Research, Mary Lidstrom will step down from her position on Aug. 31, 2021, with plans to return full time to the faculty, concentrate on her research, and establish mentoring and diversity, equity and inclusion programs.
---
February 17, 2021
After years in development, an earthquake early warning system known as ShakeAlert is on the cusp of being released in Oregon and Washington. Harold Tobin, director of the Pacific Northwest Seismic Network, answers questions about the coming rollout.
---
February 16, 2021
Two faculty members at the University of Washington have been awarded early-career fellowships from the Alfred P. Sloan Foundation. The new Sloan Fellows, announced Feb. 16, are Ashleigh Theberge, an assistant professor in the Department of Chemistry and Jodi Young, an assistant professor in the School of Oceanography.
---
February 9, 2021
Even if all countries meet their Paris Agreement goals for reducing emissions, Earth has only a 5% chance of staying below 2 C warming this century, a previous study showed. But reductions about 80% more ambitious, or an average of 1.8% drop in emissions per year rather than 1% per year, would be enough to meet the Paris Agreement's temperature goal.
---
February 5, 2021
Systemic racism has for generations undermined the health of individuals and communities across America, a public health crisis that has made the pandemic even more deadly and destructive for people of color. Recognizing that nurses play a central role in and hold major responsibility for the health of individuals and communities hit hard by historic…
---
Next page