UW News
UW News blog
---
August 14, 2020
A UW team has received a grant to develop a model that uses local data to generate policy recommendations that could help lower COVID-19 infections in King County.
---
July 31, 2020
University of Washington psychologists say there are ways to approach interactions with friends and loved ones that can provide a positive path forward and help maintain healthy relationships during the pandemic.
---
July 29, 2020
The University of Washington was recognized this week in two separate rankings for its global impact in teaching and research, as well as for its value to graduates compared to cost of attendance.
---
The University of Washington has a long history of leading research into the impacts of wildfires from an ecological and health perspective. We worked with two experts to answer some of the most frequently asked questions about wildfires in the Pacific Northwest, including the ways that the pandemic is increasing our community's vulnerability to extreme wildfire events in the region.
---
July 16, 2020
Seven scientists and engineers at the University of Washington have been elected to the Washington State Academy of Sciences, according to an announcement July 15 by the academy.
---
July 1, 2020
The Sustainability Action Plan includes five guiding principles and 10 measurable targets along with annual actions to reach those targets. Each year, the UW will evaluate the immediate actions needed over the next fiscal year to respond to changing realities and needs across our campuses.
---
June 29, 2020
A new University of Washington study of people experiencing homelessness in King County finds that unpaid medical bills were their primary source of debt, and that debt extended their period of homelessness by an average of two years.
---
June 25, 2020
In a study published June 10 in Current Biology, a team from the University of Colorado Boulder and the University of Washington reports that a group of students at CU Boulder generally got more sleep after widespread stay-at-home orders and social distancing guidelines were put into place in mid-March.
---
June 24, 2020
A new online survey for Washington state residents has launched to gather data on how the COVID-19 pandemic and subsequent economic downturn have affected food access and economic security. The Washington State Food Security Survey, which went live June 18 and runs through July 31, is open to all Washington state residents aged 18 or over.
---
June 23, 2020
With the nation debating its response to COVID-19 and witnessing protests against racial injustice and police violence, undergraduate students enrolled in "Visual Anthropology of Protest Music" examined how communities use music to share their lived experiences and confront oppression.
---
June 18, 2020
The University of Washington has issued a face covering policy for all university personnel, students, staff, contractors and visitors who are on campus amid the COVID-19 pandemic. As a reminder, only employees designated as critical can be working in-person and only at the direction of their supervisor.
---
June 11, 2020
The University of Washington Board of Regents on Thursday approved the University's 2020-21 budget, which seeks to continue prioritizing its academic mission while also responding to the financial pressures brought on by the COVID-19 pandemic.
---
When the universe was in its infancy, it contained no stars at all. And an international team of scientists is closer than ever to detecting, measuring and studying a signal from this era that has been traveling through the cosmos ever since that starless era ended some 13 billion years ago.
---
June 8, 2020
New research from a decades-long study by the University of Washington and the University of Colorado shows long-term benefits from a program to prevent problem behaviors in children.
---
June 4, 2020
Mary Lidstrom, vice provost for research at the University of Washington, talks about the evolving picture of research at the UW in light of the COVID-19 pandemic.
---
May 29, 2020
In a paper published May 29 in Nature Communications, a team of scientists at the University of Washington, the University of Minnesota and the Johns Hopkins University reports that differences in visual motion perception in autism spectrum disorder are accompanied by weaker neural "suppression" in the visual cortex of the brain, which may help scientists understand sensory hypersensitivity in people with ASD.
---
May 22, 2020
A UW sleep expert sat down with UW News to provide some perspective on sleep during the pandemic, and what we can do to help ourselves and our families get through this time a little more well-rested.
---
May 21, 2020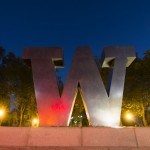 Three professors are teaming for a study of the mobility impacts of the coronavirus — and they are inviting UW faculty, staff and students to complete a short online survey to assist the research.
---
May 12, 2020
The Pacific Northwest Seismic Network, based at the University of Washington, will host an online event on the 40th anniversary of the eruption of Mount St. Helens, featuring seismologists from the UW and other institutions who can explain the events before, during and after the historic blast. The virtual event will take place from 6:30…
---
May 11, 2020
In a letter to the White House Coronavirus Task Force, U.S. Senator Maria Cantwell (D-Wash.) drew upon the testimony by Hilary Godwin, dean of the University of Washington School of Public Health, in calling for federal guidelines be established for the aviation industry and the traveling public. 
---
May 7, 2020
What does it feel like to be a mother on this Mother's Day? And how can we make the day seem special when life feels so uncertain and stressful? University of Washington psychology professor Liliana Lengua offers some perspective.
---
May 6, 2020
A new international study led by the University of Washington aims to gauge the perception of ethical situations as the COVID-19 pandemic evolves around the world.
---
April 23, 2020
A team of staff and students are sewing masks and offering them for free to UW housing, custodial, dining and food service workers.
---
April 22, 2020
The University of Washington today released the draft of a new Sustainability Strategy that will guide university actions across a broad spectrum of sustainability policy for the next five years.
---
April 15, 2020
The UW Center for Philosophy for Children created a resource list of books and short videos to explore the big questions around COVID-19 — about loneliness and isolation, boredom, illness and death, as well as fear and uncertainty.
---
April 8, 2020
With an in-person commencement ceremony on campus not possible due to the COVID-19 outbreak, The University of Washington's graduating seniors, graduate and professional students will be honored in two ways, President Ana Mari Cauce announced Wednesday.
---
April 3, 2020
A UW study abroad program empowers students from all disciplines to apply their skills to real-life problems.
---
March 31, 2020
UW researchers are developing an app that will allow health organizations to monitor coughs from self-quarantined COVID-19 patients from home.
---
March 30, 2020
Three undergraduate students at the University of Washington are among 396 around the country who have been named Goldwater Scholars for 2020.
---
March 26, 2020
Only about 25% of the U.S. workforce — some 35.6 million people — are in jobs that can easily be done at home, a University of Washington researcher has determined, as these are the positions in which using a computer is important but interacting with the public is not. These jobs are typically in highly-paid…
---
March 17, 2020
UW researchers are inviting the public to share their experiences on their regular commutes in a survey.
---
March 15, 2020
The idea of building herd immunity – increasing the number of infected to such a degree that naturally occurring immunity would outstrip the coronavirus, while isolating the elderly and others at greatest risk of the disease – has been tossed around in the United States, the United Kingdom and elsewhere.  This week, however, U.K. officials…
---
March 12, 2020
It's important to maintain human connection, even during a time of social distancing, UW psychology researchers say.
---
March 10, 2020
A documentary series produced and released this winter by YouTube features UW computer scientist Pedro Domingos and members of the UW-based Pacific Northwest Seismic Network.
---
KUOW's That's Debatable on Wednesday will feature two University of Washington faculty members: Dan Schwartz, professor of chemical engineering and director of the Clean Energy Institute, and Kate Simonen, upcoming chair of the Department of Architecture and director of the Carbon Leadership Forum.
---
March 6, 2020
University of Washington President Ana Mari Cauce sat down with Vice President of Student Life Denzil Suite for a candid conversation about how COVID-19 is affecting campus operations, why classes will no longer meet in person for the rest of the quarter and whether a student-led petition had an impact on the decision.
---
March 5, 2020
Nutritional science expert Anne-Marie Gloster, a lecturer in the UW School of Public Health's Nutritional Sciences Program and expert in emergency food planning, has put together this list of things to think about and foods to have on hand if you should be called on to stay at home for an extended period. "Shopping intentionally…
---
The University is asking people to avoid coming to campus this year to comply with Gov. Inslee's March 11 proclamation that prohibits large gatherings of more than 250 people as our region combats the spread of COVID-19.
---
University of Washington President Ana Mari Cauce, joined by Dr. Geoff Gottlieb, head of the UW's Advisory Committee on Communicable Diseases, met with the members of the ASUW Student Senate on March 3 to share the most current information and take questions about the University's response and preparations for the novel coronavirus.
---
March 2, 2020
P. Dee Boersma, a UW professor of biology and director of the Center for Ecosystem Sentinels, is a finalist for the 2020 Indianapolis Prize for conservation, to be awarded later this year by the Indianapolis Zoological Society. Sue Moore, a scientist with the center and a UW affiliate professor of biology and of aquatic and fishery sciences, has won the 2020 IASC Medal, also known as the Arctic Medal, from the International Arctic Science Committee.
---
Next page