UW News
UW News blog
---
December 3, 2021
Underwater microphones show that killer whales, or orcas, have spent more time in the Arctic Ocean in recent years. The increasingly ice-free Arctic Ocean may give orcas more opportunity to hunt for prey off the west and north coasts of Alaska.
---
November 22, 2021
The University of Washington is proud to announce that 50 UW faculty and researchers have been named on the annual Highly Cited Researchers 2021 list from Clarivate.
---
November 17, 2021
A team led by the UW developed a chatbot that could ask emergency department visitors about social needs, including housing, food, access to medical care and physical safety.
---
November 11, 2021
Outdoor workers in the world's lower-latitude tropical forests may face a greater risk of heat-related deaths and unsafe working conditions because of deforestation and climate warming, according to a study led by The Nature Conservancy, the University of Washington and Indonesia's Mulawarman University. In the study, researchers found that increased temperatures of 0.95 C (1.7…
---
November 10, 2021
A new effort to reconstruct Earth's climate since the last ice age, about 24,000 years ago, highlights the main drivers of climate change, and how far out of bounds human activity has pushed the climate system.
---
November 8, 2021
As students resume in-person classroom education, University of Washington staff with the Educational Talent Search (ETS) program also move back into 14 partner middle and high schools in six Washington school districts, helping them gain the skills and confidence to pursue a college degree.
---
November 2, 2021
When people need legal advice but can't afford a lawyer, they often turn to legal clinics where law students can offer representation and advocacy. When community organizations need advice on technology, they soon will be able to turn to a similar type of clinic at the University of Washington.
---
November 1, 2021
A team led by the University of Washington has received a nearly $2 million grant from the National Science Foundation to further research into how urban societal systems can be organized to be both efficient and resilient.
---
October 29, 2021
An oceanographer at the University of Washington is part of a new project to study how glacial dust, created as glaciers grind the rock beneath them into a powder, reacts with seawater to remove carbon dioxide from the atmosphere.
---
Ahead of the U.N. Climate Change Conference that begins Oct. 31, the University of Washington's Michael McCann and Riddhi Mehta-Neugebauer talk about the extensive investment of public pension funds — the retirement plan of millions of U.S. workers — in fossil fuels.
---
October 27, 2021
The University of Washington tied for No. 28 on the Times Higher Education annual reputation ranking, released Wednesday. The UW moved up one place from 2020.
---
October 20, 2021
UW students created a rover that can inspect sewer pipes or culverts for any damage that could prevent fish from using them during migration.
---
October 13, 2021
The University of Washington is among the best universities in the world for the studies of education, social sciences, business and law, according to the Times Higher Education World University Rankings by Subject 2022.
---
October 6, 2021
The University of Washington is among the best universities in the world for the studies of computer science and engineering, according to the Times Higher Education World University Rankings by Subject 2022.
---
October 5, 2021
In a Policy Forum piece published Oct. 1 in Science, a group led by Nesra Yannier at Carnegie Mellon University is advocating for a fresh look at active learning and its potential as classrooms and lecture halls again fill with students. Two co-authors from the University of Washington's Department of Biology — assistant teaching professor Elli Theobald and lecturer emeritus Scott Freeman — highlight the role that active learning methods have in promoting equity STEM education.
---
October 1, 2021
Three separate University of Washington research teams have been awarded $750,000 each by the National Science Foundation to advance studies in misinformation and the ocean economy.
---
September 29, 2021
University of Washington oceanographer Parker MacCready is one of 59 new fellows elected this year by the American Geophysical Union.
---
September 27, 2021
The UW Climate Impacts Group, along with nine community, nonprofit and university partners, is launching a program of community-led, justice-oriented climate adaptation work across Washington, Oregon, Idaho and Montana. The Northwest Climate Resilience Collaborative will be founded with a five-year, $5.6 million grant from the National Oceanic and Atmospheric Association. The program will be one of eleven across the country funded through NOAA's Regional Integrated Sciences and Assessments program.
---
September 24, 2021
Student move-in days are a yearly event at the UW, generating excitement among families and fueled by student volunteers. About 10,000 students living in residence halls for the 2021-2022 academic year are moving in September 21 to 24. 
---
September 22, 2021
During his senior year, Owen Oliver created a walking tour of UW's Seattle campus, highlighting the Indigenous presence on campus.
---
People may experience a range of emotions as some in-person routines resume during this stage of the pandemic. University of Washington psychology professor Jane Simoni suggests ways to cope.
---
September 14, 2021
University of Washington glaciologists will join colleagues from around the country in a new effort to retrieve an ice core more than 1 million years old from East Antarctica, to better understand the history of our planet's climate and predict future changes.
---
September 2, 2021
UW News asked Michael Motley, a UW associate professor of civil and environmental engineering, to explain how levees protect cities like New Orleans. 
---
Two new rankings out this month place UW among the best schools in the nation and the world.
---
August 25, 2021
The University of Washington and Carnegie Mellon University have announced an expansive, multi-year collaboration to create new software platforms to analyze large astronomical datasets generated by the upcoming Legacy Survey of Space and Time, or LSST, which will be carried out by the Vera C. Rubin Observatory in northern Chile. The open-source platforms are part of the new LSST Interdisciplinary Network for Collaboration and Computing — known as LINCC — and will fundamentally change how scientists use modern computational methods to make sense of big data.
---
August 20, 2021
In a new series on increasingly common extreme heat waves and their impact on human health published Thursday in the British medical journal The Lancet, a University of Washington climate change and health expert joined more than a dozen international experts to warn that we better prepare. "The preventable heat stress and deaths during this summer's…
---
August 19, 2021
A study led by Harvard and the University of Washington surveyed children, teens and their families about the stresses of the pandemic, and ways to cope.
---
August 3, 2021
Bruce Avolio, executive director of the UW Center for Leadership & Strategic Thinking and a professor of management in the UW Foster School of Business, talks about what we can learn about leadership, competition and collaboration — factors that are important in the workplace as well as the Olympics.
---
July 30, 2021
Washington residents continue to experience a dramatically higher level of food insecurity — from 10% before the COVID-19 pandemic to 27%, according to the latest University of Washington and Washington State University research on food insecurity and food assistance in the state. The study team also found that need for food assistance has continued to…
---
July 28, 2021
Soil, particularly in urban areas, can hold contaminants that are unhealthy for people who handle it or eat things grown in the ground. Chemicals left behind by vehicles, air pollution and heavy industry can show up in the ground and in plants. Melanie Malone, assistant professor in UW Bothell's School of Interdisciplinary Arts & Sciences investigates these contaminants and their prevalence in shared garden spaces.
---
July 23, 2021
Public health researchers have learned a lot about how the pandemic affected workers and exacerbated existing health disparities that exist in many communities. However, there's still a lot we don't know about the experience of workers deemed essential in the food industry and who were at higher risk of contracting COVID-19, such those working in…
---
July 16, 2021
Twenty scientists and engineers at the University of Washington are among the 38 new members elected to the Washington State Academy of Sciences for 2021, according to a July 15 announcement. New members were chosen for "their outstanding record of scientific and technical achievement, and their willingness to work on behalf of the Academy to bring the best available science to bear on issues within the state of Washington."
---
July 9, 2021
While there is currently no explanation for why the Champlain Towers South building collapsed, Dawn Lehman, a University of Washington professor of civil and environmental engineering, has been studying photographs, videos, drawings, reports and permits to investigate this tragedy to understand what happened. UW News asked her to help us understand why buildings fail.
---
July 8, 2021
A UW-led study uses data from remotely-piloted sailboats to better understand cold air pools — pockets of cooler air that form when rain evaporates below tropical storm clouds. These fleeting weather phenomena are thought to influence tropical weather patterns.
---
July 1, 2021
A new University of Washington study calculates the probability of living past age 110, which, though rare, likely will increase this century.
---
June 30, 2021
The University of Washington is announcing the steps it will take in this fiscal year, starting July 1, to reach the targets set in the UW's Sustainability Action Plan.
---
June 23, 2021
Development has changed the face of the Capitol Hill neighborhood of Seattle, says Manish Chalana, associate professor of urban design and planning at the University of Washington, but it remains the heart of the city's LGBTQ community.
---
June 17, 2021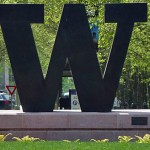 President Joe Biden's signature on legislation Thursday making Juneteenth a federal holiday is a welcome recognition. Our state — including the University of Washington — looks forward to marking Juneteenth as a paid holiday beginning June 19, 2022.
---
University of Washington Provost Mark A. Richards has announced interim deans for both the College of the Environment and University Libraries.
---
LaTaSha Levy, assistant professor of American ethnic studies at the University of Washington, discusses Juneteenth, the myths and omissions in telling its story, and the ongoing importance of fighting for, and celebrating, Black freedom.
---
Next page