UW News
For UW employees
---
April 3, 2017
The University of Washington landed at No. 9 with 45 subjects ranked in the top 10 in the Center for World University Rankings' inaugural subjects ranking. The ranking features the top global universities in 227 subjects covering all academic disciplines in the sciences and social sciences. This is the highest the UW has placed in a global subject ranking.
---
March 28, 2017
The very name of the class, when proposed, seemed to fire imaginations nationwide and beyond. Now with the beginning of spring quarter, the UW Information School's new course "Calling Bullshit in the Age of Big Data" is getting started.
---
March 13, 2017
For the 23rd time in the past 24 years, the University of Washington ranked as the No. 1 primary care medical school in the country, according to U.S. News & World Report's 2017 Best Graduate School rankings released Tuesday. The UW's Information School jumped from No. 3 to No. 2 in the nation for library and information studies programs.
---
March 7, 2017
Director Wilson Mendieta discusses "Pippin," the third production of the UW's Musical Theater Program, running March 8 – 19 in the Floyd and Delores Jones Playhouse Theater.
---
February 28, 2017
The Peace Corps announced Tuesday that the University of Washington (UW) ranked No. 2 among large schools on the agency's 2017 Top Volunteer-Producing Colleges and Universities list. There are 73 Huskies currently volunteering worldwide. UW ranks No. 3 all-time for total volunteers and has achieved elite top three status in the large school category for 13 consecutive years.
---
February 23, 2017
University of British Columbia and the UW announced the establishment of the Cascadia Urban Analytics Cooperative to use data to help cities and communities address challenges from traffic to homelessness. The effort will bring faculty, students, and community stakeholders together to solve problems, and is made possible thanks to a $1-million gift from Microsoft.
---
January 27, 2017
A statement from Denzil Suite, vice president for student life at the University of Washington, regarding an event purported to be taking place Monday on Red Square.
---
January 25, 2017
The Bill & Melinda Gates Foundation and University of Washington's Institute for Health Metrics and Evaluation (IHME) announced today the foundation's commitment to invest $279 million in IHME to expand its work over the next decade.
---
January 20, 2017
A statement from University of Washington President Ana Mari Cauce following an incident in which a man suffered a gunshot wound in the abdomen during a large protest in Red Square
---
December 14, 2016
Provost Jerry Baldasty kicked off the Transforming Administration Program in Spring 2015 with a key goal of creating one administration, one university with an enhanced culture of service ultimately serving faculty and staff to achieve the University of Washington's teaching, research and service missions. The program aims to make administrative departments more efficient and effective, and eliminate silos.
---
December 13, 2016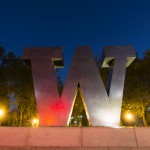 The University of Washington joins 30 of the nation's most respected colleges and universities Tuesday in a new initiative to substantially expand the number of talented low- and moderate-income students at America's top-performing undergraduate institutions with the highest graduation rates.
---
December 12, 2016
The University of Washington announced staffing changes in the Office of State Relations on Monday, naming Joe Dacca director of state relations.
---
November 15, 2016
The 2016 Open Doors Report on International Educational Exchange names the University of Washington a leader in global student engagement. The report was released Monday by the Institute for International Education. Global engagement is integral to the UW student experience, also known as the Husky Experience. UW graduates leave with a global perspective, the ability…
---
November 9, 2016
UW Libraries will host an open house from 1 to 5 p.m. on Veterans Day, Friday, Nov. 11, in conjunction with the current World War I-themed exhibit, "Washington on the Western Front: At Home and Over There."
---
November 4, 2016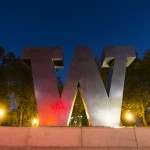 The Evans School of Policy & Governance will look back at the 2016 election in a discussion on Nov. 10 at Parrington Hall.
---
November 3, 2016
Jeffrey F. Scott has been named executive vice president for finance and administration (EVP) at the University of Washington, President Ana Mari Cauce announced today. Currently Senior Vice President at the Georgia Institute of Technology, Scott will provide leadership for the central business services of the University, including finance and facilities, human resources, information technology,…
---
October 25, 2016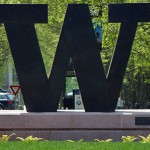 The University of Washington's Population Health Initiative, which aims to bring together the research and resources of the UW and partners around the Puget Sound and beyond to improve the health and well-being of people around the world, has received a significant vote of support from the Bill & Melinda Gates Foundation, the university announced…
---
October 21, 2016
The University of Washington on Friday is launching the public phase of its most ambitious philanthropic campaign in history, with a goal of raising $5 billion by the year 2020.
---
October 16, 2016
The impact of the University of Washington will be even more visible this week during the lead-up to a Friday night celebration marking the launch of the UW's most ambitious philanthropic campaign.
---
October 5, 2016
A new proposed draft Campus Master Plan for 2018 sees the University of Washington's Seattle campus growing up rather than out — building a little higher, filling in with more density, not expanding its borders, helping to ease transportation flow and creating big new green spaces. 2018 draft Campus Master Plan — opportunities for public…
---
October 3, 2016
As the fourth-fastest growing city in the United States, Seattle faces important questions in its quest to remain a resilient and sustainable community. Can we build to withstand natural disasters, reduce environmental toxins as consumption rises, meet urban transportation challenges so food, supplies and consumer products can get where they need to go? Over the…
---
September 30, 2016
UW Libraries is inviting the public to Suzzallo Library at lunchtime on Oct. 7 to listen to — or participate in — the annual reading of the United States Constitution.
---
September 28, 2016
The University of Washington landed at No. 5 on The Reuters 100: The World's Most Innovative Universities. Now in its second year, the list ranks the educational institutions doing the most to advance science, invent new technologies and help drive the global economy.
---
September 23, 2016
The University of Washington landed at No. 25 on the Times Higher Education world rankings for 2017, released this week. The UW is fourth on the list among U.S. public universities, behind UC Berkeley, UCLA, and Michigan.
---
September 14, 2016
A new exhibit in the UW's Allen Library explores South Asia through art, artifacts, manuscripts, music and more. "Envisaging South Asia: Art, Images, and Scholarship" will be on view through Oct. 31.
---
All across the world, millions of people will be practicing their earthquake-preparedness on Oct. 20. The event — called the Great ShakeOut — will commence at 10:20 a.m. for those participating at the University of Washington and across the state. It is an opportunity for people to practice what they should do in the event of an earthquake: Drop, cover and hold on.
---
September 6, 2016
World Suicide Prevention Day, Sept. 10, is a reminder that we all have a role to play in preventing suicide. Forefront: Innovations in Suicide Prevention, based in the UW School of Social Work and led by Professor Jennifer Stuber, is offering a film and two suicide prevention workshops on Sept. 10.
---
August 12, 2016
The editorial cartoons filling a ground floor exhibit in Suzzallo Library through November are hard-hitting, but they fairly depict the wild campaign of 2016, and the serious issues the year has brought as well.
---
August 5, 2016
University of Washington employees are invited to attend an open forum either Monday, Aug. 15, 1:30-2:30 p.m. in Odegaard 220 or Wednesday, Aug. 17, 1:30-2:30 p.m. in the HUB, Room 250, to learn more about the design of the HR/Payroll Integrated Service Center.   The goal of the center is to provide a single point of contact to effectively…
---
August 2, 2016
Justin Camputaro, with more than 15 years of experience in higher education administration, joined the University of Washington as the new director of the Husky Union Building, effective July 18.
---
July 31, 2016
The following is a statement from University of Washington President Ana Mari Cauce on the shooting of four individuals in Mukilteo this weekend, three of whom – Anna Bui, Jordan Ebner, and Jake Long – were killed, and one of whom – Will Kramer – was wounded and is at Harborview Medical Center. Bui was…
---
July 18, 2016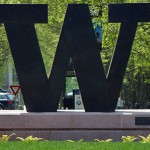 The University of Washington has been recognized as a "Great College to Work For" by the Chronicle of Higher Education for the third consecutive year.
---
June 28, 2016
UW President Ana Mari Cauce: "Congratulations to the Friends of 88.5 on their agreement with Pacific Lutheran University to purchase KPLU, and on the unprecedented fundraising effort that made it possible. We are delighted they were able to make it happen." KUOW General Manager Caryn Mathes: "The generosity of KPLU's listeners is a testament both…
---
June 16, 2016
John P. (Jack) Keating, former University of Washington psychology professor, dean of the UW branch campuses and vice provost at the University of Alaska, Fairbanks, died May 10 in Palm Springs, California. He is being remembered by colleagues as a dedicated and engaging teacher, strong researcher and inspired administrator. A San Francisco native and former…
---
June 8, 2016
More than 5,600 graduates, along with 40,000-plus family members, friends, faculty and other observers, are expected to attend the 141st University of Washington commencement ceremonies June 11 at Husky Stadium. UW President Ana Mari Cauce will preside as more than 12,500 degrees are conferred, including more than 7,700 bachelor's degrees, more than 3,500 master's degrees, more than 500…
---
May 19, 2016
University of Washington President Ana Mari Cauce and Interim Provost Jerry Baldasty announced today the selection of Rickey L. Hall as the new vice president for the Office of Minority Affairs and Diversity and Chief Diversity Officer, effective Aug. 1, 2016.
---
May 12, 2016
Anti-kickback, conflict of interest and whistleblower regulations Federal Acquisition Regulations (FAR 52.203-7) require the University to implement procedures designed to prevent and detect violations of the Anti-Kickback Act of 1986 (41 USC 51-58). This is published as a reminder of the policies and procedures in place at the University of Washington. Kickback defined. "Kickback" as…
---
April 20, 2016
An interactive recycling and composting station installed this spring at PACCAR Hall is showing the University of Washington community exactly how much money can be saved by composting and recycling correctly. And it seems to be doing its job well.
---
April 19, 2016
A daylong colloquium, "Shakespeare, Music and Memory" will bring scholars and musicians to the University of Washington campus April 29 for lectures ending with a concert of Shakespeare-themed songs by the School of Music's Collegium Musicum ensemble. The free events were organized by JoAnn Taricani, associate professor and chair of the School of Music's Division…
---
April 13, 2016
U.S. Secretary of the Interior Sally Jewell, a 1978 graduate of the UW and a former member of the UW Board of Regents, will be the featured speaker at the University of Washington's Commencement exercises Saturday, June 11.
---
Previous page
Next page