UW News
---
March 4, 2021
On March 6, 2020, the University of Washington became the first higher education institution in the U.S. to announce a move to remote instruction and work in an effort to slow the spread of the novel coronavirus. Here's a look back at the past year, from the perspectives of how the UW community adapted and the…
---
February 10, 2021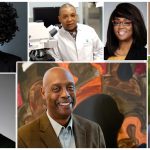 Seven University of Washington scientists are included in Cell Mentor's list of 1,000 inspiring Black scientists, published in December 2020. Cell Mentor is a collaborative resource between Cell Press and Cell Signaling Technology.
---
December 28, 2020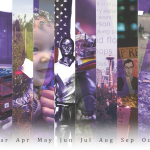 While this year in scientific research will be defined by the novel coronavirus pandemic and the incredible advances in testing, genome sequencing and vaccination that were made as a result, other significant research and work continued on and around the University of Washington's campuses. Here's a timeline of the research and work that went beyond COVID-19.
---
June 17, 2020
Using air quality data from U.S. Environmental Protection Agency monitors across the U.S., a UW-led team looked for changes in two common pollutants over the course of 2020.
---
May 15, 2020
One of the essential roles that is often not seen is the work of our campus photographers. They continue to capture the visual stories and people on campus in a time when many of us aren't there to see them ourselves. UW News asked one of our campus photographers to share some of his favorite photos he's taken this spring, and to describe what it's like working on campus now.
---
January 9, 2020
In 2019, the University of Washington was mentioned in 4,143 news articles around the world. Among those, UW experts were quoted 2,290 times: 1,185 in national or international outlets and 1,105 in regional and local outlets.
---
October 22, 2019
The University of Washington maintained its No. 10 spot on the U.S. News & World Report's Best Global Universities rankings, released this week. The UW is ranked No. 2 among U.S. public institutions.
---
July 16, 2019
Eight scientists and engineers from the University of Washington have been elected this year to the Washington State Academy of Sciences.
---
November 2, 2018
The University of Washington has distributed news to the campus community — in one form or another — since 1975. Such communication began as a way to streamline how faculty, staff and students received important administrative news and was initially published as a pamphlet of memos. In 1983, it evolved into University Week, a weekly…
---
December 20, 2017
In all corners of the University of Washington, staff, faculty and students are working hard to improve the lives of people around the world. This year undoubtedly embodied that passion and drive to serve the public good.
---
October 16, 2017
The University of Washington is No. 25 in the world — No. XX among U.S. public institutions — according to a new list released Monday by the Center for World University Rankings.
---
September 6, 2017
For the second consecutive year, the University of Washington has been ranked No. 25 on the Times Higher Education world rankings for 2018, released Tuesday. It is tied with the London School of Economics and Political Science.
---
July 14, 2017
The University of Washington's School of Dentistry and School of Public Health are ranked No. 3 in the world on the Global Ranking of Academic Subjects list for 2017. The ranking, released in June, was conducted by researchers at the Center for World-Class Universities of Shanghai Jiao Tong University.
---
June 14, 2017
Gov. Jay Inslee has named Jaron Goddard as the next student member of the University of Washington Board of Regents for the 2017-18 school year.
---
April 28, 2017
The University of Washington community has a new tool — designed as a digital scavenger hunt — to explore and learn about the existing Seattle campus as well as plans for the future.
---
February 23, 2017
Twenty-one UW undergraduate and graduate students received a Fulbright award and six scholars from the UW were awarded Fulbright grants for 2016-17.
---
December 27, 2016
The research happening here at the University of Washington — across all three campuses — is exceptional and selecting only a handful of stories to feature from the hundreds, if not thousands, that came out this year is a monumental task. Using UW Today's page view data, social media reach and news coverage, we have narrowed it down to these highlights showcasing the impact and ambition of the UW's work regionally and around the world — listed here in chronological order.
---
August 30, 2016
Most landscape architecture projects conjure up an image of a permanent structure meant to be experienced indefinitely. But for Britton Shepard, a 2016 graduate of the University of Washington's landscape architecture master's program, it means exploring the temporary nature of urban terrains. Earlier this year, Shepard brought life back to a vacant and demolished lot…
---
August 2, 2016
Justin Camputaro, with more than 15 years of experience in higher education administration, joined the University of Washington as the new director of the Husky Union Building, effective July 18.
---
June 9, 2016
The University of Washington recognized and honored faculty, staff, students and alumni for their passion and dedication to the UW, the local community, the state and the world. The 46th-annual Awards of Excellence ceremony took place at Meany Hall on Thursday, June 9, 2016.
---
May 31, 2016
Gov. Jay Inslee named Austin Wright-Pettibone as the next student member of the University of Washington Board of Regents for the 2016-17 school year. Wright-Pettibone, a Kirkland native, is an undergraduate studying chemical engineering and becomes the first undergraduate since 2008 to be selected as the UW's student regent. He graduated from Inglemoor High School in…
---
February 18, 2016
For the second year in a row, the University of Washington produced the most Peace Corps volunteers among large universities with 72 Huskies currently serving around the world. The UW is also ranked No. 4 among graduate schools with 16 alumni currently volunteering. "Community engagement – here and across the globe – is part of what makes…
---
December 8, 2015
University of Washington President Ana Mari Cauce joined a small group of UW students Monday morning to get a crash course in coding as part of Code.org's Hour of Code event during Computer Science Education Week. Cauce worked with Sukhdeep Singh, a freshman at UW who hopes to double major in business and computer science, in the Hour of Code Monday….
---