UW News
UW Today blog
---
December 14, 2018
The following is a statement from University of Washington President Ana Mari Cauce in response to Gov. Jay Inslee's proposed 2019-2021 biennial budget
---
UW glaciologist Ben Smith shared a first look at the NASA ICESat-2 satellite's view of Greenland and Antarctic glaciers at the American Geophysical Union's annual meeting in Washington, D.C.
---
December 13, 2018
A team at the University of Washington created a mechanical eye under the ocean's surface, called an Adaptable Monitoring Package, or AMP, that could live near renewable-energy sites and use a series of sensors to continuously watch nearby animals. On Dec. 13, the researchers put the newest version of the AMP into the waters of Seattle's Portage Bay for two weeks of preliminary testing before a more thorough analysis is conducted in Sequim, Washington. Meanwhile, a different AMP is collecting data off the coast of Hawaii.
---
December 10, 2018
A new species of whale discovered in 33-million-year-old Oregon rock has been named for Elizabeth Nesbitt, a curator at the Burke Museum and faculty member in the UW's Department of Earth and Space Sciences.
---
Russell Callender began as Washington Sea Grant's new director this fall, and UW News sat down with him recently to learn more about what he hopes to bring to the organization.
---
December 3, 2018
Kate Simonen, architect, engineer and UW associate professor of architecture, discusses recent work by her and the Carbon Leadership Forum toward reducing embodied carbon in construction materials.
---
November 30, 2018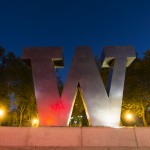 Two University of Washington researchers, Terrance Kavanagh and Jay Shendure, are among the 416 new fellows of the American Association for the Advancement of Science, announced in November.
---
November 29, 2018
University of Washington researchers contributed to the Fourth National Climate Assessment that considers impacts, risks and adaptation across the United States.
---
Three researchers from the University of Washington Department of Psychology say existing practices overlook the importance of culture, and suggest how individuals and institutions can be more inclusive.
---
November 28, 2018
University of Washington researchers in the Center for Neurotechnology are studying how brain-computer interfaces affect whether patients feel they are in charge of their own actions.
---
November 20, 2018
The abundance of personal smartphones in southern African countries got University of Washington professor Sarah Gimbel thinking: What if these phones were used by front-line health workers — namely nurses — to collect and analyze data on patients living with HIV or AIDS to improve their care?
---
November 19, 2018
A timely new University of Washington political science class asks: How do we separate fact from fiction these days? How do we know what is true?
---
Here in what is called the Anthropocene era, humans and our urban environments appear to be driving accelerated evolutionary change in plants, animals, fungi, viruses and more — changes that could affect key ecosystem functions and thus human well-being. These interactions between evolution and ecology are called "eco-evolutionary feedback." The National Science Foundation has awarded…
---
November 14, 2018
The University of Washington has won a Gold Bicycle Friendly University award from the League of American Bicyclists in recognition of its achievements in promoting safe, accessible bicycling on campus.
---
November 13, 2018
In a paper published Oct. 8 in the journal Nano Letters, a team from the University of Washington and the National Tsing Hua University in Taiwan announced that it has constructed functional metalenses that are one-tenth to one-half the thickness of the wavelengths of light that they focus. Their metalenses, which were constructed out of layered 2D materials, were as thin as 190 nanometers — less than 1/100,000ths of an inch thick.
---
November 7, 2018
When it comes to supporting and promoting the growth of minority businesses, the University of Washington has a long track record – 27 years to be exact. This milestone represents the UW's long-standing relationship with the Northwest Mountain Minority Supplier Development Council (MSDC).
---
November 2, 2018
The University of Washington has distributed news to the campus community — in one form or another — since 1975. Such communication began as a way to streamline how faculty, staff and students received important administrative news and was initially published as a pamphlet of memos. In 1983, it evolved into University Week, a weekly…
---
UW oceanographer Jody Deming is a leader of a new, interdisciplinary effort that addresses the theme of "ocean memory."
---
October 25, 2018
UPS announced today that it will be pilot-testing deliveries with cargo e-bikes in downtown Seattle. This test is expected to last a year, and the University of Washington's Urban Freight Lab at the Supply Chain Transportation and Logistics Center will help UPS evaluate the study's outcomes.
---
The University of Washington will lead one of three teams that will partner with the Honda Research Institute to explore the mechanisms behind curiosity and seek advances in artificial cognition. The UW-led team will receive $2.7 million over the next three years to generate a mathematical model of curiosity.
---
October 24, 2018
Jiun-Haw Chu, a University of Washington assistant professor of physics and faculty member at the UW's Clean Energy Institute, has been named a 2018 fellow by the David and Lucile Packard Foundation for his research on quantum materials — substances that exhibit novel combinations of quantum-mechanical properties that could one day transform information technology.
---
A new University of Washington initiative seeks to advance research on the health benefits of time spent in nature, connecting academic researchers with pediatricians, childcare providers, mental health practitioners and others who work with various populations on critical health issues.
---
October 17, 2018
UW atmospheric scientists leave next week for a six-week field campaign in South America to study the most intense storms on the planet.
---
October 12, 2018
In a new UW-authored book, a cartoon robot takes young readers on a School of Oceanography voyage to explore the deep ocean.
---
The University of Washington is listed at No. 5 on the Reuters Top 100: The World's Most Innovative Universities, released Thursday. Now in its fourth year, the list ranks the educational institutions doing the most to advance science, invent new technologies and help drive the global economy.
---
The University of Washington's Urban Freight Lab at the Supply Chain Transportation and Logistics Center has been looking for solutions to Seattle's traffic congestion: Parcel lockers that aren't owned by a specific company could alleviate the strain. Now the researchers have identified five viable locker locations at three different Seattle Link light rail stations for a future pilot test.
---
October 11, 2018
Kristie Ebi, a UW professor of global health, was a lead author on the Intergovernmental Panel on Climate Change's "Special Report on Global Warming of 1.5 C" that compares the effects of 1.5 versus 2 degrees Celsius of global warming.
---
October 10, 2018
When Rainier Beach High School was proposed to close in 2008, community members rallied around a new vision for the school, which has since nearly doubled its enrollment and introduced a more rigorous curriculum.
---
October 8, 2018
Pablo García Borboroglu, president of the Global Penguin Society and a UW affiliate associate professor of biology, has won the Whitley Gold Award and the National Geographic/Buffett Award for Leadership in Conservation, as well as accolades from the Argentine National Congress, for his research and advocacy for penguin conservation.
---
A new book by University of Washington history professor George Behlmer seeks to improve understanding of the British colonial era by "reconsidering the conduct of islanders and the English-speaking strangers who encountered them."
---
October 4, 2018
Harold Tobin, who joins the UW this fall as a faculty member in Earth and space sciences and director of the regional seismic sensing network, discusses earthquake early warning, seismic risks and the Pacific Northwest's "big one."
---
October 1, 2018
This fall, the University of Washington's annual engineering lecture series will feature three College of Engineering faculty whose research is accelerating positive impact here and around the world.
---
September 27, 2018
People who have submitted photos to the #MemoriesInDNA project have selected images of family members, favorite places and tasty food that will be preserved for years in the form of synthetic DNA. Now this collection will be headed to the final frontier: space.
---
September 26, 2018
The University of Washington has been ranked No. 28 on the Times Higher Education world rankings for 2019, released Wednesday.
---
September 25, 2018
A UW study found that mindfulness lessons, offered to parents at two early childhood centers, helped adults learn how to manage their emotions and behaviors while supporting their child's development.
---
September 24, 2018
David Shields, UW professor of English, discusses his latest book, "Nobody Hates Trump More than Trump: An Intervention."
---
September 20, 2018
The University of Washington in Seattle is welcoming its largest-ever incoming class — about 7,050 freshmen —in ceremonies this Sunday. The university's 35th annual New Student Convocation, which begins at 10:30 a.m. Sunday, Sept. 23, in the Alaska Airlines Arena at Hec Edmundson Pavilion.
---
September 19, 2018
Nurses and nurse-scientists interested in advanced multi-disciplinary training for population and global health practice can now apply for a new University of Washington degree program.
---
September 18, 2018
Margaret O'Mara, UW professor of history, explores the impact of a December 1968 computer presentation that came to be called "the mother of all demos" in an essay and podcast from the news website The Conversation.
---
September 12, 2018
The National Science Foundation announced on Sept. 11 that it is awarding grants totaling $8.5 million to 19 collaborative projects at 23 universities for the study of complex and entrenched problems in data science. Three of these projects will be based at the University of Washington and led by researchers in the College of Engineering and the College of Arts & Sciences.
---
Next page