UW News
News releases
---
August 16, 2018
A new UW-led study shows that males and female process visual motion differently, a variation that may be attributable to a neural regulatory process that is different in the male brain.
---
August 14, 2018
A new study led by the University of Washington uses data gathered by floating drones in the Southern Ocean over past winters to learn how much carbon dioxide is transferred by the surrounding seas. Results show that in winter the open water nearest the sea ice surrounding Antarctica releases significantly more carbon dioxide than previously believed.
---
August 13, 2018
Hans Scholl, professor in the UW Information School, discusses the challenges and opportunities of digital government. The website Apolitical has named him among the "Top 100 Most Influential People in digital government."
---
August 9, 2018
In a paper published online July 23 in the journal Nature, a UW-led research team reports that the 2-D form of tungsten ditelluride can undergo "ferroelectric switching." Materials with ferroelectric properties can have applications in memory storage, capacitors, RFID card technologies and even medical sensors — and tungsten ditelluride is the first exfoliated 2-D material known to undergo ferroelectric switching.
---
August 7, 2018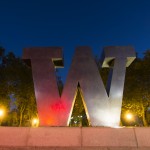 The NIH has awarded a $6.5 million, five-year grant to the University of Washington and partner institutions to establish the Center for Reproducible Biomedical Modeling. The center's primary goal is to develop more effective predictive models of biological systems, which are used in research and medicine.
---
Hilary Wething, a doctoral student in the University of Washington's Evans School of Public Policy & Governance, has received a grant to study the effects of Seattle's law requiring paid sick leave.
---
August 6, 2018
When young children talk to voice-activated technologies, the devices don't always respond in a helpful way. A new University of Washington study suggests that these interfaces could be designed to be more responsive – repeating or prompting the user, for example – and be more useful to more people.
---
August 3, 2018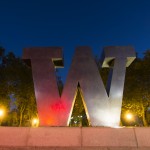 The U.S. Department of Energy has awarded an expected $10.75 million, four-year grant to the University of Washington, the Pacific Northwest National Laboratory and other partner institutions for a new interdisciplinary research center to define the enigmatic rules that govern how molecular-scale building blocks assemble into ordered structures and give rise to complex hierarchical materials.
---
August 2, 2018
Recent notable books by University of Washington authors tell of the struggle to break free of racism in higher education, taking an "urban diary" approach to documenting city life and more.
---
August 1, 2018
A team led by the University of Washington has created an environmentally friendly way to remove color from dyes in water in a matter of seconds.
---
July 30, 2018
A University of Washington report provides the best projections yet for sea-level rise due to climate change at 171 sites along Washington's coasts.
---
July 25, 2018
In a paper published online this spring in the journal Nature Photonics, scientists at the University of Washington report that a prototype semiconductor thin-film has performed even better than today's best solar cell materials at emitting light.
---
July 23, 2018
Observations over the eastern U.S. show why emissions reductions haven't achieved the same results in winter as they have in summer.
---
July 19, 2018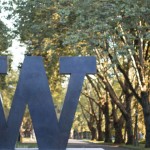 The University of Washington's School of Oceanography is ranked No. 1 in the world on the Global Ranking of Academic Subjects list for 2018. The ranking, released this week, was conducted by researchers at the Center for World-Class Universities of Shanghai Jiao Tong University.
---
July 18, 2018
New research suggests the Atlantic Ocean is transitioning back to its slower phase, which means average global air temperatures will go back to rising more quickly.
---
July 9, 2018
Earth's oxygen levels rose and fell more than once hundreds of millions of years before the planetwide success of the Great Oxidation Event about 2.4 billion years ago, new research from the University of Washington shows.
---
A typically developing 2-month-old baby can make cooing sounds, suck on her hand to calm down and smile at people. At that age, the mouth is the primary focus: Such young infants aren't yet reaching for objects with their hands or using their feet to get around, so the lips – for eating, pacifying…
---
July 2, 2018
Regions of Arctic water are becoming ice-free in late summer and early fall. A new study is the first to consider potential impacts on the marine mammals that use this region and identify which populations will be the most vulnerable to ships.
---
June 28, 2018
University of Washington President Ana Mari Cauce has been named one of 38 great immigrants by the Carnegie Corporation of New York.
---
June 27, 2018
In a paper published April 5 in the journal Endangered Species Research, scientists at the University of Washington announced that, for a Galápagos penguin, beak size is nearly a perfect indicator of whether a bird is male or female.
---
June 25, 2018
Researchers with the UW-led Virtual Planetary Laboratory are central to a group of papers published by NASA researchers today in the journal Astrobiology outlining the history — and suggesting the future — of the search for life on exoplanets, or those orbiting stars other than the sun.
---
June 20, 2018
Ali Mokdad has been named the chief strategy officer for Population Health at the University of Washington, President Ana Mari Cauce announced today. In this new role he will be responsible for collaboratively setting and executing the UW's vision and strategy for the Population Health Initiative, a 25-year effort to create a world where all people can live healthier and more fulfilling lives.
---
June 18, 2018
The Washington State Legislature has commissioned faculty members with the University of Washington's Evans School of Public Policy & Governance to study ticketing and loading procedures at the West Seattle ferry dock and suggest ways to improve terminal operations. Evans School professor Alison Cullen and associate professor Stephen Page will lead the study, which begins…
---
Tracking of two great white sharks reveals for the first time that in the open ocean they spend more time deep inside warm-water eddies.
---
June 14, 2018
The early years are when the brain develops the most, forming neural connections that pave the way for how a child — and the eventual adult — will express feelings, embark on a task, and learn new skills and concepts. Scientists have even theorized that the anatomical structure of neural connections forms the…
---
Anchovies, herring, sardines and other forage fish play an essential role in the food web as prey for seabirds, marine mammals and larger fish like salmon. When ground into fishmeal and oil, they are also a key food source for farmed seafood and land-based livestock such as pigs and poultry. As seafood consumption outpaces the…
---
June 11, 2018
A study of global maize production in 2100 shows dramatic increases in the variability of corn yields from one year to the next under climate change, making simultaneous low yields across multiple high-producing regions more likely, which could lead to price hikes and global shortages.
---
A new study led by the University of Washington considers which food type is more environmentally costly to produce: livestock, farmed seafood or wild-caught fish.
---
June 6, 2018
A team from the University of Washington's GIX program are competing to win the $1 million Anu & Naveen Jain Women's Safety XPRIZE.
---
About 5,900 graduates, along with 50,000-plus family members, friends, faculty and other observers, are expected to attend the 143rd University of Washington commencement ceremonies at 12:30 p.m. Saturday, June 9, at Husky Stadium.
---
June 5, 2018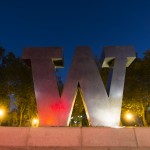 In an effort to improve the student experience and provide certainty for prospective computer science majors, the University of Washington's Paul G. Allen School of Computer Science & Engineering is expanding its direct to major admissions program for incoming freshmen. Beginning with the class of fall 2019, direct admission from high school will be the primary pathway into computer science for the majority of UW undergraduates.
---
A new University of Washington-led paper pinpoints starvation as the cause of death for hundreds of thousands of Cassin's auklet seabirds in late 2014 to early 2015.
---
May 24, 2018
What makes a good artificial reef, for divers, and for marine life? University of Washington landscape architecture students have done designs for a state-funded project to replace the artificial reef at the Redondo Beach dive site. They will present and discuss their work in a public meeting May 30, in Des Moines. The landscape architecture…
---
May 23, 2018
The oldest ice core so far provides 800,000 years of our planet's climate history. A UW field survey in Antarctica has pinpointed a location where an entire million years of undisturbed ice might be preserved intact.
---
May 17, 2018
Research shows that the more skills children bring with them to kindergarten – in basic math, reading, even friendship and cooperation – the more likely they will succeed in those same areas in school. Hence, "kindergarten readiness" is the goal of many preschool programs, and a motivator for many parents. Now it's time…
---
May 15, 2018
If an entire forest dies, new research shows, it has ricocheting effects in the atmosphere that can affect vegetation on the other side of the country.
---
It was spring 1968. A group of students occupied the University of Washington administration building calling for change: justice, diversity, agency for Blacks on campus.
---
Engineers at the University of Washington have created RoboFly, the first wireless flying robotic insect. This might be one small flap for a robot, but it's one giant leap for robot-kind.
---
May 14, 2018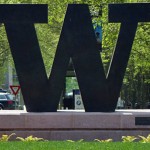 ASEs have called on the University of Washington to address trans-affirming medical procedures, mental health coverage, sexual harassment prevention training and wages – and the latest proposal the UW offered Monday addresses each outstanding issue.
---
Aspects of an otherwise Earthlike planet's tilt and orbital dynamics can severely affect its potential habitability — even triggering abrupt "snowball states" where oceans freeze and surface life is impossible, according to new research from UW astronomers.
---
Next page