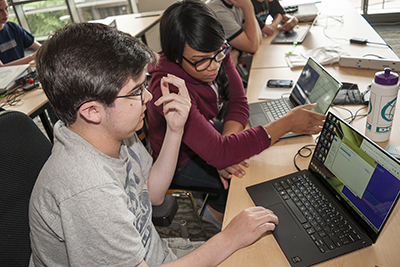 February 2-3, 2016
National Harbor, Maryland
This publication shares the proceedings of a CBI entitled Increasing the Participation of Students with Disabilities in K-12 Computing. The content may be useful for people who
participated in the CBI,
teach Exploring Computer Science (ECS), Computer Science Principles (CSP), or another K-12 computing course,
train teachers of K-12 computing courses,
seek to increase their understanding of issues surrounding the participation of students in computing education and computing careers,
would like to access resources to help make their courses, services, and activities more welcoming and accessible to students with disabilities, or
have promising practices to share with others.
About AccessCSforAll
AccessCSforAll: Including Students with Disabilities in Computing Education for the Twenty-First Century (AccessCSforAll) works to increase the successful participation of students with disabilities in high school ECS and CSP courses. Central to this work is partnerships with other projects funded by the Computing Education for the 21st Century program of the National Science Foundation (NSF) Directorate for Computer and Information Science and Engineering (CISE) that train computer science teachers and develop curricula for ECS and CSP. AccessCSforAll is led by the Department of Computer Science and Engineering and the DO-IT (Disabilities, Opportunities, Internetworking, and Technology) Center at the University of Washington (UW) and the Department of Computer Science at the University of Nevada, Las Vegas. It is funded by CISE (Grant #CNS-1440843 and #CNS-1440878).
Both ECS and CSP courses are designed to introduce the big ideas in computer science and to inspire students from diverse backgrounds to consider computational competence as part of their career plans. AccessCSforAll focuses on the inclusion of students with disabilities in these courses through two objectives: building the capacity of ECS and CSP teachers to serve those students through professional development for trainers who provide professional development to teachers, curricular units, online tutorials, virtual communities of practice for teachers, and real-time, individual teacher support; and creating accessible materials, both tools (including iterative refinement and deployment of the Quorum language) and curricular units, that ECS and CSP teachers and students can use in their classrooms.

The ultimate goal of AccessCSforAll is to increase the participation of people with disabilities in computing academic studies and careers and to enhance those fields with their unique perspective and expertise.