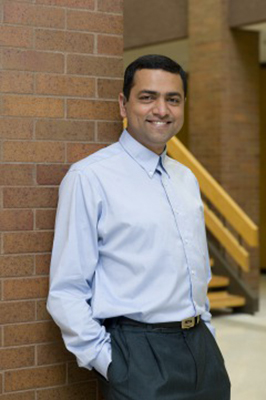 Dr. Raja Kushalnagar, Professor and Director of the Information Technology program at Gallaudet University in Washington, DC., has joined the AccessComputing leadership team as a co-PI. With research interests focusing on the intersection of disability law, accessible and educational technology, and human-computer interaction, as well as over ten years of experience working in accessible computing and his own experiences as a deaf individual, Raja brings a wealth of information with him to help lead our organization. 
 
Raja earned his Ph.D. in Computer Science and Master of Laws (LLM) in Intellectual Property and Information Law from the University of Houston in 2010 and his Juris Doctor (JD) in 2008 from Texas Southern University. He worked at Rochester Institute of Technology for over six years before joining Gallaudet. His responsibilities at Gallaudet include strategic planning, local industry, and alumni relations, and faculty mentoring for Information Technology. 
 
As a Deaf professor, he advocates in bringing consumers, industry, and policymakers together on accessibility issues, advocating for a deaf/hard of hearing perspective, as well as developing prototype technologies for improving the accessibility of such systems. He also passionately believes that deaf and hard of hearing people have only scratched the surface of accessible computing, and that the most exciting technological developments are still to come. His research interests encompass the fields of accessible computing and accessibility/intellectual property law, with the goal of improving information access for deaf and hard-of-hearing individuals. In the accessible computing field, he investigates information access disparities between hearing and deaf. and advocates for updates in accessible and intellectual property law and to incorporate accessible computing advances such as automatic captioning/subtitling. He has mentored over 100 undergraduates, including over 60 who are deaf or hard of hearing. He has received over $4 million in grants and has published over 75 peer-reviewed publications. 
Raja focuses on increasing the numbers of people with disabilities in the computing pipeline through community involvement. In addition to serving on the AccessComputing Leadership Corps, he serves on as a board member for the New York School for the Deaf, Computing Research Association Widening Participation (CRA-WP) and Global Alliance of Speech-to-Text Captioning.