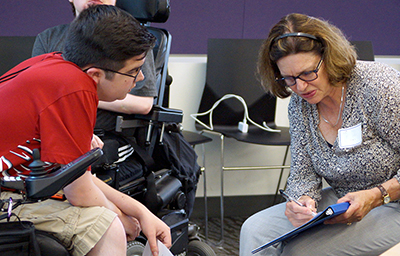 In the October 2017 edition of AccessComputing News, we announced the launch of our Resume Database. The AccessComputing Resume Database was created to help employers connect with individuals with disabilities in computing fields, such as computer science and information technology. Students and recent graduates who have disabilities can use the Resume Database to complete an online profile and upload their resume. Then, employers can search the database to locate potential interns and employees with disabilities who match their specific needs.
To date, 82 applicants have logged into the system to complete profiles and upload resumes, and 12 industry partners have created accounts in order to search for possible candidates. Profiles have been viewed 497 times and 19 resumes have been downloaded.
In order for students to use the Resume Database, they must first join the AccessComputing Team, a community of high school and college students with disabilities who are interested in computing fields. It's free to join, and Team membership has many benefits, including access to support staff and mentors and opportunities to engage in electronic mentoring, work-based learning, and other experiences that enhance college and career success in computing fields. Project staff help Team members locate paid internships and other work and research opportunities as they transition to and succeed in college, graduate school, and employment. To apply, complete an AccessComputing Team application.
In order for employers to access the Resume Database, they must be an AccessComputing Industry Partner. For additional information on becoming a Partner, please see our Industry Partners web page.