Apple has done a good job in recent years of building products that are usable by people who have a variety of characteristics. In iOS, the operating system that drives Apple's mobile devices, there are dozens of features available under Settings > General > Accessibility, grouped into categories "Vision," "Interaction," "Hearing," "Media," and "Learning." Screen reader users in particular are drawn to iOS devices due a numerous accessibility features, as seen in WebAIM's latest Screen Reader User Survey.
In November 2017, Apple released the iPhone X, the first in Apple's next generation of smart phones. The accessibility community expressed some initial concerns about the impact of new iPhone X design choices and features on accessibility. Concerns focused primarily on two features: Elimination of the home button and Face ID. 
No More Home Button
Prior to iPhone X, the Home button provided a large tactile target that users could press in order to perform various functions. For example, tapping once returned users to the home screen. Tapping twice could be configured to enable "Reachability," a feature that lowers the top of app windows so users with limited hand dexterity can more easily access common controls located at the top of apps. Tapping three times could be configured to serve as an "Accessibility Shortcut," used to toggle a single accessibility feature or display a menu of multiple accessibility-related features, depending on how users configured it.
Eliminating the Home button left questions as to how users would perform these important functions. Fortunately, all functions are still supported, just by using different methods. Users can return to the home screen by swiping up from the bottom of the screen; they can enable "Reachability" by swiping down from the bottom of the screen; and they can initiate the "Accessibility Shortcut" by tapping three times on the side button.
Whether these methods are as accessible as using the Home button is a question of some debate. Swiping up or down from the bottom of the screen requires some dexterity, and has different results if the user starts too far from the bottom or holds their finger on the screen too long. Also, tapping three times on the side button requires careful precision, as tapping twice opens Apple Pay, and (more critically) tapping five times initiates "Emergency SOS", which automatically calls 911. If accidentally triggering the latter is a concern, it can be configured (in Settings > "Emergency SOS") to wait for three seconds prior to calling 911, during which time the user can cancel the call. It can also be disabled altogether, although having easy access to emergency services is arguably a nice feature.
Face ID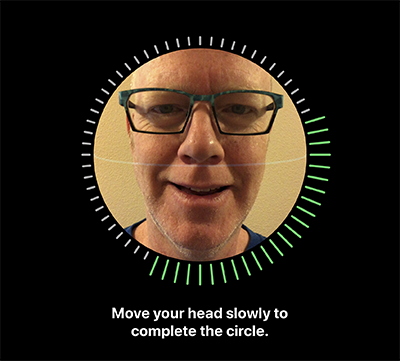 The other feature that has caused some initial concern, particularly within the blind/low vision community, is Face ID. This is one of the highest profile new features of the iPhone X, as it showcases new levels of sophistication in face recognition technology. Face ID uses automatic face recognition for unlocking the phone, downloading apps from the App Store, or conducting financial transactions using Apple Pay. Apple claims their face recognition technology, which uses 3D modeling of the user's facial features, is more secure than fingerprint recognition. It's also an accessibility improvement for people who have no fingers or fingerprints.
For people who are blind, the process of setting up Face ID is reasonably accessible using VoiceOver (the screen reader that comes with iOS). VoiceOver coaches users through the setup process with prompts such as "Move iPhone a little higher" and "Tilt your head up and to the right." However, once Face ID is setup, it requires users to gaze directly into the phone, which is a difficult task for users who are unable to see. Even if VoiceOver provides verbal assistance, this can be a much more burdensome process than touching the device with a finger. Fortunately, Face ID is optional with the iPhone X. Users can control which features require it, or they can disable it altogether, in which case the iPhone falls back to other security methods.
Summary
iPhone X still has the dozens of accessibility features that iPhone users are accustomed to. However, Face ID and the lack of a home button are changes that some users may find problematic. As an alternative, the iPhone 8 and iPhone 8 Plus were released shortly prior to the iPhone X, and offer many of the same improvements (e.g., faster processor, better camera, water resistant, wireless charging) yet still have a home button and Touch ID. To compare all three models (or other older models), visit Apple's website.