UW News
UW News blog
---
April 8, 2019
Notice is hereby given that a public hearing will be held at 10 am on Friday, April 19, 2019, at the University of Washington Police Department Conference Room located at 3939 15th Ave NE, Seattle, WA 98105.
---
For immigrants to the United States, the current political climate, and debates over issues such as a border wall, become part of the environment that influences their health, according to a new University of Washington study.
---
April 1, 2019
A team of UW students hopes to make it possible to accurately predict peak bloom timing for the iconic Quad cherry trees.
---
March 26, 2019
A University of Washington-led study provides a fuller picture of the relationship between nitrogen oxides — the tailpipe-generated particles at the center of the Volkswagen scandal, also known as NOx, — and PM2.5, the microscopic particles that can lodge in lungs.
---
March 21, 2019
The University of Washington, the Pacific Northwest National Laboratory and Microsoft Quantum announced this week that they have joined forces in a new coalition, the Northwest Quantum Nexus, to bring about a revolution in quantum research and technology.
---
African-American women are nearly twice as likely to give birth prematurely as white women. Amelia Gavin, an associate professor in the University of Washington School of Social Work, connects preterm birth to racial discrimination via PTSD.
---
March 20, 2019
The Peace Corps today announced that the University of Washington ranked No. 5 among large schools on the agency's list of top volunteer-producing colleges and universities in 2019. There currently are 62 UW alumni volunteering in countries around the world.
---
March 18, 2019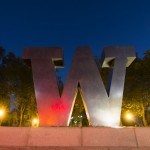 The UW Information School is taking a leading role in helping people better navigate this era of increasing online fakery and falsehood. On March 19, the school will welcome 200-some Seattle-area high school students for "MisInfo Day," a daylong workshop on how to navigate the misinformation landscape, from Jevin West and Carl Bergstrom, the faculty duo behind "Calling BS in the Age of Big Data."
---
March 14, 2019
Devin Naar, UW professor of international studies and history, is featured in "Children of the Inquisition," a new documentary film about descendants of the Spanish and Portuguese inquisitions discovering their Sephardic Jewish heritage. The film will premiere March 24 as part of the Seattle Jewish Film Festival.
---
March 12, 2019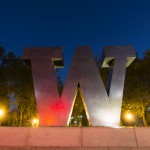 Eight researchers at the University of Washington have been named 2019 Washington Research Foundation Postdoctoral Fellows.
---
March 7, 2019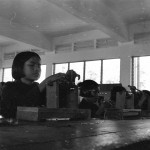 A new project by Jenna Grant, UW assistant professor of anthropology, uses an archive of photos and documents from the Khmer Rouge era — the donation of a journalist and UW alum — to help facilitate storytelling among Cambodians and Cambodian-Americans.
---
March 5, 2019
The University of Washington is launching a reading instruction study this summer, a two-week "camp" targeting children entering kindergarten in the fall that aims to teach early literacy skills and measure brain activity before and after instruction.
---
February 28, 2019
Exhibits and events happening Friday through Sunday showcase the latest in polar science, much of it from the University of Washington.
---
February 21, 2019
The iconic cherry trees in the University of Washington's Quad will likely reach peak bloom the third week of March, right in line with most years.
---
February 20, 2019
Recess, for most children, is synonymous with freedom. A break from class that has nothing to do with learning and everything to do with play. For children with autism, the playground can be an isolating experience. The spontaneous soccer games, roving packs of friends and virtual buffet of activities can be chaotic, frustrating and confusing….
---
February 19, 2019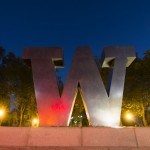 What geopolitical challenges is global climate change creating for the national security of the United States and throughout the world? The UW's Jackson School of International Studies will host a public panel discussion of these issues on March 6, featuring Washington Gov. Jay Inslee.
---
Fifteen scholars from the University of Washington were awarded Fulbright grants for 2018-2019 — among the leading research schools in the country and more than any other institution in the state. A list was published earlier this month in The Chronicle of Higher Education.
---
February 8, 2019
Nick Bond, Washington's state climatologist, comments on the unusual weather in Western Washington.
---
February 6, 2019
Last year, local station KIRO-TV donated thousands of hours of old news videotapes of its news broadcasts from the 1970s through about the year 2000 — about 15,000 videotapes in all — to UW Libraries.
---
January 28, 2019
Exposure to nature, even through a brief gardening activity, can improve well-being among women in prison, a UW Tacoma-led study finds.
---
The Stroum Center for Jewish Studies, in the UW Jackson School of International Studies, was well represented at the 50th annual conference of the Association for Jewish Studies Dec. 16-18 in Boston.
---
The University of Washington has been recognized as one of the most sustainable higher education institutions in North America, according to the Sustainability Tracking, Assessment and Rating System.
---
January 23, 2019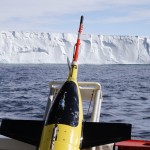 A team of ocean robots developed at the UW is the first group of self-guided ocean instruments to travel under an ice sheet and come back to report long-term observations.
---
January 22, 2019
Boeing has awarded $300,000 to Forefront Suicide Prevention and University of Washington Tacoma for work with veterans. Forefront, at the UW School of Social Work, received $205,000 to expand veteran-specific outreach, and UWT received $95,000 for career services for veterans.
---
January 16, 2019
Three teams led by University of Washington researchers — Scott Dunham, Hugh Hillhouse and Devin MacKenzie — have received competitive awards totaling more than $2.3 million from the U.S. Department of Energy Solar Energy Technologies Office for projects that will advance research and development in photovoltaic materials, which are an essential component of solar cells and impact the amount of sunlight that is converted into electricity.
---
A new study has found that since the early 1980s, a pattern of ocean temperatures and atmospheric circulation has offset most of the impact of warming on the West's mountain snowpack.
---
January 14, 2019
The UW is part of an international program that has revolutionized ocean measurements. This fall, the program made its 2 millionth measurement, reporting temperature and salinity in the top mile of the world's oceans.
---
The Labor Archives of Washington, housed in UW Libraries, will celebrate the 100th anniversary of the 1919 Seattle General Strike with a series of events in coming weeks, as well as a new library exhibit on campus.
---
January 10, 2019
If Washington state were to establish a public bank, what type of bank might work best? One that can provide targeted products and services to local governments across the state, says a new report by UW researchers from the Evans School of Public Policy & Governance.
---
January 8, 2019
As part of a University of Washington-led project, NASA's Hubble Space Telescope has produced a stunningly detailed portrait of the Triangulum Galaxy, displaying a full spiral face aglow with the light of nearly 25 million individually resolved stars.
---
January 7, 2019
Bottle feeding infants is associated with left-handedness, according to a new study from the University of Washington. The study found that the prevalence of left-handedness is lower among breastfed infants as compared to bottle-fed infants. This finding was identified in about 60,000 mother-infant pairs and accounted for known risk factors for handedness.
---
January 2, 2019
Husky football players, including Myles Gaskin and JoJo McIntosh, mentor teens each week as part of a program hosted by the Yesler Community Center in Seattle.
---
December 18, 2018
New analysis shows that odd winds, not warming, caused the unusual patch of open water north of Greenland last February.
---
December 17, 2018
The American Talent Initiative, a nationwide alliance comprising the University of Washington and more than 100 other colleges and universities, has made significant progress in improving opportunities for low- and moderate-income students, according to a new report.
---
A small study about a workshop to bring together students of different political persuasions found that workshop participants were able to better understand their fellow students as individuals, but their attitudes about opposing beliefs, in general, did not change.
---
December 14, 2018
The following is a statement from University of Washington President Ana Mari Cauce in response to Gov. Jay Inslee's proposed 2019-2021 biennial budget
---
UW glaciologist Ben Smith shared a first look at the NASA ICESat-2 satellite's view of Greenland and Antarctic glaciers at the American Geophysical Union's annual meeting in Washington, D.C.
---
December 13, 2018
A UW team created a mechanical eye under the ocean's surface that could live near renewable-energy sites and use a series of sensors to watch nearby animals. On Dec. 13, the researchers put the newest version of the AMP into the waters of Seattle's Portage Bay for two weeks of preliminary testing before a more thorough analysis is conducted in Sequim, Washington.
---
December 10, 2018
A new species of whale discovered in 33-million-year-old Oregon rock has been named for Elizabeth Nesbitt, a curator at the Burke Museum and faculty member in the UW's Department of Earth and Space Sciences.
---
Russell Callender began as Washington Sea Grant's new director this fall, and UW News sat down with him recently to learn more about what he hopes to bring to the organization.
---
Previous page
Next page