UW News
---
March 2, 2021
Recent honors and achievements by UW faculty and staff include a grant for field research in the Middle East, a staffer's play being streamed by a Seattle theater and a professor's cartoon remembrance of a relative lost to COVID-19.
---
February 19, 2021
A team of engineers, including one at the University of Washington, has developed a technique that allows for the precise placement of molecules formed from folded DNA in not only a specific location but also in a specific orientation
---
February 18, 2021
The Polymer Physics Prize from the American Physical Society and a dissertation award from the Society for American Archaeology.
---
February 16, 2021
Historian Anand Yang writes about the British history of shipping of convicted criminals to other continents; and new world music education books from ethnomusicologist Patricia Shehan Campbell.
---
February 9, 2021
Recent honors and achievements by UW faculty include a keynote address at a national Holocaust commemoration event, an album of new compositions and a best-of-2020 musical nod from the Seattle Times.
---
February 3, 2021
Notice is hereby given that a public hearing will be held from 9 a.m. to 10 a.m. on Tuesday, Feb. 16, 2021, via a Zoom conference meeting. The details of the hearing are available on the University Policy and Rules Office website.
---
February 1, 2021
Notable recent books written or edited by UW faculty include an exploration of African American political theory, a book on philosophy and migration and a textbook on health data science.
---
January 28, 2021
The UW Bothell Husky Village Redevelopment project is being proposed in Development Area D of the campus to provide residence halls, apartments, dining, gathering and office space.
---
January 22, 2021
A study accepted by the Planetary Science Journal shows that the planets of the TRAPPIST-1 system share similar densities. That could mean they all contain roughly the same ratio of materials thought to be common to rocky planets, such as iron, oxygen, magnesium and silicon — though they appear to differ notably from Earth.
---
January 12, 2021
This public notification serves as an invitation for third-party comments, which should be sent directly to the Northwest Commission on Colleges and Universities.
---
January 4, 2021
Recent honors to and awards for UW faculty and staff members include a documentary film appearance, a distinguished educator award and an honor for historic preservation planning.
---
December 23, 2020
A study co-authored by UW's Sunny Jardine finds that farmed Atlantic salmon, often labeled and sold as Pacific salmon or rainbow trout, is the second-most-consumed mislabeled seafood product in the U.S. Although not the most frequently mislabeled seafood, salmon's popularity means it has one of the biggest environmental impacts.
---
December 18, 2020
The pressing concerns of climate change have placed the long-term health of the world's coral reefs in jeopardy. However, new research inspires hope as some corals managed to survive a recent and globally unprecedented heatwave.
---
December 14, 2020
Johns Hopkins University and the University of Washington brought together leading experts in October to explore these issues and put forward a concise plan for protecting the scientific integrity of these lifesaving efforts. Here's a 4-minute highlight reel of the symposium.
---
December 9, 2020
A statement from the University of Washington in response to allegations U.S. Secretary of State Mike Pompeo made during a speech at Georgia Tech on Wednesday, Dec. 9, 2020.
---
New research reveals significant changes to the circulation of the North Pacific and its impact on the initial migration of humans from Asia to North America. It provides a new picture of the circulation and climate of the North Pacific at the end of the last ice age, with implications for early human migration.
---
December 8, 2020
Federal Acquisition Regulations (FAR 52.203-7) require the University of Washington to implement procedures designed to prevent and detect violations of the Anti-Kickback Act of 1986 (41 USC 51-58). In addition, state regulations (RCW 42.40) require the university to provide annual notification to employees of the procedures and protections under the Whistleblower Act. These articles are…
---
December 3, 2020
Online access to health care is crucial during the COVID-19 pandemic. About 20 UW undergraduates are part of a nationwide organization collecting used video-enabled devices and donating them to medical facilities for low-income and senior patients.
---
December 2, 2020
At the current rate of global warming, mass coral bleaching is expected to become more frequent and severe worldwide. An international consortium of scientists, including a coral researcher from the University of Washington, has created the first-ever common framework for increasing comparability of research findings on coral bleaching.
---
November 24, 2020
Recent honors and awards for UW faculty and staff include a top young innovator, a new endowed faculty fellow, research grants awarded and a career achievement award in environmental political science.
---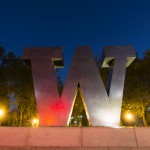 The American Association for the Advancement of Science has named four University of Washington faculty members as AAAS Fellows, according to a Nov. 24 announcement from the organization. The four are part of a cohort of 489 new fellows for 2020, which were chosen by their peers for "their scientifically or socially distinguished efforts to advance science or its applications."
---
November 23, 2020
The global pandemic is hurting the seafood industry, and American fishmongers may flounder without more government aid, according to the largest study of COVID-19's impacts on U.S. fisheries.
---
November 19, 2020
The University of Washington is proud to announce that more than 50 UW faculty and researchers have been named on the annual Highly Cited Researchers 2020 list from Clarivate.
---
A commitment to innovation powered the University of Washington to a No. 7 ranking for graduate entrepreneurship programs by The Princeton Review. The 2021 ranking marks an all-time high — solidifying UW and the Foster School of Business as a leader in entrepreneurial education and incubation within the Pac-12 and across the Western United States.
---
November 18, 2020
The American Geophysical Union announced that its members have elected Lisa Graumlich, dean of the UW College of the Environment, as the president-elect starting Jan. 1. After two years in this role Graumlich will begin a two-year term as president of the AGU board beginning in 2023.
---
November 17, 2020
A team of organizations — led by the space technology company Astrobotic and including the University of Washington and the UW spinout WiBotic — has received a $5.8 million contract to develop a line of lightweight, ultrafast wireless chargers that could help both humans and robots live and work on the moon.
---
November 4, 2020
A University of Washington meteorologist joins a national board for atmospheric research, an English professor's story is honored and a Jackson School faculty member helps with research for a PBS show.
---
October 29, 2020
The University of Washington is among leading U.S. oceanographic institutions that have received National Science Foundation funding to build and deploy 500 robotic ocean-monitoring floats to monitor the chemistry and biology of the world's oceans.
---
October 22, 2020
Simple actions can dramatically improve a person's chances of surviving a landslide, show records from 38 landslides in the U.S. and around the world. People who survived landslides tended to have moved upstairs or to higher ground, among other key actions.
---
October 20, 2020
The University of Washington moved up two spots to No. 8 on the U.S. News & World Report's Best Global Universities rankings, released Tuesday. The UW maintained its No. 2 ranking among U.S. public institutions.
---
October 19, 2020
The National Academy of Medicine on Monday announced the election of 100 new members, including three from the University of Washington: Patrick Heagerty, Dr. Joel Kaufman and Sean Sullivan. In addition, David Eaton, dean and vice provost emeritus of the UW's Graduate School, was recognized for outstanding service.
---
October 13, 2020
Jennifer Bean, UW associate professor of cinema studies, suggests a few silent film viewing opportunities this fall.
---
October 12, 2020
This fall the UW's annual engineering lecture will feature Stefano Tessaro, an associate professor in the Paul G. Allen School of Computer Science & Engineering.
---
With a grant from the National Institutes of Health, a five-year, $1.8 million training program at the University of Washington will fund 25 academic-year graduate fellowships, develop a new training curriculum and contribute to methodological advances in health research at the intersection of demography and data science.
---
October 1, 2020
Recent honors to UW faculty have come from the American Institute for Aeronautics & Astronautics, the American Society of Composites, the Coalition for Excellence in Maternal and Child Health Epidemiology and the Dance Educators Association of Washington.
---
The proposed UW Medical Center – Northwest Behavioral Health Teaching Facility is intended to provide innovative and integrated behavioral health care and teaching services to address the shortage of such services in the state of Washington. It would include the construction of a new building on the site of the existing D-wing building, would be up to seven stories tall, and provide approximately 210,000 square feet of above grade building space.
---
September 30, 2020
A new study combines ice cores, geologic records and computer models to understand the past, present and future of the Greenland Ice Sheet. The results show that emissions this century have a big influence on how much ice will be lost from Greenland.
---
September 27, 2020
University of Washington faculty member Ian Schnee, associate teaching professor in the Department of Philosophy, was the featured speaker at the UW's 37th annual New Student Convocation. The virtual ceremony was held Sept. 27 and was livestreamed to audiences around the world. A recording is available here.
---
September 17, 2020
Whale Safe — an online tool launched Sept. 17 by scientists at the University of California, Santa Barbara, the University of Washington and other partner institutions — allows users to detect and better protect these endangered animals in the Santa Barbara Channel. It is a mapping and analysis tool to help prevent ships from running into whales.
---
Dr. Sverre Vedal, UW professor emeritus of environmental and health sciences, served on an expert committee for the National Academies of Science, Engineering and Medicine studying the long-term respiratory health impacts of military service in Southeast Asia.
---
Next page