UW News
---
January 27, 2020
Recent honors to UW faculty and staff include an early career award in astronomy, an honorary doctorate from the Delft University of Technology, a seat on Washington state's new LGBTQ Commission and national honor for an English Department writing program.
---
January 14, 2020
Recent honors to UW faculty and staff include an honorary doctorate from the University of Bern, an award for biodiversity conservation and a consulting assignment for the World Health Organization.
---
January 6, 2020
Three faculty members in the William E. Boeing Department of Aeronautics and Astronautics have received awards for their work.
---
December 16, 2019
Recent honors to UW faculty and staff include the new editorship of a major journal, a post with the Republic of Uganda and honors from the American College of Physicians, the Association for Computing Machinery and the Institute of Electrical and Electronics Engineers.
---
December 11, 2019
Federal Acquisition Regulations (FAR 52.203-7) require the University of Washington to implement procedures designed to prevent and detect violations of the Anti-Kickback Act of 1986 (41 USC 51-58).
---
December 9, 2019
Brian Johnson, assistant professor in the UW Department of Electrical & Computer Engineering, has received a $4.9 million grant across three years from the U.S. Department of Energy.
---
December 4, 2019
With 2019 on pace as one of the warmest years on record, a new international study reveals how rapidly the Arctic is warming and examines global consequences of continued polar warming.
---
December 3, 2019
Communities underneath and downwind of jets landing at Seattle-Tacoma International Airport are exposed to a type of ultrafine particle pollution that is distinctly associated with aircraft, according to a new University of Washington study, the first to identify the unique signature of aircraft emissions in the state of Washington. The finding comes from the two-year…
---
December 2, 2019
UW faculty members Roxanne Hudson and Magdalena Balazinska have received grants for research to be conducted over the next few years.
---
Recent honors to UW faculty and staff members include an honorary doctorate from the University of Bucharest, membership in an inaugural class of distinguished fellows in pharmacology, and a leadership position in a national student housing association.
---
November 26, 2019
Two UW professors — Alex Luedtke and Tyler McCormick — are among 60 researchers the National Institutes of Health has named recipients of its 2019 Director's New Innovator Awards.
---
The American Association for the Advancement of Science has named six faculty members from the University of Washington as AAAS Fellows, according to a Nov. 26 announcement. They are part of a cohort of 443 new fellows for 2019, all chosen by their peers for "scientifically or socially distinguished efforts to advance science or its applications."
---
November 25, 2019
University of Washington faculty members have been awarded grants for research to be conducted over the next few years. Django Paris, an associate professor in the College of Education, has been awarded a $1 million grant from the Spencer Foundation. With the four-year grant, Paris will work with H. Samy Alim, a professor at the…
---
November 21, 2019
The new class of undergraduates at the University of Washington this fall contains the largest number of Washington state residents in the UW's history, according to the finalized fall 2019 census of enrolled students released by all three campuses.
---
November 15, 2019
An interdisciplinary team of researchers from multiple institutions — including the University of Washington — has received a two-year $1.7 million National Science Foundation grant to study coral growth.
---
November 12, 2019
With a $106 million gift from the Weill Family Foundation, UC Berkeley, UC San Francisco and the University of Washington have launched the Weill Neurohub, an innovative research network that will forge and nurture new collaborations between neuroscientists and researchers working in an array of other disciplines — including engineering, computer science, physics, chemistry and mathematics — to speed the development of new therapies for diseases and disorders that affect the brain and nervous system.
---
November 7, 2019
A team led by scientists from the University of Washington and the University of Notre Dame used recent advances in electron microscopy to observe Fano interferences — a form of quantum-mechanical interference by electrons — directly in a pair of metallic nanoparticles.
---
October 28, 2019
An image captured earlier this year by the Hubble Space Telescope may look like a ghostly apparition, but it is not. Hubble is looking at a titanic head-on collision between two galaxies.
---
October 24, 2019
The National Science Foundation awarded the University of Wisconsin-Milwaukee and nine collaborating organizations, including the University of Washington, $2.8 million for a two-year "conceptualization phase" of the Scalable Cyberinfrastructure Institute for Multi-Messenger Astrophysics.
---
Scientists have discovered an extraordinary collection of fossils that reveal in detail how life recovered after a catastrophic event: the asteroid impact that wiped out the dinosaurs 66 million years ago at the end of the Cretaceous Period.
---
October 21, 2019
A new study finds that the western South Atlantic humpback population has grown to 25,000 whales. Researchers, including co-authors from the University of Washington, believe this new estimate is now close to pre-whaling numbers.
---
October 15, 2019
On International Pronouns Day (Oct. 16) the University of Washington community is invited to celebrate the ways in which using someone's pronouns have a positive impact on the community as a whole.
---
October 1, 2019
This fall the University of Washington's annual engineering lecture series will feature three UW engineers and scientists who are working across disciplines to manage the quality and quantity of the food we eat and grow.
---
September 26, 2019
An international team of astronomers has analyzed the signal from a fast radio burst — an enigmatic blast of cosmic radio waves lasting less than a millisecond — to characterize the diffuse gas in the halo of a massive galaxy.
---
September 25, 2019
Millions of people are suffering from malnutrition despite some of the most nutritious fish species in the world being caught near their homes, according to new research published Sept. 25 in Nature.
---
September 12, 2019
The University of Washington's School of Pharmacy announced on Thursday, Sept. 12, a collaboration with global biopharmaceutical company UCB to improve access to care for people living with epilepsy.This interdisciplinary project will explore ways in which community pharmacists can better support people living with this neurological disorder. The roughly 3.4 million people nationally and 75,000…
---
September 10, 2019
A report released Sept. 10 — the product of research led by the University of Washington — gives Seattle and King County a "D" in getting youth active through sport, play and outdoor recreation.
---
September 9, 2019
McKinstry to design and construct $60 million 'leap forward' for medical education, health sciences research and innovation.
---
September 3, 2019
Several UW schools and offices will team up to research how organizational practices can affect the interagency collaboration needed to keep the "internet of things" — and institutional systems — safe and secure.
---
August 19, 2019
The U.S. Geological Survey announced $10.4 million in funding to the Pacific Northwest Seismic Network, based at University of Washington, to support the ShakeAlert earthquake early warning system. Some $7.3 million of the two-year funding total will go to the UW.
---
Today local community leaders welcomed University of Washington to a coalition dedicated to supporting unsheltered families across Puget Sound. The University will host three Family Resource Exchanges that will take place on its campuses in Bothell, Seattle and Tacoma, expanding the coalition's ability to help unsheltered families in the region. This commitment comes shortly after the one-year anniversary of the first exchange in King County last summer.
---
August 13, 2019
The Husky Union Building (HUB) will be closed from 2 to 9 p.m. on Aug. 14 and Sept. 4 for the UW Police Department to conduct training exercises inside the building.
---
August 12, 2019
A new study by U.S. and U.K. scientists finds that in addition to natural variations in winds that drive warmer water to the West Antarctic Ice Sheet, which last about a decade, there has been a longer-term change in the winds that can be linked with human activities.
---
August 9, 2019
Researchers at UW and UCLA have developed an artificial intelligence system that could help pathologists read biopsies more accurately, and lead to better detection and diagnosis of breast cancer.
---
August 8, 2019
The National Science Foundation has awarded a five-year, $5 million grant to the University of California, San Diego, the University of Washington and the University of California, Berkeley to develop CloudBank, a suite of managed services to simplify public cloud access for computer science research and education.
---
July 29, 2019
More than 4 million reports of child maltreatment involving about 7.5 million children were made in 2017 to Child Protective Services. While much work has been done to reduce these high rates of child abuse and neglect in the United States, few programs have been consistently effective.
---
July 19, 2019
A new study found that pregnant women exposed to higher levels of air pollutants had children with lower IQs, compared to the children of women exposed to lower levels. 
---
July 17, 2019
Scientists have visualized the electronic structure in a microelectronic device for the first time, opening up opportunities for finely tuned, high-performance electronic devices. Physicists from the University of Washington and the University of Warwick developed a technique to measure the energy and momentum of electrons in operating microelectronic devices made of atomically thin — so-called 2D — materials.
---
July 11, 2019
The University of Washington was recognized with platinum-level distinction, the highest, at the City of Seattle's 2019 Commute Trip Reduction Champion Awards on June 5, 2019.
---
July 9, 2019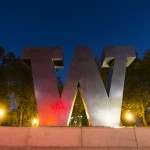 Six University of Washington professors are to receive a Presidential Early Career Award for Scientists and Engineers, according to an announcement July 2 from the White House. The award, also known as the PECASE, is the highest honor given by the U.S. government to early-career scientists and engineers "who show exceptional promise for leadership in science and technology."
---
Next page