UW News
---
July 9, 2021
Recent honors and achievements by UW faculty include an early career award for study of family communication and a distinguished service award for decades in support of theoretical computing.
---
July 8, 2021
A UW-led study uses data from remotely-piloted sailboats to better understand cold air pools — pockets of cooler air that form when rain evaporates below tropical storm clouds. These fleeting weather phenomena are thought to influence tropical weather patterns.
---
June 29, 2021
Recent news from the Jackson School of International Studies includes a new endowed scholarship for study of India made possible by two alumni, and a book on angels in ancient Jewish culture by Jewish Studies professor Mika Ahuvia.
---
June 17, 2021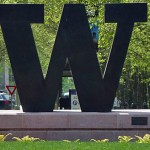 President Joe Biden's signature on legislation Thursday making Juneteenth a federal holiday is a welcome recognition. Our state — including the University of Washington — looks forward to marking Juneteenth as a paid holiday beginning June 19, 2022.
---
University of Washington Provost Mark A. Richards has announced interim deans for both the College of the Environment and University Libraries.
---
June 14, 2021
Recent honors and achievements for UW faculty include an award for humanitarian contributions to computer science, early career research recognition and support, and the guest-editing of a new anthology of Black American literature.
---
June 8, 2021
Shawn Wong, UW English professor and longtime advocate for Asian American literature, has received the 2021 Stand UP Award from the Association of University Presses.
---
June 1, 2021
Two professors with the UW Paul G. Allen School of Computer Science & Engineering — Shyam Gollakota and Anna Karlin — have received 2020 honors from the Association for Computing Machinery.
---
May 26, 2021
Recent honors for UW faculty include the 2021 Presburger award for theoretical computer science, an Early Career Faculty Innovator research grant for a collaboration in environmental studies with the Karuk Tribe in California, and a fellowship to explore war regulations and raiding norms among early Arabian Jewish communities.
---
May 20, 2021
Creative Destruction Lab, a nonprofit organization for massively scalable, seed-stage, science- and technology-based companies, will launch its third U.S.-based location, CDL-Seattle, this fall. Based at the UW's Foster School of Business, CDL-Seattle will be a partnership with Microsoft Corporation, the UW College of Engineering, Paul G. Allen School of Computer Science & Engineering and CoMotion, UW's collaborative innovation hub. The initial area of focus for CDL-Seattle is computational health.
---
May 18, 2021
In 2016, the Consulting and Business Development Center at the UW's Foster School of Business partnered with global financial services firm JPMorgan Chase to launch Ascend, a national network of business schools, non-profit lenders and suppliers focused on a goal of accelerating growth of businesses owned by people of color, women and military veterans, especially those operating in inner cities.
---
May 10, 2021
Sally Jewell, U.S. Secretary of the Interior under President Barack Obama and former CEO of REI, has been appointed as the Edward V. Fritzky Endowed Chair in Leadership at the UW Foster School of Business for the 2021-2022 school year. Established in 2002, this prestigious faculty position is designed to bring distinguished leaders to campus to share their expertise with faculty and students.
---
May 5, 2021
Ice core data from Greenland shows why air pollution is dropping more slowly than sulfur emissions reductions. As cloud droplets become less acidic, the chemical reaction that turns sulfur dioxide into sulfate aerosol gets more efficient. The new results can improve the models that project air quality and climate change.
---
The newest experiment at CERN, the European Organization for Nuclear Research, is now in place at the Large Hadron Collider in Geneva. FASER, or Forward Search Experiment, was approved by CERN's research board in March 2019. Now installed in the LHC tunnel, this experiment, which seeks to understand particles that scientists believe may interact with dark matter, is now undergoing tests before data collection commences next year.
---
May 3, 2021
A team, which includes researchers from the University of Washington, demonstrated that over the course of three years, a genetically engineered switchgrass could break down an explosive chemical in plots of soil at a military range.
---
April 29, 2021
Recent honors to UW faculty include a Golden Apple Award for teaching innovation from Seattle television station KCTS and a Leading the Narrative award for community engagement from the Society of Behavioral Medicine.
---
April 28, 2021
The University of Washington is the No. 4 higher education institution in the country in terms of total economic impact as a result of federal research expenditures. The UW alone contributed $306.8 million to the U.S. gross domestic product and helped to produce more than 3,908 jobs, according to The Science Coalition's fourth Sparking Economic Growth report, released earlier this month.
---
The University of Washington's Spokane Center will soon serve the community and its constituents from new offices in Spokane's historic Spokane Inland Empire Railroad (SIERR) Building, located in the heart of Spokane's growing University District. The UW Spokane Center will relocate May 1, 2021, to new offices at 850 E. Spokane Falls Blvd. from its office at 201 West Main, where it has been housed since 2015.
---
A new study from researchers at multiple universities, including the UW, shows that exposure disparities among people of color and white people are driven by nearly all, rather than only a few, emission source types.
---
April 26, 2021
Four University of Washington faculty members have been inducted into the American Academy of Arts & Sciences.
---
April 22, 2021
UW biology professors Jeffrey Riffell and David Perkel have received grants from the Human Frontier Science Program.
---
April 16, 2021
Notice is hereby given that a public hearing will be held from 9 a.m. to 10 a.m. on Tuesday, April 27, 2021 via a zoom conference meeting. The details of the hearing are available on the University Policy and Rules Office website.
---
April 14, 2021
Recent honors and achievements for UW faculty and staff include a Guggenheim fellowship in film history, a Fulbright fellowship for bioethics research in South Africa and membership in a new state cybersecurity team formed by the National Governors Association.
---
April 13, 2021
In the Cascadia subduction zone, medium- and large-sized "intraslab" earthquakes, in which the slip happens within the oceanic plate and below the continental plate, will likely produce only a few detectable aftershocks, according to a new study from the University of Washington and the U.S. Geological Survey.
---
April 8, 2021
Next week the UW will undergo a comprehensive evaluation visit by its accrediting body, the Northwest Commission on Colleges and Universities. This review will involve an assessment of the UW's initiatives and efforts related to student success, its institutional effectiveness and mission, as well as governance, resources and capacity.
---
April 7, 2021
The first results from the Muon g-2 experiment hosted at Fermi National Accelerator Laboratory show fundamental particles called muons behaving in a way not predicted by the Standard Model of particle physics. These results confirm an earlier experiment of the same name performed at Brookhaven National Laboratory. Combined, the two results show strong evidence that our best theoretical model of the subatomic world is incomplete. One potential explanation would be the existence of undiscovered particles or forces.
---
April 5, 2021
The retirement of Alaska Airlines CEO Brad Tilden after a 30-year career with the company – at least in one way – had the University of Washington written all over it. Horizon Air recently unveiled a special Huskies-themed livery on a Q400 (tail number #N435QX) in honor of Tilden, who earned his MBA at the UW and has maintained a strong partnership with the University for several years. Tilden retired March 31.
---
March 24, 2021
An Intel Corporation award for work to make computers more energy-efficient, a Research Corporation for Science award for chemistry research and education, and two Google inclusion awards to create technology for underrepresented populations.
---
March 22, 2021
Lightning strikes in the Arctic tripled from 2010 to 2020, a finding University of Washington researchers attribute to rising temperatures due to human-caused climate change. The results, researchers say, suggest Arctic residents in northern Russia, Canada, Europe and Alaska need to prepare for the danger of more frequent lightning strikes.
---
March 17, 2021
The future of an equitable and sustainable global ocean, or "Blue Economy," depends on more than natural or technological resources. A new study finds that socioeconomic and governance conditions such as national stability, corruption and human rights greatly affect different regions' ability to achieve a Blue Economy — one that is socially equitable, environmentally sustainable and economically viable.
---
March 12, 2021
In a study published Feb. 15 in Nature Chemistry, a research team led by Munira Khalil, professor and chair of chemistry at the University of Washington, has captured the rapid motions of solvent molecules that impact light-driven electron transfer in a molecular complex for the first time. This  information could help researchers learn how to control energy flow in molecules, potentially leading to more efficient clean energy sources.
---
March 3, 2021
The University of Washington is proud to be included on the list of U.S. colleges and universities that produced the most 2020-2021 Fulbright  students.
---
March 2, 2021
Recent honors and achievements by UW faculty and staff include a grant for field research in the Middle East, a staffer's play being streamed by a Seattle theater and a professor's cartoon remembrance of a relative lost to COVID-19.
---
February 19, 2021
A team of engineers, including one at the University of Washington, has developed a technique that allows for the precise placement of molecules formed from folded DNA in not only a specific location but also in a specific orientation
---
February 18, 2021
The Polymer Physics Prize from the American Physical Society and a dissertation award from the Society for American Archaeology.
---
February 16, 2021
Historian Anand Yang writes about the British history of shipping of convicted criminals to other continents; and new world music education books from ethnomusicologist Patricia Shehan Campbell.
---
February 9, 2021
Recent honors and achievements by UW faculty include a keynote address at a national Holocaust commemoration event, an album of new compositions and a best-of-2020 musical nod from the Seattle Times.
---
February 3, 2021
Notice is hereby given that a public hearing will be held from 9 a.m. to 10 a.m. on Tuesday, Feb. 16, 2021, via a Zoom conference meeting. The details of the hearing are available on the University Policy and Rules Office website.
---
February 1, 2021
Notable recent books written or edited by UW faculty include an exploration of African American political theory, a book on philosophy and migration and a textbook on health data science.
---
January 28, 2021
The UW Bothell Husky Village Redevelopment project is being proposed in Development Area D of the campus to provide residence halls, apartments, dining, gathering and office space.
---
Next page