UW News
---
November 24, 2020
Recent honors and awards for UW faculty and staff include a top young innovator, a new endowed faculty fellow, research grants awarded and a career achievement award in environmental political science.
---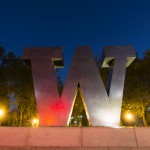 The American Association for the Advancement of Science has named four University of Washington faculty members as AAAS Fellows, according to a Nov. 24 announcement from the organization. The four are part of a cohort of 489 new fellows for 2020, which were chosen by their peers for "their scientifically or socially distinguished efforts to advance science or its applications."
---
November 23, 2020
The global pandemic is hurting the seafood industry, and American fishmongers may flounder without more government aid, according to the largest study of COVID-19's impacts on U.S. fisheries.
---
November 19, 2020
The University of Washington is proud to announce that more than 50 UW faculty and researchers have been named on the annual Highly Cited Researchers 2020 list from Clarivate.
---
A commitment to innovation powered the University of Washington to a No. 7 ranking for graduate entrepreneurship programs by The Princeton Review. The 2021 ranking marks an all-time high — solidifying UW and the Foster School of Business as a leader in entrepreneurial education and incubation within the Pac-12 and across the Western United States.
---
November 18, 2020
The American Geophysical Union announced that its members have elected Lisa Graumlich, dean of the UW College of the Environment, as the president-elect starting Jan. 1. After two years in this role Graumlich will begin a two-year term as president of the AGU board beginning in 2023.
---
November 17, 2020
A team of organizations — led by the space technology company Astrobotic and including the University of Washington and the UW spinout WiBotic — has received a $5.8 million contract to develop a line of lightweight, ultrafast wireless chargers that could help both humans and robots live and work on the moon.
---
November 4, 2020
A University of Washington meteorologist joins a national board for atmospheric research, an English professor's story is honored and a Jackson School faculty member helps with research for a PBS show.
---
October 29, 2020
The University of Washington is among leading U.S. oceanographic institutions that have received National Science Foundation funding to build and deploy 500 robotic ocean-monitoring floats to monitor the chemistry and biology of the world's oceans.
---
October 22, 2020
Simple actions can dramatically improve a person's chances of surviving a landslide, show records from 38 landslides in the U.S. and around the world. People who survived landslides tended to have moved upstairs or to higher ground, among other key actions.
---
October 20, 2020
The University of Washington moved up two spots to No. 8 on the U.S. News & World Report's Best Global Universities rankings, released Tuesday. The UW maintained its No. 2 ranking among U.S. public institutions.
---
October 19, 2020
The National Academy of Medicine on Monday announced the election of 100 new members, including three from the University of Washington: Patrick Heagerty, Dr. Joel Kaufman and Sean Sullivan. In addition, David Eaton, dean and vice provost emeritus of the UW's Graduate School, was recognized for outstanding service.
---
October 13, 2020
Jennifer Bean, UW associate professor of cinema studies, suggests a few silent film viewing opportunities this fall.
---
October 12, 2020
This fall the UW's annual engineering lecture will feature Stefano Tessaro, an associate professor in the Paul G. Allen School of Computer Science & Engineering.
---
With a grant from the National Institutes of Health, a five-year, $1.8 million training program at the University of Washington will fund 25 academic-year graduate fellowships, develop a new training curriculum and contribute to methodological advances in health research at the intersection of demography and data science.
---
October 1, 2020
Recent honors to UW faculty have come from the American Institute for Aeronautics & Astronautics, the American Society of Composites, the Coalition for Excellence in Maternal and Child Health Epidemiology and the Dance Educators Association of Washington.
---
The proposed UW Medical Center – Northwest Behavioral Health Teaching Facility is intended to provide innovative and integrated behavioral health care and teaching services to address the shortage of such services in the state of Washington. It would include the construction of a new building on the site of the existing D-wing building, would be up to seven stories tall, and provide approximately 210,000 square feet of above grade building space.
---
September 30, 2020
A new study combines ice cores, geologic records and computer models to understand the past, present and future of the Greenland Ice Sheet. The results show that emissions this century have a big influence on how much ice will be lost from Greenland.
---
September 27, 2020
University of Washington faculty member Ian Schnee, associate teaching professor in the Department of Philosophy, was the featured speaker at the UW's 37th annual New Student Convocation. The virtual ceremony was held Sept. 27 and was livestreamed to audiences around the world. A recording is available here.
---
September 17, 2020
Whale Safe — an online tool launched Sept. 17 by scientists at the University of California, Santa Barbara, the University of Washington and other partner institutions — allows users to detect and better protect these endangered animals in the Santa Barbara Channel. It is a mapping and analysis tool to help prevent ships from running into whales.
---
Dr. Sverre Vedal, UW professor emeritus of environmental and health sciences, served on an expert committee for the National Academies of Science, Engineering and Medicine studying the long-term respiratory health impacts of military service in Southeast Asia.
---
September 15, 2020
Megan Ming Francis, University of Washington associate professor of political science, has been named one of 12 grant-supported "Freedom Scholars" in a new $3 million initiative by the Marguerite Casey Foundation and Group Health Foundation, working together.
---
September 10, 2020
Four University of Washington professors were among the winners of the 2021 Breakthrough Prize, which recognizes groundbreaking achievements in the life sciences, fundamental physics and mathematics.
David Baker, a professor in the UW School of Medicine's department of biochemistry, won the prize for life sciences, while a team of UW physics professors, including Eric Adelberger, Jens Gundlach and Blayne Heckel, earned the prize for fundamental physics.
---
September 9, 2020
The Department of English has introduced its new "Literature, Language, Culture" Dialogue Series, a series of podcasts and YouTube videos — and Devin Naar of Sephardic Studies is interviewed on two podcasts
---
The University of Washington has joined forces with schools across the country to be part of the Public Interest Technology University Network, or PIT-UN.
---
September 4, 2020
Three new rankings out this month place UW among the best schools in the nation and the world.
---
September 3, 2020
A University of Washington-led team has developed a box that can decontaminate N95 respirator masks using ultraviolet light.
---
August 27, 2020
This FAQ discusses evidence for a hibernation-like condition in Lystrosaurus, a mammal relative that lived in the Antarctic portion of Pangea about 250 million years ago. This discovery was enabled by high-resolution of incremental growth marks preserved in the tusks of Lystrosaurus.
---
August 26, 2020
The National Science Foundation has announced five new institutes devoted to AI research and based at universities around the country. Six University of Washington faculty will be affiliated with the institutes.
---
The University of Washington is No. 16 in the world — No. 3 among U.S. public universities — on the 2020 Academic Ranking of World Universities, released this month.
---
August 20, 2020
Recent honors and grants to University of Washington faculty and staff have come from the American Chemical Society, the Carnegie Corporation of New York, the National Science Board and the family of engineers Ganesh and Hema Moorthy.
---
August 10, 2020
In his latest book, Rick Bonus discusses how Pacific Islander students at the UW used the ocean as a metaphor to create community for themselves and change their university.
---
August 7, 2020
Recent honors and grants to University of Washington individuals and units have come from the National Science Foundation, National Institutes of Health, the Marconi Society — and the White House.
---
July 30, 2020
Deep-sea anglerfishes employ an incredible reproductive strategy. Tiny dwarfed males become permanently attached to relatively gigantic females, fuse their tissues and then establish a common blood circulation. Now scientists have figured out why female anglerfishes so readily accept their male mates. Their findings are published July 30 in Science.
---
July 29, 2020
The University of Washington was recognized this week in two separate rankings for its global impact in teaching and research, as well as for its value to graduates compared to cost of attendance.
---
The University of Washington has a long history of leading research into the impacts of wildfires from an ecological and health perspective. We worked with two experts to answer some of the most frequently asked questions about wildfires in the Pacific Northwest, including the ways that the pandemic is increasing our community's vulnerability to extreme wildfire events in the region.
---
UW Libraries has published timely new online guides to help researchers studying the Black experience in the Pacific Northwest and the broader topic of racial justice.
---
July 28, 2020
Recent honors to University of Washington faculty and staff members have come from the Women in Engineering ProActive Network, Association Media & Publishing and The American Society of Human Genetics.
---
July 27, 2020
A new study led by the University of Washington and the University of Leeds uses satellite data over the Southern Hemisphere to understand the makeup of global clouds since the Industrial Revolution. This research tackles one of the largest uncertainties in today's climate models — the long-term effect of tiny atmospheric particles on climate change.
---
July 16, 2020
Recent honors to University of Washington faculty and staff have come from Architect magazine, the Center for Research Libraries, member states of the Asia-Pacific Economic Cooperation (APEC) and the American Society of Human Genetics.
---
Next page