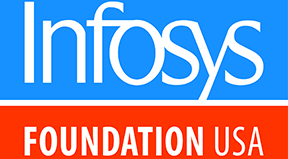 AccessCSforAll is excited to announce that we have received funding from from the Infosys Foundation USA to host a series of live webinars that will provide teaching advice to K-12 computer science educators who have students who are neurodiverse, visually impaired, deaf, hard of hearing, or learning disabled in their classes. These webinars will be recorded and made available to teachers through Infosys Foundation USA's Pathfinders Online Institute. 
There are between 8 and 9 million students with disabilities in K-12 education in the United States who are served under the Individuals with Disabilities Education Act (IDEA) or Section 504 of the Rehabilitation Act. The majority of these students are in mainstream classrooms including computer science classes such as AP Computer Science Principles (CSP) and AP Computer Science A (CSA). Often these general education CS teachers lack the background knowledge to include these students successfully in their classes. The purpose of these webinars is to impart the knowledge of teachers who have been teaching computer science to students with disabilities.
Watch our website for more details. The first webinar will be held in March 2021. Learn more about the Infosys Foundation USA and their goal of equitable CS access for all.