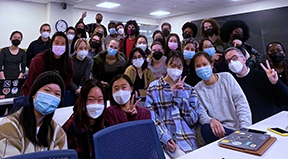 Recently, DO-IT released a series of six short videos on making life in STEM more accessible for people with disabilities. This includes information about the steps needed to make documents and academic spaces more accessible to all, how to support computing student's mental health, and supporting students with disabilities in research experiences. These videos are designed to give you an idea of what accessibility should look like and inspire you to see what you can do to make your department more inclusive for everyone. If you like these videos and want to see more, be sure to check out more DO-IT videos on our main DO-IT library page by clicking Videos at the top of the page!
In this video you will learn about how AccessComputing helps pair students with mentors, who may also have disabilities, who guide students through projects across many types of computing fields, teaching them valuable skills along the way. Many of the participants continue their research on to graduate school and follow their passion for accessible computing long after their time in the program.
Reading through hundreds of documents can be a challenge for anyone, but even more so for students with disabilities. Most of the time, people don't even realize the documents that they are creating are inaccessible! This video will teach you the dos and don'ts of creating documents that can be read and used by anybody.
As the mental health of computer science students becomes more of a growing concern, it is clear that instructors need to do more to address and support student mental health issues. In this video, Chris Murphy, a senior lecturer in computer science, will teach you some easy steps you can take to make your students more comfortable and likely to succeed in your class.
In order to make our departments accessible to students with disabilities, we must first start by looking at if our departments are inclusive for our own faculty. From the application process, all the way to worrying if requesting accommodations will risk not making tenure, faculty with disabilities may be at an unfair disadvantage. It may be time for you to review your department's accessibility by following the steps outlined in this video.
In this video you will learn about AccessADVANCE, a project run through the University of Washington and funded through the National Science Foundation that works to increase the advancement of women with disabilities in STEM-based academic careers. Hear from multiple women about their experiences with the program and how it has helped them in their professions.
Informal learning in STEM is something that has generally taken place at institutions, however with the increase in technology and the recent COVID-19 pandemic, there has been a significant increase in virtual content. Through programs such as the NSF-funded AccessISL project, this new virtual informal learning content can be created in a more accessible range to be studied and viewed by a much wider audience than ever before.