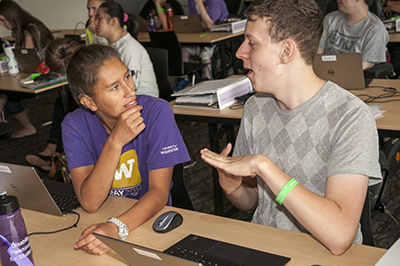 Many organizations offer internships, scholarships, and other opportunities that are of interest to students with disabilities in computing fields.  Check out the following opportunities and visit the webpages of each organization for up-to-date information.
Google is committed to helping the innovators of the future make the most of their talents by providing scholarships and networking retreats for computer science students with disabilities. Recipients receive a scholarship, are invited to attend the annual Google Scholars' Retreat at the Googleplex in Mountain View, California, and are considered for internship opportunities at Google. Scholarships are awarded based on the strength of candidates' academic background and demonstrated passion for computer science.
CMD-IT offers several career exploration and professional development opportunities that students with disabilities might be interested in.  These include workshops on careers in academia, national laboratories, and industry. 
ENTRY POINT! offers outstanding internship opportunities for students with disabilities in a variety of fields, including computing. Students with disabilities can apply their skills in a real-world setting in competitive summer internships.
COSD is a unique consortium composed of large and small universities, national employers, and US Government agencies focused on the career employment of college graduates with disabilities. Their conferences are a great opportunity to learn about careers.
The Workforce Recruitment Program (WRP) connects public and private sector employers with students with disabilities. Employers seek to fill both internships and permanent positions in a variety of fields, using WRP applicants. During the fall, students complete an online application and participate in interviews. By late March, a database of student information is made available to employers. Interested employers make direct contact with students about internship and job offers. Ask your school's disability services or career services coordinator if your school works with WRP or visit their website for more information.
Coordinated by the National Business & Disability Council (NBDC) at The Viscardi Center, the Emerging Leaders internship program places top undergraduate and graduate college students with disabilities in fulfilling summer internships nationwide that provide them with meaningful leadership development and networking opportunities.