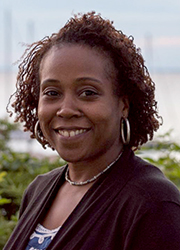 ​AccessComputing partner Ayanna Howard of Georgia Tech is the winner of The Richard A. Tapia Achievement Award for Scientific Scholarship, Civic Science and Diversifying Computing. Ayanna is the Linda J. and Mark C. Smith Professor and Chair of the School of Interactive Computing at the Georgia Institute of Technology. Ayanna conducts research in the area of assistive robotics and has mentored AccessComputing students.
The Richard A. Tapia Award is awarded annually to an individual who demonstrates significant research leadership and strong commitment and contributions to diversifying computing. Previous winners of the Tapia Award include AccessComputing PI Richard Ladner (2015), AccessComputing partners Bryant York (2001) and Valerie Taylor (2005), and several of our allies.
Read the full award announcement here.