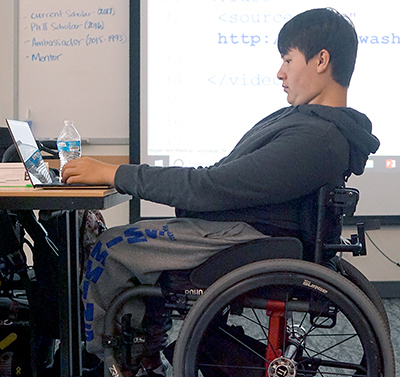 ​AccessComputing is a Bronze Sponsor of the 2018 Tapia Celebration of Diversity in Computing, being held September 19–22 in Orlando, FL. AccessComputing partner Shiri Azenkot from Cornell Tech will give a keynote titled "Changing the Way We See Things: Designing Technology for People with Low Vision" (Thursday 9:30–11:00 am, Regency O-R).
Come visit with AccessComputing staff and team members in the Exhibit Hall at booth 614 and check out the following sessions:
Panel: Disability Disclosure in Education and Employment (Thursday 2:00–3:30 pm, Orlando M)
Panel: Increasing Diversity in Computing: Sharing of Good Practices (Thursday 2:00–3:30 pm, Orlando N)
Birds of a Feather: Disability: Celebrating a Face of Diversity (Thursday 4:00–5:00 pm, Orlando M)
Panel: Welcoming Students with Disabilities (Friday 10:30–12:00 pm, Orlando L)
View the full schedule on the Tapia website.