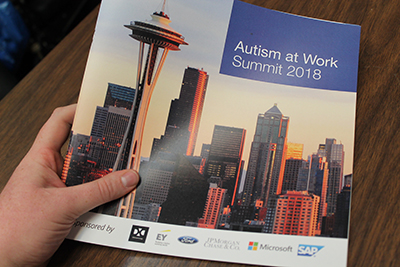 The Autism at Work Summit 2018 was held April 24-26, 2018 on the Microsoft campus in Redmond, WA. The conference brought together about 180 participants from a wide range of stakeholders including representatives from companies that have autism hiring programs such as DXC.technology, Ernst & Young, Ford, JP Morgan Chase, Microsoft, and SAP. Other participants included representatives from companies considering starting autism hiring programs, employment support agencies representatives, university and industry researchers, government agency representatives, and autism advocates.
There were keynote presentations from Tom D'Eri who helped found the Rising Tide Car Wash company that primarily hires people with autism and the actress Holly Robinson Peete who formed the HollyRod Foundation that provides support and resources for families that experience autism. There were many panels about hiring, onboarding, and retaining workers with autism at all kind of skill levels including computing majors. There were two panels of people with autism—one about career paths and the other about women with autism.
The panel about career paths featured John Marble who co-founded the Autism Advantage Program, which trains and supports people with autism who are interested in data analysis or quality assurance. John described his personal path where his view of his own autism changed from stigma to a positive advantage.
The panel on women with autism included Sara Luterman the founder and editor of NOS Magazine, which focuses on news and commentary about neurodiversity culture and representation. Sara articulately described the autistic experience in a way that does not emphasize deficits, but positives.
The conference was very well run with lots of time for questions, answers, and discussion. This was the third Autism at Work Summit and another one is planned for next year.
Prior to the Summit, Richard attended the Autism at Work Research Workshop. A leading question for the researcher is what are the features of a successful autism at work program. Exploring answers to this question will lead to better models for successful autism at work programs.