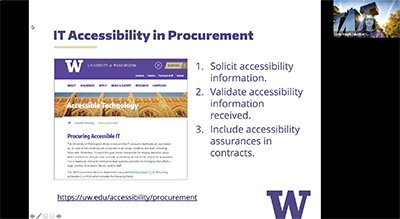 In the July 2020 edition of AccessComputing News, the article Accessibility and Third-Party Products and Services described three stages in which accessibility should be addressed as part of the process for procuring information technology (IT): Soliciting accessibility information from vendors, validating the accessibility information received, and including accessibility assurances in contracts. All three of these stages typically involve Voluntary Product Accessibility Templates (VPATs). VPATs are a standard form that vendors can use to document the accessibility of their products or services, as measured by accessibility standards such as the W3C Web Content Accessibility Guidelines 2.1. 
 
Anyone who makes IT procurement decisions is assuming risk on behalf of their university or organization. As risk owners, they must take steps to ensure the product or service they're procuring is accessible to all users, including those with disabilities. Therefore, risk owners—and the staff who support them—should have at least a basic understanding of how to read a VPAT. 
 
On June 30, 2021, Terrill Thompson, manager of the UW's IT Accessibility Team and IT accessibility specialist for AccessComputing, joined Lynn Magill of UW Procurement Services to offer a webinar titled Accessibility in Procurement: Partnering for Success and How to Read a VPAT. A goal of the webinar was to educate risk owners on how to consider accessibility when making IT procurement decisions. The webinar was recorded and is available online via the Accessible Technology Webinar Series website.