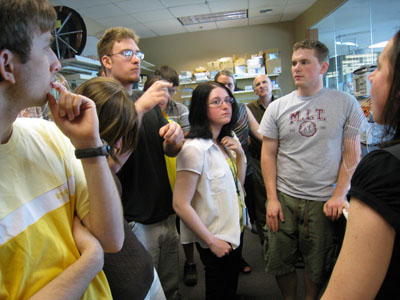 The Summer Academy is an academically challenging program designed for deaf and hard-of-hearing students with skills in math and/or science who may be considering computing as a career. Admission is extremely competitive, based on an assessment of ability in computing, and enthusiasm to participate in an intensive experience in all things computing. Participants take a computer programming course for college credit, a certificated class in Animation, visit computer companies, meet role models, and learn about computing research.
This past summer marked the fifth year of the very successful Summer Academy. In 2011, we expanded the number of students entering the Summer Academy to thirteen, bringing the total number of participants to 51 students over the five year period.
Just recently, we learned that two of our 2007 graduates gained employment in the computer science field: Jason Schwebke at Aurora Health Care as a Web Application Developer Associate, and Matt Starn at Microsoft as a Software Engineer. Summer Academy alumni have also held internships at companies that include Microsoft, Cisco Systems, NASA, and IBM.