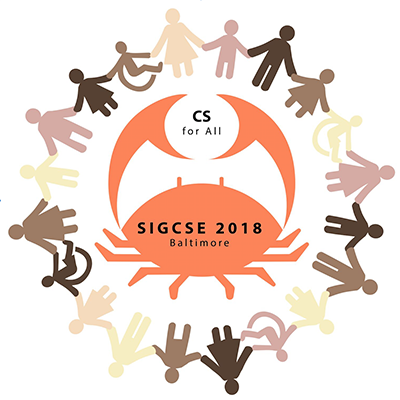 AccessComputing staff is excited about the large number of disability-related sessions at the SIGCSE Technical Symposium (Special Interest Group on Computer Science Education), being held in Baltimore on February 21 − 24. Check out some of our sessions and invite your colleagues! Sessions with an asterisk are organized by AccessComputing.
Teaching Accessibility in CS Courses, Thursday, 10:45 am, in 322 (Inclusion Track)
Who Teaches Accessibility? A Survey of U.S. Computing Faculty, Thursday, 2:10 pm, in 319 (Paper)
Enhanced Robotics! Improving Building and Programming Learning Experiences for Students with Visual Impairments, Thursday, 4:10 pm, in 320 (Paper)
Access to Computing Education for Students with Disabilities, Thursday, 5:30 pm, in 314 (Birds of a Feather)
Designing CS Courses using Universal Design Concepts, Thursday, 6:30 pm, in 310 (Birds of a Feather)
Teach Access: Teaching the Design and Development of Inclusive Technologies for All, Thursday, 6:30 pm, in 314 (Birds of a Feather)
We're All in This Together: CS students, the tech industry, and mental health, Thursday, 6:30 pm, in 317 (Birds of a Feather)
2018 Panel of Computing Students with Disabilities, Friday, 10:45 am, in 308 (Panel)
Bridging the Research to Practice Gap with Project TACTICal Briefs, Friday, 3:00 pm, in Exhibit Hall (Poster)
Teaching Inclusive Thinking to Undergraduate Students in Computing Programs, Friday, 4:35 pm, in 316 (Paper)
A Cross-Case Analysis of Instructional Strategies to Support Participation of K-8 Students with Disabilities in CS for All, Saturday, 9:10 am, in 320
Inclusive Teaching, Saturday, 8:45 am, in 322 (Inclusion Track)
More information on these sessions, as well as others at SIGCSE, may be found in the event program.