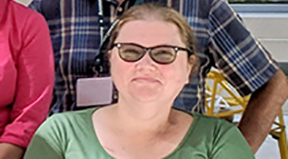 Amanda Rodda, a math and computer science teacher at the Washington State School for the Blind, is always looking to make her curriculum as accessible as possible for her students. Students with visual disabilities can often be left out coding due to inaccessible technology and barriers in the coding language. Rodda designs her computing curriculum around Quorum, an accessible and freely available coding language.
Rodda was recently featured in The Columbian for her work with Quorum and the team that has designed an accessible curriculum for the Advanced Placement Computer Science Principles exam. Rodda was applauded for her work in how to engage her students in work that is usually visual, weaving in creativity and games based on vocal cues and answering questions.
AccessCSforAll Co-PI Andreas Stefik is quoted in the article, stating ""As a scholar, I'm incredibly grateful to Amanda and some of her colleagues who do some of the work for these kids. They have really specialized expertise that some of us in scholarship don't have."
Read the article online and learn more about how Quorum can be used to teach coding to all, including students with disabilities.