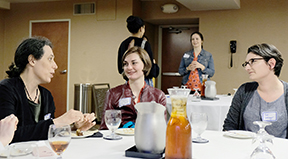 AccessComputing staff will be attending two big conferences in the next month: The Richard Tapia Celebration of Diversity in Computing and the Grace Hopper Celebration.
The goal of the Tapia Conference is to bring together undergraduate and graduate students, faculty, researchers, and professionals in computing from all backgrounds and ethnicities to celebrate diversity, connect among common backgrounds, network, and find inspiration and motivation.
The conference will be held in San Diego, CA this year from September 18-21, 2019. This year's theme, Diversity: Building a Stronger Future, is focused around the critical role that diversity plays in computing innovation and the creation of the future of all aspects of STEM, as well as promoting a diverse workforce that results in solutions that benefit everyone and creates a stronger, brighter future.
AccessComputing staff member Brianna Blaser served as Accessibility Chair for the 2019 Tapia Celebration. Visit the AccessComputing booth (#204) in the Exhibit Hall and check out some of the following sessions focused around disability (AccessComputing staff are participating in the asterisked sessions):
Thursday

9:30 – 11:00 am Marriott 5-9
Plenary Keynote: Making Accessibility by Jennifer Mankoff
9:30 – 11:00 am Marriott 5-9
Panel: Disability Disclosure in Education and Employment*
1:45 – 2:45 pm San Diego C
The Fallacy Objectivity: Leveraging Situated Knowledges to Advance Computing for Social Justice
1:45 – 2:45 pm Marriott 2
Panel: Increasing Diversity in Computing: Sharing of Good Practices*
3:00 – 4:00 pm Marriott 4
Incorporating Diversity-Related Topics into a Traditional CS Course
3:00 – 4:00 pm Marriott 12
Birds of a Feather: Navigating Tech with a Disability
4:30 – 5:30 pm Marriott 4
Birds of a Feather: Diversity includes Disability*

Friday

 
10:40 – 11:40 am Marriott 2
Inspiring Diverse Women in Computer Science Research*
The Grace Hopper Celebration is the world's largest gathering of women technologists. The celebration results in collaborative proposals, networking and mentoring for our attendees. GHC presenters are leaders in their respective fields, representing industry, academia and government. The celebration also offers professional development through a variety of activities.
The conference this year will be in Orlando, FL, from October 1-4, 2019.
AccessComputing staff and team members will deliver the following presentation:
CR202: Navigating the Tech Scene with a Disability
Thursday, October 3, 2019 from 2:15 PM - 3:15 PM
Location: Hyatt Regency Ballroom
Speakers: Meenakshi Das, Naba Rizvi, Rebecca Krieger, Lauren Cordelia Siegel, Brianna Blaser
Other disability related sessions include the following:
HI504: Building Products for Everyone in a World that Cares about the Bottom Line
HI569: Ethical Design: Principles And Practice
HI648: Accessibility and Universal Design in PBS KIDS Digital Development
HI651: Accessibility Curricula Collaboration Fostering Employable Student Skills (MU ACCESS)
CR407: Empathy as a Service: Supporting Mental Health in the Tech Workplace
TM563: Breaking Societal And Learning Barriers for Dyslexic And Autistic Children
CR111: Mental Illness in the Workplace: How to Have an Honest, Real Conversation
HI527: Insight Without Sight: Non-Visual Access to Data Visualization
TW675: Leveling the Playing Field: Building an Inclusive Fitness App