Field of Study:
Computer Engineering Technology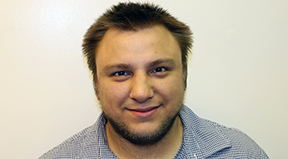 My name is Alex. I'm a student at Rochester Institute of Technology (RIT) where I'm studying Computer Engineering Technology. I enjoy thinking about both the hardware and software side of computing. Hardware provides me with the ability to physically get my hands dirty, where the software allows me to exercise my problem solving abilities.
I worked as a software engineering co-op for 6 months, as a requirement for my degree. This fueled my passion for programming and motivated me to keep working hard to get my career off the ground.
What are you going to do with your degree?
While a student, I've become involved with MotionSavvy, a company that is creating solutions to communication problems for the deaf and hard of hearing. I am the guy in charge of all the technology so I would firmly say I want to continue being an entrepreneur.
I didn't always see myself becoming an entrepreneur but from a very young age I have always wanted to do things with computers. My current work allows me to keep working with computers while learning more about business. I'm making an impact on the world by using skills that I've learned as part of my degree to create a product that will fundamentally help people who are deaf use American Sign Language, their natural language, to communicate.
In the past I worked as a software engineering coop for 6 months, as a requirement for my degree. This fueled my passion for programming and motivated me to keep working hard to get my career off the ground.
What is your disability? How has it affected your career in computing?
I was born with Bilateral Hearing loss, I feel that since I couldn't communicate well it pushed me towards computers that did not require sound. I would say that I am incredibly spoiled by the support that RIT/NTID (National Technical Institute for the Deaf) provides its students in terms of providing interpreter support. The process is very easy you just register your needs depending on your class schedule and/or class events and they work very hard to make sure that interpreters are there.
However, as I have progressed in my studies it's been harder and harder to find interpreters for high-level math and engineering classes that are required for a challenging major like mine. I hope future students aren't discouraged by this but instead learn to ask for help when needed. The biggest complaint I hear from my professors is that the students who don't go to office hours are usually the ones that are struggling academically. Faculty are extremely motivated to see their students succeed but can't do much if the student doesn't advocate for themselves.
What can I do while I'm in high school if I want to pursue a career in computing?
If you're in high school and thinking about a career in computing, show your interest early. One way to do this is by finding a mentor, somebody who can help you choose your future. Computing is a very large field of study - having a mentor can help you pinpoint which direction you want to go.
It is important to be curious and motivated to see tasks through. Computing is generally not something that happens in a short time frame. Whether you're working on software or hardware, completing a project takes a lot of work.
Why should I study computing?
Computing is immensely rewarding – I cannot state that enough. The feeling as you complete a program and it works for the first time is one of the best, especially if the project you have undertaken is a big one. Not only that, computing is continually growing, and thus the job outlook for students graduating from degree programs is very good.