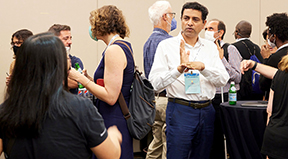 AccessComputing will be hosting the Accessibility and Disability in Computer Science Education event in conjunction with SIGCSE 2023 in Toronto on March 15, 2023 from 9am - 4pm.

AccessComputing is an NSF Broadening Participation in Computing Alliance that works with a nationwide network to increase the participation of people with disabilities in computer science education. Our efforts focused on institutional transformation serve to better prepare educators to be welcoming and inclusive of students with disabilities.
During this event, current AccessComputing partners and others interested in engaging with AccessComputing will come together to share their work related to accessibility, network with one another, and identify action steps and plans to work toward common goals. Through this session, attendees will learn about the experiences of people with disabilities in computer science education and strategies to be more inclusive.
Please register here for the affiliated event. 
AccessComputing can support a limited number of attendees with one night of hotel accommodations. Attendees of SIGCSE affiliated events must register for the 2023 SIGCSE Technical Symposium.