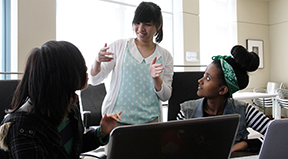 Over the spring and summer, those of us at AccessComputing have been acutely aware of the calls to end structural inequalities and racial injustices. We endorse this open letter authored by the leaders of Black in Computing.
An Open Letter & Call to Action to the Computing Community from Black in Computing and Our Allies
At AccessComputing, we partner with organizations that work to increase the participation of Black and other minoritized people in computing fields and participate in conferences and workshops that serve these groups. We engage every year with the ACM Richard Tapia Celebration of Diversity in Computing and the CRA-WP (Computing Research Association Widening Participation Committee) Grad Cohort Workshop for Underrepresented Minorities and Persons with Disabilities. As a result of the continued engagement with our partners, our AccessComputing Team of approximately 475 students with disabilities is about 11% Black, closely matching the demographics of the US. We continue to use an intersectional lens in our work related to disability and find ways to engage in anti-racism.