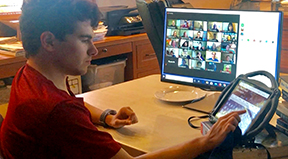 Without explicit consideration to accessibility and universal design, online computer science education is unlikely to be welcoming to students with a variety of disabilities. Join faculty, people with disabilities, and broadening participation experts for discussion of explicit strategies that faculty and instructors can take in the short-term and in the long-term to increase the accessibility of their computer science courses.
AccessComputing looks forward to discussing these topics during our affiliated event at SIGCSE, Welcoming students with disabilities in online computer science education.
Date: Thursday, March 11, 2021
Time: 1 pm Eastern/10 am Pacific - 5 pm Eastern/2 pm Pacific
Speakers:
Sheryl Burgstahler, co-PI of AccessComputing, is the founder and director of the DO-IT Center at the

University of Washington (UW)

. Her teaching and research focus on the successful transition of students with disabilities to college and careers and on the application of universal design to technology, learning activities, physical spaces, and student services in educational settings.
Terrill Thompson is the manager of the IT Accessibility Team at the

UW

. He promotes information technology (IT) accessibility by developing resources, delivering lectures and workshops, providing consultation to a wide variety of constituents, and conducting research.
Richard Ladner, Principal Investigator (PI) of AccessComputing, is a professor in computer science and engineering at the UW. In addition to organizing programs for students with disabilities in computing, his research interests include accessibility technology research, especially technology for people who are deaf, deaf-blind, hard-of-hearing, and blind.
Cost: Free
Register via the SIGCSE Symposium website.
AccessComputing is an NSF Broadening Participation in Computing Alliance that works to increase the participation of people with disabilities in computing education and careers. Stay tuned for more information about other disability and accessibility related sessions at SIGCSE.
Questions? Email accesscomp@uw.edu.