UW News
Video
---
January 30, 2020
The University of Washington has long boasted one of the country's top programs in atmospheric sciences. Now, the UW is also teaching undergraduates how to share that knowledge online and on TV as a broadcast meteorologist.
---
January 21, 2020
On a recent Saturday evening, a dozen women gathered around a table at a community room in the White Center neighborhood of Seattle, settling in with snacks and conversation. The evening's program would be more education than entertainment, an opportunity to discuss topics so sensitive that, without the group of women assembled that night, might…
---
January 9, 2020
In 2019, the University of Washington was mentioned in 4,143 news articles around the world. Among those, UW experts were quoted 2,290 times: 1,185 in national or international outlets and 1,105 in regional and local outlets.
---
December 18, 2019
As 2019 draws to a close, we present highlights from video stories produced by the UW News team — selections from architecture to zoology, and everything in between
---
December 12, 2019
An Antarctic field campaign last winter led by the U.S. and Australia has successfully extracted some of the largest samples of air dating from the 1870s until today. Researchers will use the samples to look for changes in the molecules that scrub the atmosphere of methane and other gases.
---
October 31, 2019
After years of preparation, a tiny satellite built by UW students is scheduled to launch early Saturday, Nov. 2, from a NASA flight facility in Virginia. The launch will be broadcast live on NASA TV.
---
October 28, 2019
A team led by the University of Washington and Stanford University has discovered clues in the environment that help identify transmission hotspots for schistosomiasis, a parasitic disease that is second only to malaria in its global health impact.
---
This video features Rod Crawford, the curator of arachnids at the University of Washington's Burke Museum. He has spent decades studying spiders and says there are many common myths about spiders that he is regularly asked about.
---
October 16, 2019
UW President Ana Mari Cauce delivered her annual address to the community Oct. 15 at wǝɫǝbʔaltxʷ – Intellectual House on the University of Washington campus.
---
October 7, 2019
Sparked by a grant from the UW Population Health Initiative, the UW's Center for One Health Research has created a series of pop-up galleries featuring autobiographical photographs made by people experiencing homelessness with their animal companions. The first gallery was Oct. 4 in UW's Red Square. Other pop-up gallery events are 11 a.m. to 5 p.m. on Monday,…
---
September 23, 2019
Convocation welcomes the entering class and officially marks the beginning of the academic year. UW classes begin Sept. 25. More than 6,000 people were expected to attend this year's event.
---
September 20, 2019
The University of Washington welcomed nearly 10,000 students during Husky move-in days Sept. 18-20.
---
August 23, 2019
More than 99 percent of wildfires in the last 40 years have been east of the Cascade Crest. But evidence that suggests Western Washington also has a history of large wildfires, each burning hundreds of thousands of acres. We might not be familiar with them, because most happened centuries ago.
---
July 30, 2019
A robotics challenge July 20th at the UW featured twenty-eight teams of middle and high schoolers from Forks to Walla Walla and from Bellingham to Olympia. The event marked a half-century since the Apollo 11 mission landed on the moon and two U.S. astronauts, Neil Armstrong and Buzz Aldrin, walked its surface.
---
July 17, 2019
The Burke Museum at the University of Washington has North America's largest fish collection that includes a number of sharks, including many species that live in Pacific Northwest waters.
---
July 12, 2019
In honor of Shark Awareness Day on July 14, UW News sat down with Katherine Maslenikov, manager of the UW Fish Collection, to learn about sharks in the Pacific Northwest and other fun facts about sharks.
---
June 24, 2019
Research shows that LGBTQ older adults are at higher risk for social isolation. To that end, UW social work professor Karen Fredriksen Goldsen helped establish an LGBTQ senior center in Seattle.
---
June 20, 2019
Jacqueline Padilla-Gamiño, an assistant professor in the UW School of Aquatic and Fishery Sciences, spent up to eight hours at a time in the cramped quarters of a submersible watercraft, studying the largest known coral reef in the mesophotic zone, located in the Hawaiian Archipelago.
---
June 14, 2019
More than 8,000 graduates attended the University of Washington's 144th commencement ceremonies on Saturday.
---
June 12, 2019
Wikipedia is one of the most successful online communities in history, yet it struggles to attract and retain editors who are women — another example of the gender gap online.
---
June 4, 2019
The annual thesis exhibition by graduating art and design students with the University of Washington School of Art + Art History + Design brings together the dreamy and the practical to cohabit at the Henry Art Gallery. This year's exhibit features the work of 10 artists and 11 designers, and will be at the Henry through June 23.
---
June 3, 2019
The Husky Marching Band returned to central Washington on Sunday to say thank you to the Grant County community after a bus crash there last Thanksgiving.
---
May 31, 2019
Vehicle residents are a significant proportion of Seattle's unsheltered population. The University of Washington's Graham Pruss, a doctoral candidate in anthropology, has studied vehicle residency for a decade and speaks about the challenges and solutions facing this community.
---
May 29, 2019
University of Washington researchers have developed a novel solution to change the feeling of impact when one thing hits another. It has potential for use in spacecraft, cars and beyond — inspired by origami.
---
April 26, 2019
Engineering Discovery Days is a yearly event that invites Washington state fourth- through eighth-graders to have fun leaning about STEM with the College of Engineering.
---
April 19, 2019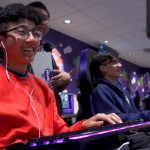 The UW celebrated the opening of an esports center with a ribbon cutting ceremony April 18.
---
April 18, 2019
UW scientists are sending a kidney-on-a-chip experiment into space. At an altitude of 250 miles, astronauts will help study how reduced gravity in space affects kidney physiology.
---
April 1, 2019
A team of UW students hopes to make it possible to accurately predict peak bloom timing for the iconic Quad cherry trees.
---
March 21, 2019
The first day of spring seems especially significant this year — record warm temperatures in the Northwest are marking the change of seasons. But our blooms may be a couple weeks behind schedule after February's snow and cold weather, according to Ray Larson, curator at UW Botanic Gardens.
---
March 13, 2019
UW researchers have created a novel system that can measure platelet function within two minutes and can help doctors determine which trauma patients might need a blood transfusion upon being admitted to a hospital.
---
March 1, 2019
Amarilys Ríos is a professional percussionist, singer and dancer from San Juan, Puerto Rico. In this video she gives an introduction to "bomba," an Afro-Puerto Rican music and dance tradition in which dancers lead the drummer to sound out their improvised movements. "Bomba is a way of expression and communication" with key ingredients, explains…
---
February 28, 2019
The University of Washington today marked the official opening of the new Bill & Melinda Gates Center for Computer Science & Engineering on its Seattle campus. The building doubles the space available to UW's Paul G. Allen School of Computer Science & Engineering to enable a new wave of computing innovation and to educate more of Washington's students for 21st century careers that will help shape the future of technology.
---
February 21, 2019
The iconic cherry trees in the University of Washington's Quad will likely reach peak bloom the third week of March, right in line with most years.
---
February 19, 2019
This video takes a look at the UW's revenue and operating budget from the 2018-2019 academic year. We explain where the money comes from and how it is spent.
---
February 8, 2019
Nick Bond, Washington's state climatologist, comments on the unusual weather in Western Washington.
---
February 4, 2019
A UW-led team has found that early spring rainfall warms up a thawing permafrost bog in Alaska and promotes the growth of plants and methane-producing microbes.
---
January 23, 2019
A center housed at the University of Washington offers a new way for scientists to get their hands on state-of-the-art equipment to study the effects of natural disasters. The RAPID Facility, which is the first of its kind in the world, contains over 300 instruments that are available for researchers around the world to use.
---
January 16, 2019
The University of Washington today opened the doors to Othello-UW Commons, a new multifunctional partnership space in the heart of Southeast Seattle's Othello neighborhood.
---
January 2, 2019
Husky football players, including Myles Gaskin and JoJo McIntosh, mentor teens each week as part of a program hosted by the Yesler Community Center in Seattle.
---
December 12, 2018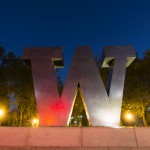 In 2016, Seattle Public Schools pushed back the start times for the district's 18 high schools by 55 minutes, from 7:50 a.m. to 8:45 a.m. And as hoped, teenagers used the extra time to sleep in.
---
Next page