UW News
UW and the community
---
May 4, 2021
In his latest book, "Sustaining a City's Culture and Character: Principles and Best Practices," Charles Wolfe asks: How can we create urban environments that are truly livable?
---
May 3, 2021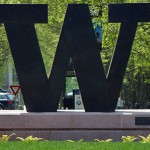 The University of Washington on Monday announced it will require all students on all three of its campuses to be vaccinated against COVID-19 before the start of the autumn quarter. The announcement comes with six weeks remaining in the spring quarter to provide time for students who are in the area to get vaccinated before summer.
---
April 29, 2021
Recent honors to UW faculty include a Golden Apple Award for teaching innovation from Seattle television station KCTS and a Leading the Narrative award for community engagement from the Society of Behavioral Medicine.
---
April 28, 2021
The University of Washington's Spokane Center will soon serve the community and its constituents from new offices in Spokane's historic Spokane Inland Empire Railroad (SIERR) Building, located in the heart of Spokane's growing University District. The UW Spokane Center will relocate May 1, 2021, to new offices at 850 E. Spokane Falls Blvd. from its office at 201 West Main, where it has been housed since 2015.
---
April 22, 2021
UW biology professors Jeffrey Riffell and David Perkel have received grants from the Human Frontier Science Program.
---
April 20, 2021
Manuel S. Martinez, a lifelong campesino, trabajador and community organizer, recalls the beginning of the pandemic. Interviewed by UW student Adriana Martinez.  Zoom, masks, family and politics — these are some of the lasting memories shared by participants in a University of Washington student oral history project. Undergraduate seniors in the Public Health Global Health major at…
---
April 9, 2021
A root cause of America's sharp division, UW international studies professor Dan Chirot says, is that the visions of the left and right are based on "drastically different histories."
---
April 5, 2021
The retirement of Alaska Airlines CEO Brad Tilden after a 30-year career with the company – at least in one way – had the University of Washington written all over it. Horizon Air recently unveiled a special Huskies-themed livery on a Q400 (tail number #N435QX) in honor of Tilden, who earned his MBA at the UW and has maintained a strong partnership with the University for several years. Tilden retired March 31.
---
April 1, 2021
John Schaufelberger, UW professor of construction management and dean emeritus of the College of Built Environments, has received the 2021 Lifetime Achievement Award from the Associated Schools of Construction.
---
March 25, 2021
Scientists from the University of Washington are testing the viability of making maple syrup in the Pacific Northwest. Long associated with Canada or Vermont, this sweet forest product that has graced many a breakfast table may be part of this region's future.
---
March 24, 2021
An Intel Corporation award for work to make computers more energy-efficient, a Research Corporation for Science award for chemistry research and education, and two Google inclusion awards to create technology for underrepresented populations.
---
March 17, 2021
The message of "Forgetting Nature," a new documentary film featuring Peter Kahn, is short but powerful: We humans are losing our connection to the natural world, at our great peril.
---
March 16, 2021
Tales of artificial intelligence and its effects on future life are gathered in "Telling Stories: On Culturally Responsive Artificial Intelligence," presented by the UW Tech Policy Lab.
---
March 15, 2021
"Jewish Questions," a podcast from the Stroum Center for Jewish Studies, explores issues of Jewish life, politics, history and culture
---
March 10, 2021
A new University of Washington study finds that an identification with all humanity, as opposed to identification with a geographic area like a country or town, predicts whether someone will engage in "prosocial" behaviors particular to the pandemic, such as donating extra masks or coming to the aid of a sick person.
---
March 9, 2021
Balancing motherhood and medical school is a challenge, but panic attacks and memories of childhood trauma make the path all the more difficult. With therapy, Dr. Anne McTiernan found her way through. Now she discusses her experiences in an intimate memoir, "Cured: A Doctor's Journey from Panic to Peace."
---
March 8, 2021
The University of Washington once again is asking people to enjoy the iconic campus cherry blossoms virtually this year to promote physical distancing and safety during the ongoing COVID-19 pandemic.
---
March 4, 2021
On March 6, 2020, the University of Washington became the first university in the U.S. to announce a move to remote instruction and work in an effort to slow the spread of the novel coronavirus. Here's a look back at the past year, from the perspectives of how the UW community adapted and the impact the…
---
By the end of February, around 350 UW students had signed up to be volunteer vaccinators in clinics from Tacoma to Marysville.
---
March 2, 2021
Recent honors and achievements by UW faculty and staff include a grant for field research in the Middle East, a staffer's play being streamed by a Seattle theater and a professor's cartoon remembrance of a relative lost to COVID-19.
---
February 18, 2021
The Polymer Physics Prize from the American Physical Society and a dissertation award from the Society for American Archaeology.
---
February 16, 2021
Historian Anand Yang writes about the British history of shipping of convicted criminals to other continents; and new world music education books from ethnomusicologist Patricia Shehan Campbell.
---
February 10, 2021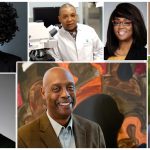 Seven University of Washington scientists are included in Cell Mentor's list of 1,000 inspiring Black scientists, published in December 2020. Cell Mentor is a collaborative resource between Cell Press and Cell Signaling Technology.
---
February 9, 2021
Recent honors and achievements by UW faculty include a keynote address at a national Holocaust commemoration event, an album of new compositions and a best-of-2020 musical nod from the Seattle Times.
---
February 2, 2021
"Making Amends," a new podcast by University of Washington professor Steve Herbert, explores themes of atonement among men incarcerated at the Oregon State Penitentiary.
---
February 1, 2021
Notable recent books written or edited by UW faculty include an exploration of African American political theory, a book on philosophy and migration and a textbook on health data science.
---
January 28, 2021
The UW Bothell Husky Village Redevelopment project is being proposed in Development Area D of the campus to provide residence halls, apartments, dining, gathering and office space.
---
January 25, 2021
Nicolaas Barr of the UW's Comparative History of Ideas Department talks about his translation of "Djinn," a memoir by Tofik Dibi, who served for six years as a member of the Dutch Parliament.
---
A talk with Robert Edmonds, professor emeritus in the School of Environmental and Forest Sciences, who has written a new history of UW forestry research and education called "Saving Forest Ecosystems: A Century Plus of Research and Education at the University of Washington."
---
January 20, 2021
A book co-edited by Robert Pekkanen of the UW's Jackson School of International Studies brings together top scholars to study the origins and effects of electoral systems in the United States and other democracies.
---
January 13, 2021
When someone has the coronavirus, some of it is shed in their fecal matter. So what people flush has become useful material to University of Washington researchers who are developing a new testing method for COVID-19 in sewage.
---
January 4, 2021
Recent honors to and awards for UW faculty and staff members include a documentary film appearance, a distinguished educator award and an honor for historic preservation planning.
---
December 28, 2020
In a new book, Taso Lagos of the UW Jackson School studies the rivalry between Aimee Semple McPherson and Robert "Fighting Bob" Shuler, two California-based performer-preachers who had the country's rapt attention in the 1920s.
---
December 14, 2020
Johns Hopkins University and the University of Washington brought together leading experts in October to explore these issues and put forward a concise plan for protecting the scientific integrity of these lifesaving efforts. Here's a 4-minute highlight reel of the symposium.
---
Here's a quick look at some giftworthy books and music created by UW faculty and staff in 2020, and a reminder of some recent favorites.
---
December 2, 2020
A talk with UW drama professor Scott Magelssen, who explores American aviation from the perspective of performance studies in his new book "Performing Flight."
---
November 30, 2020
Nonprofit organizations throughout Washington state are struggling during the COVID-19 pandemic, as revenues and volunteering drop but demand for services remains high.
---
November 24, 2020
Recent honors and awards for UW faculty and staff include a top young innovator, a new endowed faculty fellow, research grants awarded and a career achievement award in environmental political science.
---
November 14, 2020
Download this B-roll here. The University of Washington welcomes back Tent City 3 — an organized tent-city community — to its Seattle campus for 90 days during winter quarter 2021. Move-in is scheduled to begin Dec. 19. The UW previously hosted Tent City 3 in winter 2017, in the same location it will be…
---
November 13, 2020
Homelessness is a crisis in Washington and across the U.S. Last year, an annual count revealed that in King County alone, 11,200 people reported being homeless at the time of the survey. The numbers have only increased during the pandemic.
---
Next page