UW News
UW and the community
---
July 29, 2021
The Nehemiah Studio, a UW class on mitigating gentrification in Seattle's Central District, has been honored by the Lincoln Institute of Land Policy.
---
July 28, 2021
Soil, particularly in urban areas, can hold contaminants that are unhealthy for people who handle it or eat things grown in the ground. Chemicals left behind by vehicles, air pollution and heavy industry can show up in the ground and in plants. Melanie Malone, assistant professor in UW Bothell's School of Interdisciplinary Arts & Sciences investigates these contaminants and their prevalence in shared garden spaces.
---
July 9, 2021
Recent honors and achievements by UW faculty include an early career award for study of family communication and a distinguished service award for decades in support of theoretical computing.
---
June 30, 2021
The University of Washington is announcing the steps it will take in this fiscal year, starting July 1, to reach the targets set in the UW's Sustainability Action Plan.
---
June 29, 2021
Recent news from the Jackson School of International Studies includes a new endowed scholarship for study of India made possible by two alumni, and a book on angels in ancient Jewish culture by Jewish Studies professor Mika Ahuvia.
---
June 23, 2021
In her new book, Jana Mohr Lone of the UW Center for Philosophy for Children asks, how would the world benefit if children were recognized as independent thinkers?
---
Development has changed the face of the Capitol Hill neighborhood of Seattle, says Manish Chalana, associate professor of urban design and planning at the University of Washington, but it remains the heart of the city's LGBTQ community.
---
June 17, 2021
Back in the summers of 2018 and 2019, the shellfish industry in Washington state was rocked by mass mortalities of its crops. Now, researchers think they have figured out why: high concentrations of yessotoxinss, which are produced by blooms of certain phytoplankton. The researchers' findings were published last month in the open-access journal Harmful Algae.
---
June 16, 2021
Ocean Voices, a program of the UW Nippon Foundation Ocean Nexus Center to advance equity in ocean science, has been named among the first group of actions taken in a United Nations-sponsored, decade-long program of ocean science for sustainable development.
---
June 15, 2021
This summer a UW mobile health outreach van will hit the road, bringing some basic health care services to people without housing who might have a hard time getting to a doctor's office.
---
The University of Washington's second virtual commencement was held June 12, 2021. The online ceremony, the second in the school's 161-year history, celebrated the Class of 2021 with graduates and their families and friends watching the ceremony from more than 30 countries with translations in nine languages.
---
June 8, 2021
Shawn Wong, UW English professor and longtime advocate for Asian American literature, has received the 2021 Stand UP Award from the Association of University Presses.
---
June 1, 2021
Two professors with the UW Paul G. Allen School of Computer Science & Engineering — Shyam Gollakota and Anna Karlin — have received 2020 honors from the Association for Computing Machinery.
---
May 27, 2021
The potted junipers on the steps of Suzzallo Library are undergoing a transformation. Flanking the entrance to one of UW's most beloved buildings, they are viewed by hundreds of people walking through Red Square each week. Bioengineering postdoctoral researcher Le Zhen is transforming these shrubs into bonsai — miniature trees that are pruned, nurtured and trained with wire to look like their much older, full-sized counterparts living in nature. He hopes this prominent display of bonsai will signal to members of the AAPI community that UW is safe and welcoming.
---
May 26, 2021
Recent honors for UW faculty include the 2021 Presburger award for theoretical computer science, an Early Career Faculty Innovator research grant for a collaboration in environmental studies with the Karuk Tribe in California, and a fellowship to explore war regulations and raiding norms among early Arabian Jewish communities.
---
May 4, 2021
In his latest book, "Sustaining a City's Culture and Character: Principles and Best Practices," Charles Wolfe asks: How can we create urban environments that are truly livable?
---
May 3, 2021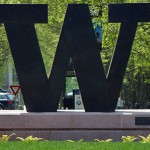 The University of Washington on Monday announced it will require all students on all three of its campuses to be vaccinated against COVID-19 before the start of the autumn quarter. The announcement comes with six weeks remaining in the spring quarter to provide time for students who are in the area to get vaccinated before summer.
---
April 29, 2021
Recent honors to UW faculty include a Golden Apple Award for teaching innovation from Seattle television station KCTS and a Leading the Narrative award for community engagement from the Society of Behavioral Medicine.
---
April 28, 2021
The University of Washington's Spokane Center will soon serve the community and its constituents from new offices in Spokane's historic Spokane Inland Empire Railroad (SIERR) Building, located in the heart of Spokane's growing University District. The UW Spokane Center will relocate May 1, 2021, to new offices at 850 E. Spokane Falls Blvd. from its office at 201 West Main, where it has been housed since 2015.
---
April 22, 2021
UW biology professors Jeffrey Riffell and David Perkel have received grants from the Human Frontier Science Program.
---
April 20, 2021
Manuel S. Martinez, a lifelong campesino, trabajador and community organizer, recalls the beginning of the pandemic. Interviewed by UW student Adriana Martinez.  Zoom, masks, family and politics — these are some of the lasting memories shared by participants in a University of Washington student oral history project. Undergraduate seniors in the Public Health Global Health major at…
---
April 9, 2021
A root cause of America's sharp division, UW international studies professor Dan Chirot says, is that the visions of the left and right are based on "drastically different histories."
---
April 5, 2021
The retirement of Alaska Airlines CEO Brad Tilden after a 30-year career with the company – at least in one way – had the University of Washington written all over it. Horizon Air recently unveiled a special Huskies-themed livery on a Q400 (tail number #N435QX) in honor of Tilden, who earned his MBA at the UW and has maintained a strong partnership with the University for several years. Tilden retired March 31.
---
April 1, 2021
John Schaufelberger, UW professor of construction management and dean emeritus of the College of Built Environments, has received the 2021 Lifetime Achievement Award from the Associated Schools of Construction.
---
March 25, 2021
Scientists from the University of Washington are testing the viability of making maple syrup in the Pacific Northwest. Long associated with Canada or Vermont, this sweet forest product that has graced many a breakfast table may be part of this region's future.
---
March 24, 2021
An Intel Corporation award for work to make computers more energy-efficient, a Research Corporation for Science award for chemistry research and education, and two Google inclusion awards to create technology for underrepresented populations.
---
March 17, 2021
The message of "Forgetting Nature," a new documentary film featuring Peter Kahn, is short but powerful: We humans are losing our connection to the natural world, at our great peril.
---
March 16, 2021
Tales of artificial intelligence and its effects on future life are gathered in "Telling Stories: On Culturally Responsive Artificial Intelligence," presented by the UW Tech Policy Lab.
---
March 15, 2021
"Jewish Questions," a podcast from the Stroum Center for Jewish Studies, explores issues of Jewish life, politics, history and culture
---
March 10, 2021
A new University of Washington study finds that an identification with all humanity, as opposed to identification with a geographic area like a country or town, predicts whether someone will engage in "prosocial" behaviors particular to the pandemic, such as donating extra masks or coming to the aid of a sick person.
---
March 9, 2021
Balancing motherhood and medical school is a challenge, but panic attacks and memories of childhood trauma make the path all the more difficult. With therapy, Dr. Anne McTiernan found her way through. Now she discusses her experiences in an intimate memoir, "Cured: A Doctor's Journey from Panic to Peace."
---
March 8, 2021
The University of Washington once again is asking people to enjoy the iconic campus cherry blossoms virtually this year to promote physical distancing and safety during the ongoing COVID-19 pandemic.
---
March 4, 2021
On March 6, 2020, the University of Washington became the first university in the U.S. to announce a move to remote instruction and work in an effort to slow the spread of the novel coronavirus. Here's a look back at the past year, from the perspectives of how the UW community adapted and the impact the…
---
By the end of February, around 350 UW students had signed up to be volunteer vaccinators in clinics from Tacoma to Marysville.
---
March 2, 2021
Recent honors and achievements by UW faculty and staff include a grant for field research in the Middle East, a staffer's play being streamed by a Seattle theater and a professor's cartoon remembrance of a relative lost to COVID-19.
---
February 18, 2021
The Polymer Physics Prize from the American Physical Society and a dissertation award from the Society for American Archaeology.
---
February 16, 2021
Historian Anand Yang writes about the British history of shipping of convicted criminals to other continents; and new world music education books from ethnomusicologist Patricia Shehan Campbell.
---
February 10, 2021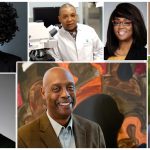 Seven University of Washington scientists are included in Cell Mentor's list of 1,000 inspiring Black scientists, published in December 2020. Cell Mentor is a collaborative resource between Cell Press and Cell Signaling Technology.
---
February 9, 2021
Recent honors and achievements by UW faculty include a keynote address at a national Holocaust commemoration event, an album of new compositions and a best-of-2020 musical nod from the Seattle Times.
---
February 2, 2021
"Making Amends," a new podcast by University of Washington professor Steve Herbert, explores themes of atonement among men incarcerated at the Oregon State Penitentiary.
---
Next page