UW News
Profiles
---
November 2, 2016
Prof. Devin Naar of the Jackson School and the Department of History discusses his new book, "Jewish Salonica: Between the Ottoman Empire and Modern Greece,"
---
October 21, 2016
Communication professor Leah Ceccarelli discusses the work that brought her the National Communication Association's Douglas W. Ehninger Distinguished Rhetorical Scholar Award for 2016.
---
October 4, 2016
The UW's Seattle Civil Rights and Labor History Project has an important new component — the LGBTQ Activism in Seattle History Project. There will be a public launch at 7 p.m. Monday, Oct. 10, in Room 340 of the HUB.
---
August 18, 2016
UW professor Sally Brown and collaborators have published the most extensive compilation to date explaining how to grow urban agriculture, and how doing so could save American cities.
---
August 8, 2016
Simon Stevenson of the United Kingdom's University of Reading will be the next director of the University of Washington's Runstad Center for Real Estate Studies, in the College of Built Environments.
---
June 23, 2016
In the fall of 2014, Cuban tour guide David Camps led a group from the University of Washington on a serendipitous bus tour around his native country. The group seemed to ask a lot of questions, but Camps — a former attorney and top diplomat turned tour guide — thought little of it; clients were often curious about…
---
June 9, 2016
The University of Washington recognized and honored faculty, staff, students and alumni for their passion and dedication to the UW, the local community, the state and the world. The 46th-annual Awards of Excellence ceremony took place at Meany Hall on Thursday, June 9, 2016.
---
The Ecological Society of America has named University of Washington professor Jerry Franklin its "Eminent Ecologist" of 2016. The award, considered the organization's most prestigious accolade, honors a senior ecologist who has made significant, long-standing contributions to the field of ecology.
---
April 29, 2016
The upcoming season finale of TLC's popular program "Who Do You Think You Are," airing May 1, will feature UW professor Devin Naar helping television star Lea Michele learn about her Sephardic Jewish ancestry.
---
April 28, 2016
Anthony Geist, professor of Spanish and Portuguese Studies, has been awarded one of Spain's highest civil honors — a knighthood.
---
April 21, 2016
Jerry Franklin, a professor of environmental and forest sciences, was honored by the Pinchot Institute for Conservation for his lifelong work in forest ecology, conservation and policy.
---
January 19, 2016
Jennifer Cohen, senior associate athletic director at the University of Washington, has been named interim athletic director, UW President Ana Mari Cauce announced Tuesday. Cohen steps in for Scott Woodward, who announced earlier this month he would be taking a position at Texas A&M University. Cohen's appointment is effective Feb. 1. "With her years of…
---
November 10, 2015
Melinda Bargreen is a Seattle-based freelance arts writer who spent 31 years as classical music critic for The Seattle Times. She is the author of "Classical Seattle: Maestros, Impresarios, Virtuosi, and Other Music Makers," published this fall by University of Washington Press. Bargreen is a University of Washington alumna, with a bachelor of arts in…
---
September 8, 2015
Polly Myers is a lecturer in the UW Department of History and author of the book "Capitalist Family Values: Gender, Work, and Corporate Culture at Boeing," published by University of Nebraska Press.
---
July 22, 2015
In recognition of their outstanding records of scientific achievement, 12 University of Washington professors will be inducted this fall into the Washington State Academy of Sciences. The professors will be honored for their "willingness to work on behalf of the academy" to bring top-quality scientific methods to research issues pertaining to Washington state. The induction ceremony will be…
---
July 15, 2015
A team of researchers, engineers and students is now at sea to check the equipment in a massive seafloor laboratory, where underwater stations off the Pacific Northwest coast collect data and provide a real-time, virtual eye on the deep sea for people on shore.
---
June 23, 2015
A conversation with UW astronomer Andrew Connolly on the coming Large Synoptic Survey Telescope and the promise of big data to the study of the universe.
---
May 19, 2015
Christine Gregoire, who served as Washington's 22nd governor from 2005 to 2013, will be the featured speaker at the University of Washington's Commencement exercises June 13. Gregoire, a 1969 graduate of the UW, was named director of the Washington Department of Ecology in 1988. Four years later, she became the first woman elected to the position of attorney…
---
May 8, 2015
Thaisa Way, associate professor of landscape architecture in the UW College of Built Environments, discusses her book, "The Landscape Architecture of Richard Haag: From Modern Space to Urban Ecological Design."
---
April 24, 2015
The bass marimba, big as a desk and twice as tall, uses an organ pipe as a resonator and answers the mallet with a musically wooden plonk. The Chromelodeon II, a retuned reed organ, wheezes a trio of soft tones with the press of a key. And the elaborate Cloud-Chamber Bowls deliver tones ranging…
---
March 23, 2015
Mia Tuan has been named dean of the College of Education at the University of Washington, interim President Ana Mari Cauce and interim Provost Jerry Baldasty announced today. Tuan comes to the UW from the University of Oregon, where she has held a number of academic and leadership positions over the past 18 years. The…
---
Charles Johnson, English professor emeritus discusses three new books out, including the second children's book in the Adventures of Emery Jones series, "The Hard Problem," illustrated by Johnson himself.
---
February 27, 2015
UW alumnus and two-time Pulitzer Prize-winning editorial cartoonist David Horsey discusses the Charlie Hebdo shootings and editorial cartooning in politically volatile times.
---
February 24, 2015
University of Washington Provost and Executive Vice President Ana Mari Cauce has selected Jerry Baldasty to serve as interim provost, effective March 3, when Cauce assumes the role of interim president. Baldasty has served as senior vice provost for academic and student affairs since 2012. "Jerry is a candid communicator who exemplifies transparency, mutual respect…
---
February 12, 2015
University of Washington Provost and Executive Vice President Ana Mari Cauce was named interim president by the Board of Regents at their regular meeting on Thursday. Her appointment will be effective March 2, 2015. She succeeds President Michael K. Young, who is leaving the UW for Texas A&M University. "Dr. Cauce is an extraordinary leader…
---
January 9, 2015
The UW College of Built Environments has rebooted the east end of its Gould Hall home, creating an expanded area for collaboration and a new gallery to exhibit work from national and international sources as well as the college's student, faculty and alumni.
---
December 29, 2014
William P. Gerberding, the 27th and longest-serving president of the University of Washington, died Saturday. He was 85. Gerberding, who assumed the presidency in 1979 and retired in 1995, is credited for boosting the university into national prominence, navigating it through potentially devastating budget crises and significantly increasing private financial support. "We are all deeply…
---
November 20, 2014
From starting his own company – and recruiting 11 friends to join him – and running a successful nonprofit to doing research in the lab and taking a full course load, engineering undergraduate student David Coven is an expert schedule juggler.
---
October 13, 2014
Frances McCue discusses "Mary Randlett Portraits," a new book from University of Washington Press she created with the well-known Northwest photographer.
---
October 1, 2014
Justin Wadland of the UW Tacoma Library discusses his book "Trying Home: The Rise and Fall of an Anarchist Utopia on Puget Sound."
---
July 29, 2014
News from the UW Health Sciences: Alzheimer's impact on our aging population, hunger cues, trauma treatment study, avoiding burnout, training new neuroscientists, an AIDS-free generation
---
July 2, 2014
Forty-nine students from eight states are part of the inaugural group of Huskies in the UW's first online bachelor's degree completion program in early childhood and family studies.
---
June 27, 2014
Barbara Cantwell, a UW Libraries staff member, is the co-author of "Corpse of Discovery," the second book in a series of mysteries featuring "fiery-haired librarian Hester Freelove McGarrigle" and Portland's old library bookmobile.
---
June 20, 2014
The University of Washington's Advanced Vehicle Works team won second place in the international EcoCAR 2 competition this month for turning a Chevrolet Malibu into a highly efficient hybrid vehicle running on electric grid energy and biodiesel.
---
June 11, 2014
John Stamets, longtime University of Washington photographer and lecturer in the Department of Architecture, died last weekend. He was 64. He is remembered as a talented photographer and a dedicated teacher and mentor to students. There will be a public celebration of Stamets' life and work from 2 to 4 p.m. Sunday, June 15,…
---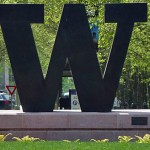 UW Today profiles some of 2014's highest-achieving graduates.
---
May 16, 2014
Eric Ames, UW professor of Germanics and editor of the new book, "Werner Herzog: Interviews," discusses the work.
---
May 9, 2014
Stephanie Camp, University of Washington associate professor of history, died on Wednesday, April 2. There will be a memorial service and reception in remembrance and celebration of Camp's life at 3 p.m. Sunday, June 8, in Kane Hall room 210.
---
May 5, 2014
Eliza Dresang, a well-loved professor in the University of Washington Information School, died on Monday, April 21. She is remembered as a respected friend, colleague, teacher and community member. She was 72. There will be a campus memorial for Dresang from 9 to 11 a.m. Wednesday, May 14, in the Husky Union Building Lyceum (room…
---
May 1, 2014
Todd London, artistic director of New Dramatists, a playwriting center in New York, has been named the new executive director of the University of Washington School of Drama.
---
Previous page
Next page