UW News
Profiles
---
May 8, 2013
Herbert Blau, who died on May 3, will be remembered as a theater innovator and scholar who introduced American audiences to avant-garde playwrights such as Samuel Beckett and Harold Pinter.
---
April 24, 2013
A conversation with Carlos Gil, UW professor emeritus of history and author of the memoir "We Became Mexican American."
---
April 22, 2013
David Notkin, University of Washington professor of computer science and engineering, died April 22. He was 58.
---
February 11, 2013
English professor David Shields discusses his new book, "How Literature Saved My Life."
---
November 5, 2012
Washington state's housing market continued to improve during the third quarter of 2012 as median selling prices and the number of homes sold both increased, according to the Runstad Center for Real Estate Studies at the University of Washington. Existing home sales increased 3.4 percent from the second quarter, to seasonally adjusted annual rate of…
---
May 8, 2012
Wendy Lustbader, with the UW School of Social Work, is a nationally known speaker on how to cope with aging, disability and end-of-life issues. She will speak June 4 at a caregivers conference in Tukwila, Wash.
---
March 27, 2012
Ina Ray Hutton rose to fame in the 1930s and was known as blonde bombshell of rhythm. But she had a secret that could have damaged her stardom.
---
January 12, 2012
The new director of the Carlson Leadership & Public Service Center talks about the center, here role and the extraordinary staff and student service-learners.
---
December 7, 2011
Over the past four years grad students Ingrid Swanson Pultz, Justin Siegel and Rob Egbert have worked hundreds of hours with more than 50 students who competed in November to win the championship in iGEM, sometimes sacrificing their own work to help the team.
---
November 30, 2011
Judy Ramey came to the UW in 1983 and has since seen a department, Technical Communication, form, offer degrees and evolve into Human Centered Design and Engineering. Yet, but for a few happy accidents, she might have had a very different career.
---
November 18, 2011
Former University of Washington regent Ark Chin died on Sunday, Nov. 13, at the age of 87. A World War II veteran, engineering executive and avid philanthropist, Chin was a regent from 1998-2004, serving as board president in 2001-2002.
---
October 12, 2011
Emery, a professor of mechanical engineering, remembers the UW he joined, in the pre-computer days of slide rules, mimeograph machines, chalky blackboards and typing pools.
---
September 28, 2011
Since New Years Day in 1960, Craig Heyamoto has either attended, watched on television or listened on the radio to all but two UW football games. And for 34 years hes headed the crew that keeps statistics for UW home football games.
---
September 14, 2011
When Marilyn Ostergren began her straw-bale house on Bainbridge Island nine years ago, the only structure she had built previously was a chicken coop. Her house is small, to be sure, but it's all hers. (See a video and slide show — photos by Mary Levin.)
---
August 31, 2011
In releasing a print version of his book, Storyteller Uprising, Hanson Hosein did what he often encourages his students in the Masters in Digital Media Program to do — stop waiting for institutional approval and just make it happen.
---
August 17, 2011
Jane Meyerding, longtime staffer at the University, has written a murder mystery involving autism and prosopagnosia, or face blindness — topics she knows well because she has both disabilities.
---
"It's more than a ribbon…It's a movement" is the tagline for an IBD awareness campaign led by UW staff member Lois Fink and friend Barb Wozdin.
---
August 5, 2011
Mercy Laurino, a graduate student in the Institute for Public Health Genetics, has had an illustrious career at a young age. She was part of a team -— including collaborators from Seattle Children's — that helped launch the Pediatric Neurogenetics Clinic at the UW Center on Human Development and Disability in November 2005.
---
August 3, 2011
She might have been a star as a jazz singer, but at Seattles Tulas she still is. And each workday Bethany Staelens stars at Educational Outreach.
---
August 2, 2011
Beaton is an expert on the causes and effects of occupational stress on firefighters and paramedics.
---
July 27, 2011
Orthopedic surgeon Dr. Michael Brage is newly arrived at the Sigvard T. Hansen Jr. Foot and Ankle Institute, but he is no stranger to Seattle or Harborview Medical Center. Hansen asked his former fellow to return as his successor.
---
July 20, 2011
John Sahr is an excellent professor of electrical engineering and associate dean of undergraduate academic affairs, but a lousy zombie killer. He's not much better as a zombie, but he enjoys being both in the student-created game.
---
June 22, 2011
Maya Gupta noticed unusual jigsaw puzzles one day and got an idea she could do better. Now this associate professor of electrical engineering runs Artifact Puzzles, her own company, selling high-end jigsaw puzzles of great art, laser-cut from quarter-inch wood.
---
June 10, 2011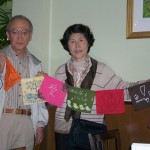 Linda Ando, an academic counselor with the Office of Minority Affairs and Diversity, brought a message of hope and compassion to disaster victims in Japan in the form of prayer flags made by elementary school students and community members.
---
May 25, 2011
Eleanor Stallcop-Horrox, who works in Patient Financial Services for UW Medical Center, is also an opera singer. In a conversation with Tara Brown of Organization Development & Training, she talks about her operatic career, the joy of performing and her favorite big dramatic operas.
---
May 23, 2011
Vance, 77, a UW professor emeritus of French, comparative literature and comparative religion, died May 14 in the crash of a one-seat, lightweight plane at Arlington Municipal Airport. He will be remembered in a gathering on Friday, May 27.
---
May 11, 2011
Marilyn Shelton provides complex nutrition support for trauma and intensive care unit patients at Harborview Medical Center. The Washington State Dietetic Association has presented her with its Clinical Practice and Research Award for Excellence.
---
Ali Tarhouni, a senior lecturer in finance and business economics, recently left the UW to become oil and finance minister for the group leading opposition to Libyan Dictator Muammar Gaddafi. The work is obviously difficult, but "after all these years," Tarhouni said, "I welcome the challenge."
---
May 4, 2011
A memorial service for G. Alan Marlatt, a UW psychology professor, will be held Sunday, May 15, at 1 p.m. at the UW Center for Urban Horticulture.
---
April 20, 2011
When Hussein Elkhafaifi left Seattle for Libya on Feb. 16, he was going to be with his mother who was dying of kidney failure in Benghazi. But he arrived just as a revolution was beginning in his native country.
---
April 13, 2011
Ginna Wall, a nurse who works with new moms and newborns at UW Medical Center, has received her own healthcare at UW Medical Center-Roosevelt for the past 12 years. She describes the convenient, personalized attention provided at the Women's Health Care Center.
---
March 30, 2011
Janice Bell studies how open spaces in neighborhoods encourage activity and reduce obesity. A green near her home enticed her to try a sport uncommon in the United States.
---
February 18, 2011
Cynnie Curl held down a full-time job at the UW while taking one graduate class at a time. She finished her doctoral general exam, and has been awarded a prestigious fellowship from the Environmental Protection Agency to fund her research on pesticides in food.
---
February 2, 2011
The screech of a subway lurching into the station, the blast of a ferry horn: How do the sounds of people on the move affect their hearing and health? Occupational hygienist Rick Neitzel explores this question, and gives tips on protecting your hearing.
---
Sharon E. Sutton has been a professional musician, an artist and an architect and is now an architecture professor. Really though, shes a community builder — with a new book and an honor from the American Institute of Architects.
---
January 26, 2011
Nature awareness lectures got this staffer on the trail; now hes tracking and surveying animal populations on weekends.
---
January 19, 2011
When graduates of the UWs Photography Certificate Program offer an exhibit of their work in the UW Tower beginning Jan. 21, two UW staffers will be among the proud participants. And a third will be cheering them on.
---
January 12, 2011
A friend knew that if anyone could solve a Canlis 60th anniversary scavenger hunt, Greg Barnes could. After all, hed already solved the 2007 Emerald City Search. And sure enough…
---
December 8, 2010
Sheila Croft, a UW Medical Center nurse, was the first woman to cross the finish line during the Women's Half Marathon, one of the 2010 Seattle Marathon events.
---
December 1, 2010
Petticoats, nipped-in waists, Edwardian walking suits — members of the group Somewhere in Time Unlimited step out in historical fashions, just for fun.
---
Previous page
Next page