UW News
UW and the community
---
April 16, 2018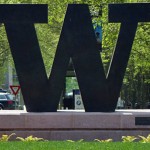 A statement from Victor Balta, UW spokesperson, on the financial deficit in the University of Washington School of Dentistry.
---
April 12, 2018
The National Science Foundation today named Kristina Olson, University of Washington associate professor of psychology, winner of this year's Alan T. Waterman Award. The Waterman Award is the U.S. government's highest honor for an early career scientist or engineer, recognizing an outstanding scientist under the age of 40 or within 10 years of receiving…
---
Planets orbiting "short-period" binary stars, or stars locked in close orbital embrace, can be ejected off into space as a consequence of their host stars' evolution, according to new research from the University of Washington.
---
April 4, 2018
A national program to boost the employment prospects of young adults with autism is piloting its approach at the UW this year. At 10 locations on campus over the course of the year, interns with the program have built databases, organized libraries and maintained facilities.
---
April 3, 2018
A new trail that winds through Washington Park Arboretum is bringing to focus plants previously hidden and a stream that used to be underground in pipes and culverts. The UW together with Seattle Parks and Recreation and the Arboretum Foundation on Sunday, April 8 will celebrate the trail opening with festivities along the path.
---
March 28, 2018
As the 50th anniversary approaches of the murder of civil rights leader Dr. Martin Luther King, UW historian Michael Honey reminds us in a new book that economic justice and labor rights were always part of King's progressive message.
---
March 21, 2018
With a new $700,000 grant awarded from the NOAA Ocean Acidification Program, scientists from the University of Washington's Applied Physics Laboratory, Washington Sea Grant and the Joint Institute for the Study of the Atmosphere and Ocean have teamed with federal and tribal partners to study the social and ecological vulnerabilities of Olympic Coast ocean acidification.
---
March 15, 2018
The University of Washington's new minor in Oceania and Pacific Islander Studies debuts spring quarter. The 25-credit, interdisciplinary program is the result of a longtime effort to elevate the history and culture of an underrepresented, and often misrepresented, community.
---
March 14, 2018
African-American voters who dislike and feel threatened by Donald Trump and his presidency are more likely to vote and to engage with politics, according to new research from the UW and California State University, Sacramento.
---
March 12, 2018
The University of Washington is launching a study to identify soldiers experiencing post-traumatic stress symptoms and to determine whether free, confidential, over-the-phone counseling can help them navigate resources and spur them to seek further support.
---
March 9, 2018
UW music professor Huck Hodge talks about the Charles Ives Living Award, bestowed on him by the American Academy of Arts and Letters.
---
March 8, 2018
The UW Jackson School of International Studies presents "Trump in the World: International Implications of the Trump presidency," a series of public lectures and discussions Tuesday afternoons through spring quarter.
---
Megan Ming Francis, UW associate professor of political science, has been named a fellow with the Thurgood Marshall Institute. The institute is a multidisciplinary research and advocacy policy center within the NAACP's Legal Defense and Educational Fund.
---
March 5, 2018
Immigrant rights, environmental concerns and racial, class, gender and sexual justice will be the focus of a daylong conference hosted by the Harry Bridges Center for Labor Studies March 10 at the UW.
---
March 2, 2018
Charles Simic, one of America's most celebrated poets, will give the 2018 Theodore Roethke Memorial Poetry Reading on April 12. Simic will be the 54th poet to appear in the series since its inception in 1964.
---
March 1, 2018
In a region as expensive as the Puget Sound, making ends meet affects college students, too. Rent, utilities and food can run into the hundreds, if not thousands, of dollars a month – and for students without the means, it's a daunting and sometimes compromising challenge. Urban@UW is trying to learn more about…
---
February 27, 2018
LaShawnDa Pittman, a UW assistant professor of American Ethnic Studies, is collecting stories of African-American grandmothers, past and present, on her Real Black Grandmothers website.
---
February 26, 2018
Brian McCartan has been named vice president for finance at the University of Washington, Executive Vice President Jeff Scott announced today. McCartan joins the UW after serving as the chief financial officer at Sound Transit for the past 11 years. He begins on Feb. 26.
---
February 23, 2018
With snow falling in the Puget Sound region this week, it's hard to imagine cherry trees in bloom. But assuming temperatures return to normal soon, this year's cherry blossoms are on track for a typical bloom season. Full bloom is expected the week of March 19.
---
February 22, 2018
If online shopping continues to grow at its current rate, there may be twice as many trucks delivering packages in Seattle's city center within five years, a new report projects — and double the number of trucks looking for a parking space.
---
When scientists have conducted research in Native American communities, the process and the results have sometimes been controversial. There have been a few well-known cases, such as the 1979 Barrow Alcohol Study, in which researchers examined substance use in the tiny Arctic Circle town and issued findings to the press, before briefing the…
---
February 21, 2018
Quintard Taylor, UW professor emeritus of history and recipient of a lifetime achievement honor from Washington State Historical Society, discusses his work and this unusual moment in American history.
---
February 13, 2018
Pimone Triplett, UW associate professor of English and creative writing, has released "Supply Chain," her fourth book of poems.
---
February 6, 2018
The University of Washington joins 12 other leading North American research universities in the new University Climate Change Coalition, or UC3, a group committed to leveraging its research and resources to help communities accelerate climate action.
---
After six months of repair and restoration — assisted by UW astronomer and sundial expert Woody Sullivan — Olympia's iconic Territorial Sundial is back in place.
---
February 5, 2018
A team of astronomers including Eric Agol of the University of Washington has found that the seven Earth-sized planets orbiting the star TRAPPIST-1 are all made mostly of rock, and some could even have more water — which can give life a chance — than Earth itself. The research was led by Simon Grimm of…
---
February 1, 2018
After an "extreme makeover" that went from stem to stern on five decks of the ship, the R/V Thomas G. Thompson is ready to get back to work exploring the world's oceans. The University of Washington's School of Oceanography, part of the College of the Environment, operates the 274-foot ship, which arrived on campus in…
---
January 30, 2018
Notice is given under SEPA, RCW 43.21C.080, that the University of Washington Board of Regents, to the action described below on Jan. 11, 2018. Any action to set aside, enjoin, review or otherwise challenge such action on the grounds of noncompliance with the provisions of Chapter 43.21C RCW (State Environmental Policy Act) shall be commenced…
---
Nearly one-third of Washington college students have experienced depression in the last year, and more than 10 percent have had thoughts of suicide, according to a new survey of young adults attending schools around the state. The survey of more than 10,000 students at 13 of Washington's two- and four-year institutions shows the need…
---
January 26, 2018
A biography of world-renowned oboe performer and teacher Marcel Tabuteau by the UW School of Music's Laila Storch has been republished in paperback by Indiana University Press.
---
January 25, 2018
Dan Berger, associate professor in the UW Bothell School of Interdisciplinary Arts and Sciences, discusses his new book, "Rethinking the American Prison Movement."
---
January 19, 2018
For this year's University Faculty Lecture, University of Washington chemistry professor Michael Gelb will discuss the science behind screening newborns for treatable — but rare — genetic diseases.
---
The University of Washington and TheDream.US announced a new partnership this week that will provide scholarships to qualified undocumented students who graduate from two-year colleges and transfer to the UW.
---
January 16, 2018
Get interrupted at work much? Making a quick plan for returning to and completing the task you're leaving will help you focus better on the interrupting work, according to new research from the University of Washington.
---
January 11, 2018
Can the president single-handedly toss out environmental rules designed to combat global warming? Force states like Washington to help enforce federal immigration laws? Fire Robert Mueller? No, no, and not directly, say Lisa Manheim and Kathryn Watts, professors of law at the University of Washington, in a new book. The answers, of course, are more complicated…
---
January 9, 2018
University of Washington President Ana Mari Cauce today named Mark Richards provost and executive vice president for academic affairs. The appointment is effective July 1, 2018. Richards, a geophysicist, is a professor of Earth and planetary science at the University of California, Berkeley, where he previously served as dean of mathematical and physical sciences from…
---
The purpose of the hearing is to allow all interested persons an opportunity to present their views, either orally or in writing, on the proposed amendments to WAC 478-276-100, "Governing Access to Public Records, Copying."
---
January 4, 2018
Jeff Hou, UW professor of landscape architecture, discusses the new book he co-edited with Sabine Knierbein, "City Unsilenced: Urban Resistance and Public Space in the Age of Shrinking Democracy."
---
January 3, 2018
UW astronomers Brett Morris and James Davenport assisted in new research on "Tabby's Star," named for Louisiana State University astronomer Tabetha Boyajian.
---
When "American Sabor" opened at what was then the Experience Music Project a decade ago, its University of Washington creators saw it as a chance to celebrate the extensive Latino contribution to popular music. It was a product of years of interviews and research, and an often challenging exercise in collaboration and presentation. But…
---
Previous page
Next page