UW News
UW and the community
---
January 27, 2020
Recent honors to UW faculty and staff include an early career award in astronomy, an honorary doctorate from the Delft University of Technology, a seat on Washington state's new LGBTQ Commission and national honor for an English Department writing program.
---
January 26, 2020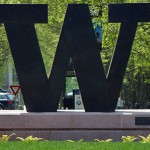 The University of Washington was notified by Public Health – Seattle & King County (PHSKC) that three students from the UW's Seattle campus are being screened for the novel (new) coronavirus. These three students recently traveled to Wuhan, China, and developed symptoms after returning. One person lives off campus, and that student's test was negative…
---
January 23, 2020
A study by the University of Washington's Institute for Learning & Brain Sciences (I-LABS) shows that a bilingual language program for babies can reach more families, and instructors, through online training for teachers.
---
January 14, 2020
James W. Harrington is not only a UW professor and former administrator — in recent years, he has also become a prolific painter. UW Notebook caught up with him to ask a few questions about his art and his coming exhibit at the UW Tower.
---
January 9, 2020
In 2019, the University of Washington was mentioned in 4,143 news articles around the world. Among those, UW experts were quoted 2,290 times: 1,185 in national or international outlets and 1,105 in regional and local outlets.
---
January 6, 2020
A conversation with UW psychology professor Sheri Mizumori about the UW-based program Broadening the Representations of Academic Investigators in NeuroScience — or BRAINS for short — designed to accelerate career advancement for postdoctoral researchers and assistant professors from underrepresented populations.
---
December 30, 2019
Neile Graham is both a longtime administrator with the College of Built Environments and a published poet — and she has a new book of poetry out, called "The Walk She Takes."
---
December 17, 2019
A discussion of Brutalist architecture on the UW campus with professor Alex Anderson of the Department of Architecture.
---
December 16, 2019
Recent honors to UW faculty and staff include the new editorship of a major journal, a post with the Republic of Uganda and honors from the American College of Physicians, the Association for Computing Machinery and the Institute of Electrical and Electronics Engineers.
---
December 9, 2019
Randy Thompson, a postdoctoral researcher with the UW Jackson School of International Studies will explore the nexus of religion and politics in a new podcast, "ReligioPolitics."
---
December 4, 2019
Joy Williamson-Lott, dean of the UW Graduate School and a professor of education, has been honored for her 2018 book "Jim Crow Campus: Higher Education and the Struggle for a New Southern Social Order."
---
December 3, 2019
Donald Hellmann, UW professor emeritus in the Jackson School of International studies and of political science, has been awarded the Order of the Rising Sun from the Government of Japan, in recognition of his contributions in promoting academic exchanges and mutual understanding between Japan and the United States. Hellmann, 86, teaches courses on Japanese government…
---
December 2, 2019
UW faculty members Roxanne Hudson and Magdalena Balazinska have received grants for research to be conducted over the next few years.
---
Recent honors to UW faculty and staff members include an honorary doctorate from the University of Bucharest, membership in an inaugural class of distinguished fellows in pharmacology, and a leadership position in a national student housing association.
---
November 19, 2019
Across its three campuses, the University of Washington generated a total impact on the state's economy of more than $15.7 billion in FY 2018, according to an economic contribution analysis released today. The study further concludes that the economic activity of the UW system supported or sustained 100,520 jobs throughout the state.
---
October 29, 2019
University of Washington political scientist Megan Ming Francis says there is a dearth of academic book series being published on topics of race, ethnicity and politics. Now, she will start to change that. An associate professor of political science, Francis will be the editor of a new series of books from Cambridge University Press called…
---
October 22, 2019
The University of Washington maintained its No. 10 spot on the U.S. News & World Report's Best Global Universities rankings, released this week. The UW is ranked No. 2 among U.S. public institutions.
---
October 16, 2019
UW President Ana Mari Cauce delivered her annual address to the community Oct. 15 at wǝɫǝbʔaltxʷ – Intellectual House on the University of Washington campus.
---
October 15, 2019
On International Pronouns Day (Oct. 16) the University of Washington community is invited to celebrate the ways in which using someone's pronouns have a positive impact on the community as a whole.
---
October 14, 2019
In a new study, an interdisciplinary group of researchers used Pacific herring in Haida Gwaii, British Columbia, as a case study for modeling the implicit tradeoffs within the triple bottom line that result from various fisheries management decisions.
---
October 8, 2019
In American politics, the question of "Who donates?" is linked to the crucial question of "Who governs?" Most campaign donations historically have come from white voters. But new UW-led research indicates that if more candidates of color ran for office, donations from individuals of color would likely increase as well.
---
October 7, 2019
Sparked by a grant from the UW Population Health Initiative, the UW's Center for One Health Research has created a series of pop-up galleries featuring autobiographical photographs made by people experiencing homelessness with their animal companions. The first gallery was Oct. 4 in UW's Red Square. Other pop-up gallery events are 11 a.m. to 5 p.m. on Monday,…
---
October 4, 2019
A report released Oct. 4, the Washington State Equity and Diversity Project, is the first study of its kind to examine the health of LGBTQ people of all ages throughout the state.
---
September 25, 2019
Joel S. Migdal, professor in the UW Jackson School of International Studies, will celebrate retirement after 39 years at the UW on Oct. 3 with a daylong workshop featuring current and former students, followed by a lecture on "State and Society: Then and Now."
---
September 23, 2019
Convocation welcomes the entering class and officially marks the beginning of the academic year. UW classes begin Sept. 25. More than 6,000 people were expected to attend this year's event.
---
September 19, 2019
The UW Center for American Indian and Indigenous Studies has received a $1.8 million grant from the Andrew W. Mellon Foundation, which will fund four years of work at the UW around Native student support, academics, research and cultural programs.
---
September 10, 2019
"Where the House Was," a new, 58-minute documentary produced by France McCue, UW senior lecturer in English, tells of the old location for Hugo House, the place for writer, and its subsequent demolition.
---
A report released Sept. 10 — the product of research led by the University of Washington — gives Seattle and King County a "D" in getting youth active through sport, play and outdoor recreation.
---
September 9, 2019
McKinstry to design and construct $60 million 'leap forward' for medical education, health sciences research and innovation.
---
August 27, 2019
In the arts, purchase tickets for the New Burke Opening Weekend, attend a rare duet setting performance by two School of Music faculty members, view a selection of gowns from the Henry's collection of clothing and textiles, and more! New Burke Opening October 12th Ticket sales open on September 3rd for the New Burke Museum…
---
August 22, 2019
Recent notable books by UW faculty members explore the legal history of Indigenous nations and the mentoring benefits of fan fiction. Plus, a UW anthropologist's book is honored, a former English faculty member is remembered in a biography, and UW Press brings out paperback editions of three popular titles.
---
August 16, 2019
In the arts, celebrate the accomplishments of the 2019 Summer Institute in the Arts and Humanities program's undergraduate researchers in "Creating Alternative Worlds," attend Bulrusher – an Intiman Theatre production directed by Valerie Curtis-Newton at the Jones Playhouse, drop into the Library for the Fourth Wednesday Concert Series featuring Brian Schappals and more! Creating Alternative…
---
August 13, 2019
New research from astronomers at the UW uses the intriguing TRAPPIST-1 planetary system as a kind of laboratory to model not the planets themselves, but how the coming James Webb Space Telescope might detect and study their atmospheres, on the path toward looking for life beyond Earth.
---
August 8, 2019
Firearm retailers throughout Washington are willing to learn about suicide prevention but are reluctant to talk to customers about mental health issues, according to a new study by Forefront Suicide Prevention at the University of Washington.
---
August 1, 2019
In recent years, physicians at Seattle Children's Hospital have worked with UW faculty members in design to come up with a better, safer, more reliable way to order and use drugs on an operating room's anesthesia cart.
---
July 30, 2019
A robotics challenge July 20th at the UW featured twenty-eight teams of middle and high schoolers from Forks to Walla Walla and from Bellingham to Olympia. The event marked a half-century since the Apollo 11 mission landed on the moon and two U.S. astronauts, Neil Armstrong and Buzz Aldrin, walked its surface.
---
July 17, 2019
This Friday, teams of 5th- through 12th-grade students from across Washington state will complete a challenge in Kane Hall to mimic the 1969 Apollo moon landing, using drones and Lego robots.
---
July 11, 2019
Her sweeping new book about the history of Silicon Valley has UW history professor Margaret O'Mara on a busy national book tour this summer. The book, "The Code: Silicon Valley and the Remaking of America," was published this month by Penguin Press and is receiving many positive reviews.
---
July 5, 2019
Recent notable books by UW faculty members explore how the U.S. government has historically used credit to create opportunity, how "reproductive slavery" has left lasting ramifications and how technology design benefits from human values.
---
June 24, 2019
Research shows that LGBTQ older adults are at higher risk for social isolation. To that end, UW social work professor Karen Fredriksen Goldsen helped establish an LGBTQ senior center in Seattle.
---
Previous page
Next page