UW News
Meany Center for the Performing Arts
---
April 17, 2019
This week in the arts, attend opening night of "Romeo and Jules", witness musicians perform with their brains, drop in to the Allen Library for a lunchtime concert, and more! SOLD OUT: Kollar American Art Lecture: Elizabeth West Hutchinson April 18, 6:00 pm | Henry Art Gallery In the summer of 1868, Eadweard Muybridge accompanied…
---
April 9, 2019
This week in the arts, celebrate 100 years of influence of the iconic choreographer Merce Cunningham; attend an East African Retro Pop concert with  Alsarah and the Nubatrones, attend a graduation exhibition opening the Jacob Lawrence Gallery, and more.  The Hip Hop Architect: Michael Ford April 10, 6:30 pm | Kane Hall, Room 130 The…
---
April 3, 2019
This week in the arts, explore the private studios of the Master of Fine Arts students in Painting + Drawing at the Sandpoint Studios + Gallery and talk with the artists about their completed artworks and work in progress, experience the music of Harry Partch on his original instruments, participate in a Art+Feminism Wikipedia Edit-a-thon…
---
March 26, 2019
This week in the arts, join members of the African-American Writers' Alliance as they present new works written in response to the content and themes of Edgar Arceneaux's Library of Black Lies, attend Pianist Emanuel Ax's performance, and before that, stop by the graduation exhibition at the Jacob Lawrence Gallery! Reading: African-American Writers' Alliance March…
---
March 12, 2019
This week in the arts, see In the Heart of America, experience recent augmented reality and virtual reality (AR/VR) projects from UW students, attend a free concert with the Seattle Symphony and UW School of Music faculty, and more! In the Heart of America March 6 – 17 | Floyd and Delores Jones Playhouse In the…
---
March 4, 2019
This week in the arts, attend a performance with Emerson String Quartet, partake in the Strange Coupling silent and live auction, see the film screening of "The Gold Fish Casino," and more! In the Heart of America March 6 – 17 (previews March 2 & 5) | Floyd and Delores Jones Playhouse In the shadow…
---
February 20, 2019
This week in the arts, see one of "[The] most successful and influential choreographer alive and indisputably the most musical (The New York Times)" on stage, have an inside look of the Ceramic and Metal Arts Building at the 3D4M Open House, and more! Gurvich Visiting Artist: Carolina Caycedo Los Angeles-based artist Carolina Caycedo will…
---
February 13, 2019
This week in the arts, take a trip to the Nordic Museum on Valentine's Day for a lecture on Swedish cinema history, attend artist talks about "Creating Survivance: Art and Indigenous Wellness", celebrate 25 years of the Jacob Lawrence Gallery with DJ sets by SassyBlack, Felisha Ledesma, and dos leches + Eve Defy, and more!…
---
February 6, 2019
This week in the arts, attend Inuit throat singer Tanya Tagaq's performance that will feature a crowdsourced choir of UW students and regional indigenous people, partake in the Painting + Drawing Open House, visit the Henry to see "Martha Friedman: Castoffs" before it closes, and more. Critical Issues Lecture:  Andrea Fraser February 7, 7:00 PM…
---
January 29, 2019
This week in the arts, perform on stage with Tanya Tagaq at the Meany Center for the Performing Arts, experience Beethoven for cello and piano at a faculty recital, attend a lecture with New York-based Artist Amy O'Neill,  catch one of the last performances of Rutherford and Son, and more! Faculty Recital: Craig Sheppard,…
---
January 9, 2019
This week in the arts, attend the first Critical Issues Lecture with Maria Nordman, go to a performance by UW Music faculty band, Indigo Mist, with renowned guitarist Bill Frisell, and more! Critical Issues Lecture Series: Maria Nordman January 10, 7:00 PM| Henry Art Gallery Maria Nordman, a German-American sculptor and conceptual artist, will deliver…
---
December 3, 2018
This week in the arts, learn about the history of art and its politics in Japan post-1945, see the final performances of Fefu and Her Friends, take a workshop at the Henry Art Gallery, and more! Art and Engagement in Early Postwar Japan December 7, 3:30 PM| Thomson Hall Justin Jesty, associate professor at the…
---
November 26, 2018
This week in the arts, attend María Irene Fornés' most celebrated, realistic and feminist works, go to opening night of Clotilde Jiménez's "Apple of My Eye",  learn about the restoration of the miraculous image of the Madonna del Baraccano, listen to a 100-voice gospel choir, and more. Fefu and Her Friends November 28 to December…
---
November 14, 2018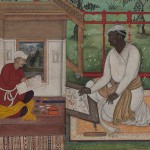 This week in the arts, shop for hand-printed gifts, attend a sonic-theatrical performance, dive into lectures about Indian Painting in Mewar and Marwar, and more! Print Sale November 14 to 15, 8:00 AM–7:00 PM | Art Building Hand-printed artwork, cards, soft goods, and more! UW student members of the UW Printmaking Association and UW printmaking alums…
---
November 7, 2018
This week in the arts, attend "Unbelievable: Reflections on Caravaggio's Religious Art" lecture, go to a Print Sale, see Brooklyn Rider perform, and more! Faculty Lecture: Estelle Lingo on Caravaggio November 8, 5:30–6:30 PM | Art Building Estelle Lingo, Associate Professor of Art History and Donald E. Peterson Professor in the Arts,  will give the…
---
October 31, 2018
This week in the arts, celebrate the vibrancy, resiliency, and legacies of community members from across the Pacific, see Incident at Vichy before it closes, attend a performance by the Taiwan Philharmonic, and more! 20 Years of Pacific Voices: A Community Celebration November 1, 4–7:30 PM | Pacific Voices Exhibit Gallery at the Burke Museum…
---
October 23, 2018
This week in the arts, attend UW School of Drama's season opener, see several musical performances, and attend a exhibition opening. Incident at Vichy October 24 to November 4  | Floyd and Delores Jones Playhouse UW School of Drama's season opener is a production that the New York Times considered "one of the most important…
---
October 9, 2018
This week in the arts, attend the 2018 Chamber Dance Concert, see the works by ten second year MFA students, attend Cello faculty artist-in-residence Sæunn Thorsteinsdóttir's recital, and more. Chamber Dance Company October 11 to 14 | Katharyn Alvord Gerlich Theater For its 28th season, the Chamber Dance Company received a National Endowment for the Arts:…
---
October 3, 2018
This week in the arts, see a performance by an all-female Indian Classical dance ensemble, go to an exhibition opening at 4Culture Gallery, attend a lecture with a renowned graphic designer, and more! Nrityagram Dance Ensemble October 4 to 6, 8 pm | Katharyn Alvord Gerlich Theater The all-female Indian Classical dance ensemble's daily life…
---
September 25, 2018
This week in the arts, celebrate Dawg Daze with the Meany Center and ArtsUW, visit the Henry Art Gallery to see Muse, and more. LAST WEEK | Muse: Mickalene Thomas Photographs tête-à-tête Last day is September 30 | Henry Art Gallery "As the exhibition title suggests, MUSE is a visual love letter to the people…
---
May 1, 2018
This week in the arts, experience a rock-opera-style ballet that pays homage to David Bowie's iconic and chameleonic spirit, attend a lecture with American artist Sharon Lockhart, see the premiere of six conceptually diverse dance pieces, and more. Harry Partch Festival 7:30 p.m., May 11 – 13 | Meany Theater Twentieth century American composer Harry…
---
February 28, 2018
In the arts, listen to the Chamber Singers and University Chorale perform music from the Baltic state in their winter quarter concert, join poet Shin Yu Pai in a creative writing workshop, engage in a discussion on art, education, and the restoration of the Elwha Rivier, and watch the Cloud Gate Dance Theatre of Taiwan perform "Formosa" ("beautiful island")
---
January 24, 2018
This week in the arts, revisit important memories through craft sculptures, see a re-imagined and contemporized Hamlet, hear a collection of Nordic folk music or student ensembles playing original progressive jazz compositions, and listen to a Seattle favorite return to Meany, bringing piano masterworks to life.
---
November 29, 2017
This week in the arts, watch The School of Drama undergraduates perform an epic tale, see voice students in a one-act opera, sit in on a pre-concert lecture with the the Dean of Humanities Michael Shapiro, listen to six choral ensembles at Carolfest, and hear the Montrose Trio at their Meany Center debut.
---
February 8, 2017
This week in the arts, hear Solaris Vocal Ensemble join forces with Seattle Modern Orchestra, take the family on an ArtVenture at the Henry, and spend Valentine's Day listening to the internationally recognized superstar pianist Benjamin Grosvenor. Guitar Studio Recital 7:30 p.m., February 10 | Brechemin Auditorium Students of Michael Partington perform works for classical guitar. More info….
---
February 1, 2017
This week in the arts, traditional Japanese music, a modern twist on a Shakespearean classic, and a lecture featuring Cameron Rowland discusses contemporary art and its place in society. KODO 8 p.m., February 3 & 4 | Meany Theater An international phenomenon since 1981, the percussion ensemble KODO explores the limitless rhythmic possibilities of the traditional…
---
January 27, 2017
Meany Center for the Performing Arts and the School of Art + Art History + Design celebrate the 100th anniversary of the birth of artist Jacob Lawrence along with the Seattle Art Museum.
---
January 25, 2017
It's a musical week here at the UW!  Attend the faculty-student chamber recital and performances by the Escher String Quartet and the Evergreen Trio. Undergraduate Theater Society: New Works Festival 7:30 p.m., January 27 through January 29 | Hutchinson Hall Cabaret Theater A long standing UTS tradition, the New Works Festival highlights work shopping new…
---
January 18, 2017
This week in the arts, take a trip in time with Maple and Vine, view choreography by nationally and internationally recognized faculty, and hear collaborative musical works at Meany Hall. Maple and Vine January 17 through January 22 | Jones Playhouse Written by Jordan Harrison and directed by Sean Ryan, this darkly funny and provocative investigation of…
---
January 11, 2017
This week, two new exhibits featuring local artists are on display in the UW Tower through March, a lecture-recital at Brechemin Auditorium, and a UW vocal performance highlighting scenes from Mozart's operas. UW Tower Exhibit: Don Silverstein January through March 2017 | UW Tower The illustrative work and abstract paintings of prolific artist Donald Silverstein will be on display…
---
January 4, 2017
This week, bring the whole family for an ArtVenture at Henry Art Gallery to discover how Paul McCarthy transformed small objects into giant sculptures, or catch performances from JACK Quartet and pianist Louis Lortie. ArtVenture: Toy Transformation! With Michelle Hagewood 1 p.m., January 8 | Henry Art Gallery How do toys reflect who we are? Bring a…
---
December 7, 2016
The quarter ends with performances of classical piano, jazz and Appalachian holiday music. The School of Drama concludes its final production of the quarter. Visit the Jacob Lawrence Gallery for the final days of Utopia Neighborhood Club and join Henry Art Gallery's Luis Croquer for a curator talk at the Henry. Jazz Innovations Part II…
---
November 30, 2016
December brings a full slate of arts events on campus.  The School of Drama kicks off a production about a playwright interacting with his own characters. The School of Music showcases the Harry Partch instrument collection and presents a night of Caribbean music and dance. Robin McCabe opens a three-part series exploring music and literature,…
---
November 9, 2016
This week in the arts: the Henry Art Gallery invites families and children to create their own portraits, and Meany Center for the Performing Arts presents performances by Jessica Lang Dance and the Imani Winds. The School of Music celebrates the music of composer Max Reger with a two-day symposium and kicks off this year's…
---
November 2, 2016
This week in the arts: the Henry Art Gallery opens an exhibition of works by Chuck Close and Meany Center for the Performing Arts presents programs by a classical pianist and a contemporary dance ensemble. Catch the UW Symphony's first concert of the year or stop by the Burke Museum for its annual Meet the…
---
October 26, 2016
Celebrate Halloween with a concert of spooky organ classics in Kane Hall or a dinosaur dress-up party at the Burke Museum. Catch performances from jazz pianist Marc Seales, the Calidore String Quartet, or fado singer Mariza. The Jacob Lawrence Gallery celebrates the centennial anniversary of its namesake's birth with a new exhibition. Calidore String Quartet…
---
October 5, 2016
It's a busy week for the arts: The Silk Road Ensemble and Mark Morris Dance Group collaborate on a new work at Meany Center; School of Music artist-in-residence Greg Sinibaldi gives the first faculty recital of the school year, and the Burke Museum hosts its annual "Birds at the Burke" day. The Henry Art Gallery…
---
May 4, 2016
This week in the arts, see the world-renowned Martha Graham Dance Company perform at Meany Hall and witness the talent of the next generation at the 2016 School of Music Scholarship Recital. Explore production design at a UW Drama exhibition, take an ArtVenture at the Henry Art Gallery and shop for Native American art at…
---
April 27, 2016
UW World Series presents its final two performances of the school year: Daedalus Quartet and the Martha Graham Dance Company. Graduating students from the School of Art + Art History + Design's 3D4M program showcase their works at the Jacob Lawrence Gallery, and the UW Dance Program and the Henry Art Gallery collaborate in a…
---
April 13, 2016
Visit Meany Hall this week for the chance to hear two world-renowned classical musicians – violinist Gil Shaham and pianist Murray Perahia – each perform solo recitals. Join the UW Wind Ensemble and Symphonic Band for an exploration of music by French composers, or catch lectures by artist Buster Simpson and art historian Susan P….
---
Next page