UW News
Department of Communication
---
April 14, 2021
During this time of uncertainty and isolation, find solace in digital opportunities to connect, share, and engage. Each week, we will share upcoming events that bring the UW, and the greater community, together online.  Many of these online opportunities are streamed through Zoom. All UW faculty, staff, and students have access to Zoom Pro via UW-IT.  Joseph…
---
April 5, 2021
During this time of uncertainty and isolation, find solace in digital opportunities to connect, share, and engage. Each week, we will share upcoming events that bring the UW, and the greater community, together online.  Many of these online opportunities are streamed through Zoom. All UW faculty, staff, and students have access to Zoom Pro via UW-IT.  Curating…
---
March 25, 2021
During this time of uncertainty and isolation, find solace in digital opportunities to connect, share, and engage. Each week, we will share upcoming events that bring the UW, and the greater community, together online.  Many of these online opportunities are streamed through Zoom. All UW faculty, staff, and students have access to Zoom Pro via UW-IT.  Fighting…
---
March 2, 2021
During this time of uncertainty and isolation, find solace in digital opportunities to connect, share, and engage. Each week, we will share upcoming events that bring the UW, and the greater community, together online.  Many of these online opportunities are streamed through Zoom. All UW faculty, staff, and students have access to Zoom Pro via UW-IT.  2021…
---
February 23, 2021
During this time of uncertainty and isolation, find solace in digital opportunities to connect, share, and engage. Each week, we will share upcoming events that bring the UW, and the greater community, together online.  Many of these online opportunities are streamed through Zoom. All UW faculty, staff, and students have access to Zoom Pro via UW-IT.  Fermented…
---
January 20, 2021
During this time of uncertainty and isolation, find solace in digital opportunities to connect, share, and engage. Each week, we will share upcoming events that bring the UW, and the greater community, together online.  Many of these online opportunities are streamed through Zoom. All UW faculty, staff, and students have access to Zoom Pro via UW-IT.  Meany…
---
December 14, 2020
During this time of uncertainty and isolation, find solace in digital opportunities to connect, share, and engage. Each week, we will share upcoming events that bring the UW, and the greater community, together online.  Many of these online opportunities are streamed through Zoom. All UW faculty, staff, and students have access to Zoom Pro via UW-IT.  Set…
---
November 12, 2020
During this time of uncertainty and isolation, find solace in digital opportunities to connect, share, and engage. Each week, we will share upcoming events that bring the UW, and the greater community, together online.  Many of these online opportunities are streamed through Zoom. All UW faculty, staff, and students have access to Zoom Pro via UW-IT.  Livestream:…
---
October 20, 2020
During this time of uncertainty and isolation, find solace in digital opportunities to connect, share, and engage. Each week, we will share upcoming events that bring the UW, and the greater community, together online.  Many of these online opportunities are streamed through Zoom. All UW faculty, staff, and students have access to Zoom Pro via UW-IT.  So…
---
October 13, 2020
During this time of uncertainty and isolation, find solace in digital opportunities to connect, share, and engage. Each week, we will share upcoming events that bring the UW, and the greater community, together online.  Many of these online opportunities are streamed through Zoom. All UW faculty, staff, and students have access to Zoom Pro via UW-IT.  Beyond…
---
August 31, 2020
During this time of uncertainty and isolation, find solace in digital opportunities to connect, share, and engage. Each week, we will share upcoming events that bring the UW, and the greater community, together online.  Many of these online opportunities are streamed through Zoom. All UW faculty, staff, and students have access to Zoom Pro via UW-IT.  Lecture:…
---
February 18, 2020
This week in the arts, attend Critical Issues lecture series with Sadie Barnette, Grupo Corpo performs at the Meany Center, and more! To learn about more events taking place, visit ArtsUW. 2020 UW Department of Communication Scheidel Lecture February 19, Reception: 3:45 pm, Lecture: 5 pm | Walker Ames Room, Kane 225 Join the Department of…
---
February 6, 2020
This week in the arts, attend a student jazz ensemble concert, hear from Department of Communications faculty about creative ways to tackle challenges within your community, join Rahel Aima for another Critical Issues lecture, and more! To learn about more events taking place, visit ArtsUW. Lecture-Recital: Bach Cello Suites: Sæunn Thorsteinsdóttir February 11,  1:30 pm |…
---
January 14, 2020
Recent honors to UW faculty and staff include an honorary doctorate from the University of Bern, an award for biodiversity conservation and a consulting assignment for the World Health Organization.
---
November 13, 2018
Ralina Joseph, associate professor of communication, discusses here new book "Postracial Resistance: Black Women, Media, and the Uses of Strategic Ambiguity," published this October by New York University Press.
---
May 2, 2018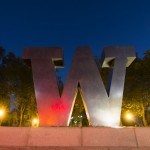 Issues of race and racism permeate American culture and media more than ever. The UW's Center for Communication, Difference and Equity will hold a three-day conference May 10-12 to explore these issues and foster engagement and support among academics.
---
February 10, 2017
Ralina Joseph, University of Washington associate professor of communication, has guest co-edited a special triple issue of the interdisciplinary journal Souls: A Critical Journal of Black Politics, Culture and Society with her former mentor and dissertation adviser, Jane Rhodes of the University of Illinois at Chicago. Joseph's own article in the issue focuses on the…
---
October 21, 2016
Communication professor Leah Ceccarelli discusses the work that brought her the National Communication Association's Douglas W. Ehninger Distinguished Rhetorical Scholar Award for 2016.
---
April 4, 2016
In the maelstrom of information, opinion and conjecture that is Twitter, the voice of truth and reason does occasionally prevail, according to a new study from UW researchers. Tweets from "official accounts" — the government agencies, emergency responders, media or companies at the center of a fast-moving story — can slow the spread of rumors on Twitter and correct misinformation that's taken on a life of its own.
---
April 1, 2016
What do scholars and academics mean when they talk about "difference"? The University of Washington Simpson Center for the Humanities and Center for Communication, Difference & Equity will hold an interdisciplinary daylong conference April 8 to study such questions, focusing in particular on how difference looks and sounds.
---
February 27, 2015
UW alumnus and two-time Pulitzer Prize-winning editorial cartoonist David Horsey discusses the Charlie Hebdo shootings and editorial cartooning in politically volatile times.
---
April 22, 2014
Doug Underwood, UW professor of communication, discusses his latest book, "The Undeclared War between Fiction and Journalism: Journalists as Genre Benders in Literary History."
---
April 2, 2014
Leah Ceccarelli, professor of communication, discusses her well-reviewed new book "On the Frontier of Science: An American Rhetoric of Exploration and Exploitation."
---
November 20, 2013
Digital activism is usually nonviolent and tends to work best when social media tools are combined with street-level organization, according to new research from the University of Washington.
---
June 13, 2013
Philip Howard, associate professor of communication, answers a few questions about his book with doctoral student Muzammil Hussain, "Demoracy's Fourth Wave: Digital Media and the Arab Spring."
---
February 4, 2013
Ralina Joseph, UW associate professor of communications, discusses her book, "Transcending Blackness: From the New Millennium Mulatta to the Exceptional Multiracial."
---