UW News
Department of Anthropology
---
October 6, 2020
During this time of uncertainty and isolation, find solace in digital opportunities to connect, share, and engage. Each week, we will share upcoming events that bring the UW, and the greater community, together online.  Many of these online opportunities are streamed through Zoom. All UW faculty, staff, and students have access to Zoom Pro via UW-IT.  Curating…
---
September 29, 2020
During this time of uncertainty and isolation, find solace in digital opportunities to connect, share, and engage. Each week, we will share upcoming events that bring the UW, and the greater community, together online.  Many of these online opportunities are streamed through Zoom. All UW faculty, staff, and students have access to Zoom Pro via UW-IT.  Velvet…
---
September 22, 2020
During this time of uncertainty and isolation, find solace in digital opportunities to connect, share, and engage. Each week, we will share upcoming events that bring the UW, and the greater community, together online.  Many of these online opportunities are streamed through Zoom. All UW faculty, staff, and students have access to Zoom Pro via UW-IT.  Community…
---
September 8, 2020
During this time of uncertainty and isolation, find solace in digital opportunities to connect, share, and engage. Each week, we will share upcoming events that bring the UW, and the greater community, together online.  Many of these online opportunities are streamed through Zoom. All UW faculty, staff, and students have access to Zoom Pro via UW-IT.  Re/frame:…
---
August 6, 2020
During this time of uncertainty and isolation, find solace in digital opportunities to connect, share, and engage. Each week, we will share upcoming events that bring the UW, and the greater community, together online.  Many of these online opportunities are streamed through Zoom. All UW faculty, staff, and students have access to Zoom Pro via UW-IT.  Kim…
---
July 13, 2020
Notable new books by UW faculty and staff include a study of rebellion at sea, an emeritus faculty member's Buddhist-focused memoir, a reconsideration of Northwest Coast Native American art with Indigenous perspectives in mind, thoughts on bridging cultural gaps through design — and an award for the editor-in-chief of UW Press.
---
June 23, 2020
With the nation debating its response to COVID-19 and witnessing protests against racial injustice and police violence, undergraduate students enrolled in "Visual Anthropology of Protest Music" examined how communities use music to share their lived experiences and confront oppression.
---
June 18, 2020
During this time of uncertainty and isolation, find solace in digital opportunities to connect, share, and engage. Each week, we will share upcoming events that bring the UW, and the greater community, together online.  Many of these online opportunities are streamed through Zoom. All UW faculty, staff, and students have access to Zoom Pro via UW-IT.  Drop-in…
---
April 16, 2020
When the UW announced it was moving its spring quarter 2020 classes entirely online to combat the novel coronavirus, instructors across campus faced a new, uncharted challenge.
---
April 13, 2020
After weeks of social distancing during the COVID-19 pandemic, people of all ages may be asking: What could be the harm of visiting just one friend? Unfortunately, it could potentially undo the goal of social distancing, which is to give the COVID-19 virus fewer opportunities to spread. According to a website set up by researchers…
---
January 21, 2020
On a recent Saturday evening, a dozen women gathered around a table at a community room in the White Center neighborhood of Seattle, settling in with snacks and conversation. The evening's program would be more education than entertainment, an opportunity to discuss topics so sensitive that, without the group of women assembled that night, might…
---
August 29, 2019
A new map synthesized from more than 250 archaeologists worldwide, including from the University of Washington, argues that the human imprint on our planet's soil goes back much earlier than the nuclear age.
---
June 4, 2019
Graham Pruss has been researching vehicle residency in Seattle for nearly a decade. He established the methodology for counting the vehicle-resident population for All Home's annual point-in-time count, conducted on one night each January.
---
May 31, 2019
Vehicle residents are a significant proportion of Seattle's unsheltered population. The University of Washington's Graham Pruss, a doctoral candidate in anthropology, has studied vehicle residency for a decade and speaks about the challenges and solutions facing this community.
---
March 7, 2019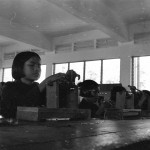 A new project by Jenna Grant, UW assistant professor of anthropology, uses an archive of photos and documents from the Khmer Rouge era — the donation of a journalist and UW alum — to help facilitate storytelling among Cambodians and Cambodian-Americans.
---
November 19, 2018
A study by an international team of researchers, including from the University of Washington, determines that carved stone tools, also known as Levallois cores, were used in Asia 80,000 to 170,000 years ago. With the find — and absent human fossils linking the tools to migrating populations — researchers believe people in Asia developed the technology independently, evidence of similar sets of skills evolving throughout different parts of the ancient world.
---
October 30, 2018
An international team of researchers, including from the University of Washington, has completed a 3D virtual reconstruction of a Neandertal thorax a model that indicates an upright individual with greater lung capacity and a straighter spine than today's modern human.
---
October 24, 2018
As the discipline of American Indian Studies approaches its 50th year at the University of Washington, a new research center is in the works: the Center for American Indian and Indigenous Studies, which is supported by multiple colleges and schools.
---
October 3, 2018
On a small island in Indonesia, University of Washington researchers found evidence of nutmeg as residue on ceramic potsherds and is estimated to be 3,500 years old — about 2,000 years older than the previously known use of the spice.
---
June 12, 2018
Radhika Govindrajan's book "Animal Intimacies" started attracting attention before it was even available to readers. A University of Washington assistant professor of anthropology since 2015, Govindrajan specializes in animal studies, and in the politics and culture of the Central Himalayas, where much of the research for this book was conducted. "Animal Intimacies," published in May…
---
May 25, 2018
On a two-year stint teaching English in Beijing, Sasha Welland got her first glimpse of contemporary Chinese art. Not the antiquities so common in Western museums of Asian art, or the scroll paintings or ceramics or Buddhist sculptures, explains Welland, an associate professor in the University of Washington departments of anthropology and gender, women and…
---
March 15, 2018
The University of Washington's new minor in Oceania and Pacific Islander Studies debuts spring quarter. The 25-credit, interdisciplinary program is the result of a longtime effort to elevate the history and culture of an underrepresented, and often misrepresented, community.
---
January 31, 2018
Archaeologists are a little like forensic investigators: They scour the remains of past societies, looking for clues in pottery, tools and bones about how people lived, and how they died. And just as detectives might re-create the scene of a crime, University of Washington archaeologists have re-created the weapons used by hunter-gatherers in…
---
July 19, 2017
When and how the first humans made their way to Australia has been an evolving story. While it is accepted that humans appeared in Africa some 200,000 years ago, scientists in recent years have placed the approximate date of human settlement in Australia further and further back in time, as part of ongoing questions…
---
July 3, 2017
Dementia affects millions of people around the world; the World Health Organization estimates 9.9 million new cases each year, and the total number of people with dementia is expected to nearly triple by 2050. And for every person with dementia, there are family members and friends who also experience their loved one's decline. University of…
---
May 25, 2017
For years, scientists have discussed whether and how to share data from painstaking research and costly experiments. Some are further along in their efforts toward "open science" than others: Fields such as astronomy and oceanography, for example, involve such expensive and large-scale equipment and logistical challenges to data collection that collaboration among institutions has become…
---
May 9, 2017
An international team of scientists, including one from the University of Washington, has announced the discovery of additional remains of a new human species, Homo naledi, in a series of caves northwest of Johannesburg, South Africa. The find includes the remains of two adults and a child in the Lesedi Chamber of the Rising…
---
April 12, 2017
As the World Health Organization steps up its efforts to eradicate a once-rampant tropical disease, a University of Washington study suggests that monitoring, and potentially treating, the monkeys that co-exist with humans in affected parts of the world may be part of the global strategy. Yaws, an infectious disease that causes disfiguring skin lesions…
---
February 15, 2017
Maritime communities take various forms around the planet and through the centuries. Margaret Willson, affiliate associate professor of anthropology and Canadian Studies Arctic Program at the University of Washington, is the author of "Seawomen of Iceland: Survival on the Edge," published in 2016 by University of Washington Press. UW Today asked Willson a few questions…
---
January 25, 2017
New research indicates that people who had more infections as babies harbor a key marker of cellular aging as young adults: the protective stretches of DNA which "cap" the ends of their chromosomes are shorter than in adults who were healthier as infants.
---
September 26, 2016
Finding a long-buried outhouse might not sound exciting to most people, but to Sara Gonzalez and her crew, it was a holy grail of sorts. An assistant professor of anthropology at the University of Washington, Gonzalez led an archaeological field school this summer on a tribal reservation in northwestern Oregon. Gonzalez and a team of…
---
November 23, 2015
Four University of Washington researchers are among 347 new fellows of the American Association for the Advancement of Science for 2015.
---
May 30, 2013
In most cultures, a woman's small feet are seen as a sign of youth and fertility, but that's not true of all cultures, including the Karo Batak on the island of Sumatra.
---
March 19, 2013
A UW anthropology student investigated how remembrance photography helps grieving parents, and how the practice's resurgence could signal a change in the way death and dying are dealt with in our society.
---