UW News
Technology
---
August 20, 2019
UW security researchers have created ShareAR, a toolkit that lets developers build collaborative and interactive features into AR apps without sacrificing their users' privacy and security.
---
August 19, 2019
The U.S. Geological Survey announced $10.4 million in funding to the Pacific Northwest Seismic Network, based at University of Washington, to support the ShakeAlert earthquake early warning system. Some $7.3 million of the two-year funding total will go to the UW.
---
Researchers at the UW have used machine learning to develop a new system that can monitor factory and warehouse workers and tell them how ergonomic their jobs are in real time.
---
August 13, 2019
New research from astronomers at the UW uses the intriguing TRAPPIST-1 planetary system as a kind of laboratory to model not the planets themselves, but how the coming James Webb Space Telescope might detect and study their atmospheres, on the path toward looking for life beyond Earth.
---
August 9, 2019
Researchers at UW and UCLA have developed an artificial intelligence system that could help pathologists read biopsies more accurately, and lead to better detection and diagnosis of breast cancer.
---
August 1, 2019
In recent years, physicians at Seattle Children's Hospital have worked with UW faculty members in design to come up with a better, safer, more reliable way to order and use drugs on an operating room's anesthesia cart.
---
July 17, 2019
This Friday, teams of 5th- through 12th-grade students from across Washington state will complete a challenge in Kane Hall to mimic the 1969 Apollo moon landing, using drones and Lego robots.
---
July 5, 2019
Recent notable books by UW faculty members explore how the U.S. government has historically used credit to create opportunity, how "reproductive slavery" has left lasting ramifications and how technology design benefits from human values.
---
July 1, 2019
UW researchers created a method for two people help a third person solve a task using only their minds.
---
June 21, 2019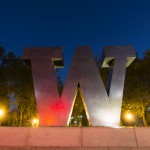 The U.S. Department of Energy Solar Energy Technologies Office selected two University of Washington professors in the Department of Chemistry and the Clean Energy Institute to receive nearly $1.5 million in funding for two separate endeavors in solar photovoltaic research. The projects are led by Daniel Gamelin, director of the UW-based Molecular Engineering Materials Center, and David Ginger, chief scientist at the CEI and co-director of the Northwest Institute for Materials Physics, Chemistry and Technology, a partnership between the UW and the Pacific Northwest National Laboratory.
---
June 20, 2019
A roundup of UW talents and presentations in AbSciCon2019, the national conference on astrobiology — the search for life in the universe — to be held in Bellevue, June 24-28.
---
June 19, 2019
The subsurface ocean of Saturn's moon Enceladus probably has higher than previously known concentrations of carbon dioxide and hydrogen and a more Earthlike pH level, possibly providing conditions favorable to life, according to new research from planetary scientists at the UW.
---
UW researchers have developed a new tool to monitor people for cardiac arrest while they're asleep — all without touching them. The tool is essentially an app for a smart speaker or a smartphone that allows it to detect the signature sounds of cardiac arrest and call for help.
---
June 18, 2019
Of the many papers and presentations scheduled for AbSciCon2019, the conference on astrobiology and the search for life in space happening in Bellevue the week of June 24, the UW's Dominic Sivitilli's is perhaps unique — he'll discuss his research into how octopuses "think."
---
June 11, 2019
UW researchers have figured out how to take a person from a 2D photo or a work of art and make them run, walk or jump out of the frame. The system also allows users to view the animation in three dimensions using augmented reality tools.
---
May 30, 2019
Academics will gather May 31 at the UW with policymakers, entrepreneurs, and representatives of corporations, foundations and nonprofits for The xTech + Impact 2019 Summit, a daylong seminar exploring the role of exponential technology and its impact on society.
---
May 16, 2019
University of Washington researchers have defined for the first time what children mean when they say technology is "creepy."
---
May 15, 2019
Researchers at the UW have created a new smartphone app that can detect fluid behind the eardrum by simply using a piece of paper and the phone's microphone and speaker.
---
May 9, 2019
The University of Washington and its Clean Energy Institute named Kevin Klustner executive director of the Center for Advanced Materials and Clean Energy Technologies, or CAMCET. When complete, CAMCET will be a 340,000-square-foot building that will bring together UW scientists and engineers with industry, civic and nonprofit partners to accelerate clean energy solutions for a healthy planet.
---
April 29, 2019
UW researchers conducted in-depth interviews to learn why we compulsively check our phones.
---
April 26, 2019
Engineering Discovery Days is a yearly event that invites Washington state fourth- through eighth-graders to have fun leaning about STEM with the College of Engineering.
---
April 19, 2019
A new space race is underway, characterized by the intersecting trends of democratization, commercialization and militarization. Saadia Pekkanen, UW professor of international relations, is lead guest editor for a group of essays addressing such issues and more published online this month in the American Journal of International Law.
---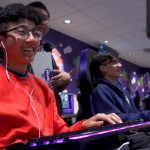 The UW celebrated the opening of an esports center with a ribbon cutting ceremony April 18.
---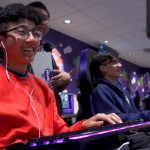 The UW celebrated the opening of an esports center with a ribbon cutting ceremony April 18.
---
March 11, 2019
Researchers at the University of Washington have developed a robotic system that can feed people who need someone to help them eat.
---
March 4, 2019
A new website from the UW's Jevin West and Carl Bergstrom, the duo behind the popular "Calling BS" class, asks viewers to choose which of two realistic face photos is real and which is a complete fake.
---
February 28, 2019
The University of Washington today marked the official opening of the new Bill & Melinda Gates Center for Computer Science & Engineering on its Seattle campus. The building doubles the space available to UW's Paul G. Allen School of Computer Science & Engineering to enable a new wave of computing innovation and to educate more of Washington's students for 21st century careers that will help shape the future of technology.
---
January 30, 2019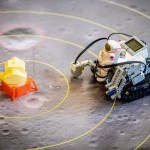 A UW-based group is launching a national student challenge to mark the 50th anniversary of the historic Apollo moon landing.
---
January 23, 2019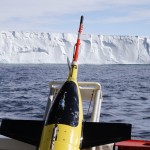 A team of ocean robots developed at the UW is the first group of self-guided ocean instruments to travel under an ice sheet and come back to report long-term observations.
---
A center housed at the University of Washington offers a new way for scientists to get their hands on state-of-the-art equipment to study the effects of natural disasters. The RAPID Facility, which is the first of its kind in the world, contains over 300 instruments that are available for researchers around the world to use.
---
January 22, 2019
Recent notable books by University of Washington faculty members explore the importance of Hebrew to modern America, remember the 1919 Seattle General Strike and look at issues in education, among other topics. Practical advice for healthy travel, near or far A new book by Dr. Christopher Sanford offers simple, practical recommendations for those traveling…
---
January 14, 2019
The UW is part of an international program that has revolutionized ocean measurements. This fall, the program made its 2 millionth measurement, reporting temperature and salinity in the top mile of the world's oceans.
---
January 9, 2019
UW researchers have developed a smartphone app that uses sonar to monitor someone's breathing rate and sense when an opioid overdose has occurred.
---
December 13, 2018
A UW team created a mechanical eye under the ocean's surface that could live near renewable-energy sites and use a series of sensors to watch nearby animals. On Dec. 13, the researchers put the newest version of the AMP into the waters of Seattle's Portage Bay for two weeks of preliminary testing before a more thorough analysis is conducted in Sequim, Washington.
---
December 11, 2018
Farmers can already use drones to soar over huge fields and monitor temperature, humidity or crop health. But these machines need so much power to fly that they can't get very far without needing a charge. Now, engineers at the University of Washington have created a sensing system that is small enough to ride aboard a bumblebee.
---
December 3, 2018
Kate Simonen, architect, engineer and UW associate professor of architecture, discusses recent work by her and the Carbon Leadership Forum toward reducing embodied carbon in construction materials.
---
November 28, 2018
University of Washington researchers in the Center for Neurotechnology are studying how brain-computer interfaces affect whether patients feel they are in charge of their own actions.
---
November 26, 2018
What is a "book" in the digital age — and what will it become? Amaranth Borsuk, assistant professor in the UW Bothell School of Interdisciplinary Studies, discusses the idea of "the book," from clay tablets and papyrus scrolls to the hyperlinked, multimedia format of the digital age. She has her own new book out on the topic, titled "The Book."
---
A new, free tool with temperature and precipitation records across Washington, Oregon, Idaho and western Montana as far back as 1881 lets users play around to discover significant trends. It also includes historical snow records for Washington state.
---
November 7, 2018
To better understand how state governments across the United States execute their diverse responsibilities, look at their internet footprint, says a new study by researchers at the University of Washington, Harvard University, and Northeastern University.
---
Next page