UW News
Technology
---
March 4, 2019
A new website from the UW's Jevin West and Carl Bergstrom, the duo behind the popular "Calling BS" class, asks viewers to choose which of two realistic face photos is real and which is a complete fake.
---
February 28, 2019
The University of Washington today marked the official opening of the new Bill & Melinda Gates Center for Computer Science & Engineering on its Seattle campus. The building doubles the space available to UW's Paul G. Allen School of Computer Science & Engineering to enable a new wave of computing innovation and to educate more of Washington's students for 21st century careers that will help shape the future of technology.
---
January 30, 2019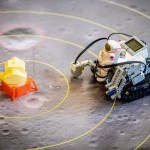 A UW-based group is launching a national student challenge to mark the 50th anniversary of the historic Apollo moon landing.
---
January 23, 2019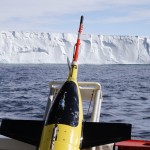 A team of ocean robots developed at the UW is the first group of self-guided ocean instruments to travel under an ice sheet and come back to report long-term observations.
---
A center housed at the University of Washington offers a new way for scientists to get their hands on state-of-the-art equipment to study the effects of natural disasters. The RAPID Facility, which is the first of its kind in the world, contains over 300 instruments that are available for researchers around the world to use.
---
January 22, 2019
Recent notable books by University of Washington faculty members explore the importance of Hebrew to modern America, remember the 1919 Seattle General Strike and look at issues in education, among other topics. Practical advice for healthy travel, near or far A new book by Dr. Christopher Sanford offers simple, practical recommendations for those traveling…
---
January 14, 2019
The UW is part of an international program that has revolutionized ocean measurements. This fall, the program made its 2 millionth measurement, reporting temperature and salinity in the top mile of the world's oceans.
---
January 9, 2019
UW researchers have developed a smartphone app that uses sonar to monitor someone's breathing rate and sense when an opioid overdose has occurred.
---
December 13, 2018
A UW team created a mechanical eye under the ocean's surface that could live near renewable-energy sites and use a series of sensors to watch nearby animals. On Dec. 13, the researchers put the newest version of the AMP into the waters of Seattle's Portage Bay for two weeks of preliminary testing before a more thorough analysis is conducted in Sequim, Washington.
---
December 11, 2018
Farmers can already use drones to soar over huge fields and monitor temperature, humidity or crop health. But these machines need so much power to fly that they can't get very far without needing a charge. Now, engineers at the University of Washington have created a sensing system that is small enough to ride aboard a bumblebee.
---
December 3, 2018
Kate Simonen, architect, engineer and UW associate professor of architecture, discusses recent work by her and the Carbon Leadership Forum toward reducing embodied carbon in construction materials.
---
November 28, 2018
University of Washington researchers in the Center for Neurotechnology are studying how brain-computer interfaces affect whether patients feel they are in charge of their own actions.
---
November 26, 2018
What is a "book" in the digital age — and what will it become? Amaranth Borsuk, assistant professor in the UW Bothell School of Interdisciplinary Studies, discusses the idea of "the book," from clay tablets and papyrus scrolls to the hyperlinked, multimedia format of the digital age. She has her own new book out on the topic, titled "The Book."
---
A new, free tool with temperature and precipitation records across Washington, Oregon, Idaho and western Montana as far back as 1881 lets users play around to discover significant trends. It also includes historical snow records for Washington state.
---
November 7, 2018
To better understand how state governments across the United States execute their diverse responsibilities, look at their internet footprint, says a new study by researchers at the University of Washington, Harvard University, and Northeastern University.
---
October 25, 2018
In her new book, Kathryn Rogers Merlino, UW associate professor of architecture, argues for the environmental benefit of reusing buildings rather than tearing them down and building anew.
---
The University of Washington will lead one of three teams that will partner with the Honda Research Institute to explore the mechanisms behind curiosity and seek advances in artificial cognition. The UW-led team will receive $2.7 million over the next three years to generate a mathematical model of curiosity.
---
October 10, 2018
Researchers at the University of Washington have developed a new machine-learning system, called Prescience, which uses input from patient charts and standard operating room sensors to predict the likelihood that a patient will develop hypoxemia — a condition when blood oxygen levels dip slightly below normal. Prescience also provides real-world explanations behind its predictions.
---
September 19, 2018
The National Science Foundation will support a state-of-the-art marine facility that continues delivering data and new insight to the ocean science community, policymakers and the public worldwide.
---
September 18, 2018
Margaret O'Mara, UW professor of history, explores the impact of a December 1968 computer presentation that came to be called "the mother of all demos" in an essay and podcast from the news website The Conversation.
---
September 10, 2018
Two UW polar scientists were among a dozen experts who advised NASA on its upcoming ICESat-2 mission to monitor the 3D surface of the Earth. The mission is scheduled to launch Sept. 15 from California.
---
September 4, 2018
The Center for Sensorimotor Neural Engineering is updating its name to the Center for Neurotechnology (CNT) to highlight the key role that neurotechnologies play in its mission.
---
August 15, 2018
Researchers at the University of Washington have developed a new method that gives aircraft a backup system in case GPS fails: An antenna on the ground that can tell a drone where it is. The team successfully tested their system in June.
---
August 13, 2018
Hans Scholl, professor in the UW Information School, discusses the challenges and opportunities of digital government. The website Apolitical has named him among the "Top 100 Most Influential People in digital government."
---
August 6, 2018
When young children talk to voice-activated technologies, the devices don't always respond in a helpful way. A new University of Washington study suggests that these interfaces could be designed to be more responsive – repeating or prompting the user, for example – and be more useful to more people.
---
August 1, 2018
A team led by the University of Washington has created an environmentally friendly way to remove color from dyes in water in a matter of seconds.
---
July 9, 2018
Earth's oxygen levels rose and fell more than once hundreds of millions of years before the planetwide success of the Great Oxidation Event about 2.4 billion years ago, new research from the University of Washington shows.
---
June 28, 2018
Daniel Schwartz, a University of Washington professor of chemical engineering and director of the Clean Energy Institute, received the Presidential Award for Excellence in Science, Mathematics and Engineering Mentoring (PAESMEM) from the White House Office of Science and Technology Policy and the National Science Foundation this week.
---
June 25, 2018
Researchers with the UW-led Virtual Planetary Laboratory are central to a group of papers published by NASA researchers today in the journal Astrobiology outlining the history — and suggesting the future — of the search for life on exoplanets, or those orbiting stars other than the sun.
---
June 21, 2018
More than 100 scientists and crew from more than 20 U.S. research institutions, including the UW, will depart in August for a month-long expedition to study how the ocean absorbs carbon from the atmosphere.
---
May 21, 2018
Through Alexis Hiniker's Designing for Evil course, which is unique to the UW, students have identified "emerging evil" technologies and redesigned them so that they are more likely to enhance — not detract from — users' lives.
---
May 15, 2018
Family-focused science lessons, robotics for young children and touch-based programming for the visually impaired are among the University of Washington research videos featured in the STEM for All Video Showcase, funded by the National Science Foundation. The weeklong online event, in its fourth year, highlights more than 200 projects from universities around the country…
---
Engineers at the University of Washington have created RoboFly, the first wireless flying robotic insect. This might be one small flap for a robot, but it's one giant leap for robot-kind.
---
May 1, 2018
Victoria Meadows, University of Washington astrobiologist, professor of astronomy and leader of NASA's UW-based Virtual Planetary Laboratory, has been named recipient of the 2018 Frank Drake Award from the SETI Institute. She is the first woman to receive the award.
---
April 19, 2018
Engineers at the University of Washington have developed a new HD video streaming method that doesn't need to be plugged in. Their prototype skips the power-hungry components and has something else, like a smartphone, process the video instead.
---
April 18, 2018
By using a keyboard to provide tactile feedback along with with a screen reader, blind and low-vision users were three times more successful at navigating complex modern webpages, similar to a typical Airbnb booking site.
---
April 12, 2018
Researchers at the University of Washington have designed a convenient and natural product that uses proteins to rebuild tooth enamel and treat dental cavities.
---
April 9, 2018
This week, the Axion Dark Matter Experiment (ADMX) announced that it has achieved the necessary sensitivity to "hear" the telltale signs of dark matter axions. This technological breakthrough is the result of more than 30 years of research and development, with the latest piece of the puzzle coming in the form of a quantum-enabled device that allows ADMX to listen for axions more closely than any experiment ever built.
---
March 22, 2018
A pair of anglerfish, a species never before seen alive by humans, was recorded recently on camera by researchers aboard the LULA1000, a submersible operated by the marine science-focused Rebikoff-Niggeler Foundation.
---
February 22, 2018
If online shopping continues to grow at its current rate, there may be twice as many trucks delivering packages in Seattle's city center within five years, a new report projects — and double the number of trucks looking for a parking space.
---
Previous page
Next page