UW News
Social science
---
March 1, 2018
In a region as expensive as the Puget Sound, making ends meet affects college students, too. Rent, utilities and food can run into the hundreds, if not thousands, of dollars a month – and for students without the means, it's a daunting and sometimes compromising challenge. Urban@UW is trying to learn more about…
---
February 27, 2018
LaShawnDa Pittman, a UW assistant professor of American Ethnic Studies, is collecting stories of African-American grandmothers, past and present, on her Real Black Grandmothers website.
---
February 22, 2018
When scientists have conducted research in Native American communities, the process and the results have sometimes been controversial. There have been a few well-known cases, such as the 1979 Barrow Alcohol Study, in which researchers examined substance use in the tiny Arctic Circle town and issued findings to the press, before briefing the…
---
February 21, 2018
Quintard Taylor, UW professor emeritus of history and recipient of a lifetime achievement honor from Washington State Historical Society, discusses his work and this unusual moment in American history.
---
January 31, 2018
Archaeologists are a little like forensic investigators: They scour the remains of past societies, looking for clues in pottery, tools and bones about how people lived, and how they died. And just as detectives might re-create the scene of a crime, University of Washington archaeologists have re-created the weapons used by hunter-gatherers in…
---
January 30, 2018
Nearly one-third of Washington college students have experienced depression in the last year, and more than 10 percent have had thoughts of suicide, according to a new survey of young adults attending schools around the state. The survey of more than 10,000 students at 13 of Washington's two- and four-year institutions shows the need…
---
January 25, 2018
Dan Berger, associate professor in the UW Bothell School of Interdisciplinary Arts and Sciences, discusses his new book, "Rethinking the American Prison Movement."
---
January 18, 2018
A new grant will let a University of Washington-based project add a new fleet to its quest to learn more about past climate from the records of long-gone mariners. The UW is among the winners of the 2017 "Digitizing Hidden Special Collections and Archives" awards, announced Jan. 4 by the Washington, D.C.-based Council on Library…
---
January 16, 2018
Get interrupted at work much? Making a quick plan for returning to and completing the task you're leaving will help you focus better on the interrupting work, according to new research from the University of Washington.
---
Touch is the first of the five senses to develop, yet scientists know far less about the baby's brain response to touch than to, say, the sight of mom's face, or the sound of her voice. Now, through the use of safe, new brain imaging techniques, University of Washington researchers provide one of the…
---
January 11, 2018
Can the president single-handedly toss out environmental rules designed to combat global warming? Force states like Washington to help enforce federal immigration laws? Fire Robert Mueller? No, no, and not directly, say Lisa Manheim and Kathryn Watts, professors of law at the University of Washington, in a new book. The answers, of course, are more complicated…
---
January 5, 2018
The University of Washington is ranked fifth among more than 400 U.S. colleges and universities for social science research funding, according to a new report. The Consortium of Social Science Association's 2018 College and University Rankings for Federal Social and Behavioral Science R&D was released this week. The UW, with $38.6 million in…
---
January 4, 2018
Jeff Hou, UW professor of landscape architecture, discusses the new book he co-edited with Sabine Knierbein, "City Unsilenced: Urban Resistance and Public Space in the Age of Shrinking Democracy."
---
December 21, 2017
For African-American students, data, alongside societal attitudes and stereotypes, often present a negative picture: a wide academic achievement gap separating them from their white peers. Higher rates of discipline and absenteeism. Discrimination by other students, teachers and the larger community. And just last summer, a study indicated that black girls, from an early…
---
December 6, 2017
Alongside the political polarization that has permeated seemingly every issue in American life, there is a similar dichotomy in religion.On one side are those who suggest religion is dying, that's it's irrelevant, a force for ill and oppression, explains University of Washington sociology professor Steve Pfaff. On the other are those who say religion is…
---
November 30, 2017
The labor of India's lower castes — in areas such as agriculture, transportation, construction and the sex trade — occupies about 90 percent of the country's workforce. Many of these urban jobs draw workers from rural villages, people who struggle to make a living not only for themselves, but also for the relatives they've left…
---
November 28, 2017
A team of University of Washington students and faculty has won Amazon's inaugural Alexa Prize, a university competition designed to produce an artificial intelligence agent capable of coherent and sustained conversation with humans.
---
November 27, 2017
Seattle's homeless crisis isn't confined to one part of town – nor does it hinge on one solution. The University District community includes as much as one-third of King County's homeless youth over any given year. It's a neighborhood where a food bank and youth shelter are available, and where young people on the…
---
November 22, 2017
Edwina Uehara, dean of the University of Washington School of Social Work, and social work professor Karen Fredriksen Goldsen have been named fellows of the American Academy of Social Work and Social Welfare. The two are among 14 new fellows to be inducted by the organization, which honors scholarship, leadership and high-impact work in the…
---
November 21, 2017
Picture yourself with a friend in a crowded restaurant. The din of other diners, the clattering of dishes, the muffled notes of background music, the voice of your friend, not to mention your own – all compete for your brain's attention. For many people, the brain can automatically distinguish the noises, identifying the…
---
November 15, 2017
Think, for a moment, about the last time you were out in nature. Were you in a city park? At a campground? On the beach? In the mountains? Now consider: What was this place like in your parents' time? Your grandparents'? In many cases, the parks, beaches and campgrounds of today are surrounded…
---
November 13, 2017
UW researchers who used machine learning tools to analyze language in 800 Hollywood movie scripts found subtle but widespread gender bias in the way male and female characters are portrayed.
---
November 2, 2017
There is little debate over the link between air pollution and the human respiratory system: Research shows that dirty air can impair breathing and aggravate various lung diseases. Other potential effects are being investigated, too, as scientists examine connections between toxic air and obesity, diabetes and dementia. Now add to that list psychological distress,…
---
October 26, 2017
Comics and graphic can be serious business. Scholars, critics, historians, teachers, curators of comic art and graphic publications will gather at the UW and locations in Seattle Nov. 2-4 for the 2017 International Comic Arts Forum.
---
October 25, 2017
The University of Washington climbed to the No. 10 spot on the U.S. News & World Report's Best Global Universities rankings, tied with Johns Hopkins University and Yale University. The UW is now second among American public institutions — an improvement from last year's No. 3 slot. "I am proud to see the University of…
---
October 16, 2017
Before a border wall became a budget bargaining chip, before the presidential pardon of a controversial sheriff and before federal policies were announced on social media, there was Arizona Senate Bill 1070, the "show me your papers" law. And of course, there was Twitter. To René D. Flores, an assistant professor of sociology at…
---
October 12, 2017
Determining how many people live in Seattle, perhaps of a certain age, perhaps from a specific country, is the sort of question that finds its answer in the census, a massive data dump for places across the country. But just how fresh is that data? After all, the census is updated once a…
---
October 11, 2017
A Seattle family of four must bring in $75,000 annually to pay for basic housing, food, transportation and health and child care – an increase of 62 percent since 2006, based on a new report from the University of Washington. The city's escalating cost of living may not be a surprise. But across the state,…
---
October 4, 2017
It is an oft-repeated fear, particularly among parents: that discussing an undesirable behavior, or even an illegal or dangerous one, may encourage kids to try it. But when it comes to asking pre-teens about alcohol, drug and tobacco use, a University of Washington-led study finds no evidence that children will, as a consequence…
---
September 26, 2017
Researchers from the University of Washington and seven other institutions are working together to restore a Puerto Rican research station and its nearby community following the damage wrought last week by Hurricane Maria. The research station known as Monkey Island is located on Cayo Santiago, off the southeast coast of mainland Puerto Rico,…
---
September 14, 2017
The share of Washingtonians living in poverty dropped from 12.2 percent to 11.3 percent between 2015 and 2016, according to new Census data released Thursday. This is the third straight year that poverty has decreased since the post-recession high of 14.1 percent in 2013.
---
September 13, 2017
Blatant racism is easy to identify — a shouted racial slur, a white supremacist rally, or the open discrimination, segregation and violence of the pre-civil rights era. But more subtle forms of bias, called microaggressions, emerge in the everyday exchanges among friends and strangers alike and can offend racial and ethnic…
---
September 7, 2017
Sanne Knudsen was an undergraduate in Chicago when she got her first close-up look at environmental justice. As an environmental engineering student at Northwestern University, Knudsen answered an attorney's call for volunteers to study several neighborhoods on Chicago's South Side, communities that had endured more than their share of pollution and exposure to chemicals….
---
September 5, 2017
With 80 percent of firearms deaths in Washington related to suicide, the scenario isn't hard to imagine: A person thinking of ending their life enters a gun store to buy the means to do it. Unfortunately, other scenarios play out, as well: A person filling a lethal dose of a prescription medication at a…
---
The biggest risk to public-private partnerships in governing is not financial or technical, but political, says UW Evans School professor Justin Marlowe in his fourth guide to financial literacy, published by Governing magazine.
---
August 28, 2017
Washington state's housing market showed the continuing effects of high demand in the second quarter of 2017, according to the Washington Center for Real Estate Research at the University of Washington The statewide median sales price rose to $337,700 in the second quarter, 6.6 percent higher than the same time period last year. This represents…
---
August 24, 2017
Lesbian and bisexual older women are more likely than heterosexual older women to suffer chronic health conditions, experience sleep problems and drink excessively, a new University of Washington study finds. In general, lesbian, gay and bisexual (LGB) older adults were found to be in poorer health than heterosexuals, specifically in terms of higher rates…
---
August 17, 2017
Given today's political climate, one might assume that terms like "administrative state" and "deep state" are merely examples of polarized rhetoric. But the wariness underlying those terms goes back much further, said Sarah Quinn, an assistant professor of sociology at the University of Washington. Try colonial America. "Some historians will say this is something…
---
August 15, 2017
The number of poor people living in America's suburbs has more than doubled over the last 25 years, with little attention from academics or policymakers, says Scott W. Allard, a professor in the Evans School of Public Policy & Governance, in his new 2017 book "Places in Need: The Changing Geography of Poverty,"
---
August 3, 2017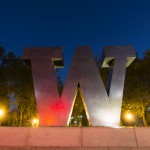 Researchers at the UW's Evans School of Public Policy & Governance have released a public finance analysis of two competing proposals to develop an NBA/NHL arena in Seattle.
---
Previous page
Next page