UW News
Science
---
May 3, 2019
Researchers at the University of Washington, the U.S. Naval Research Laboratory and the Pacific Northwest National Laboratory discovered that they can use extremely high pressure and temperature to introduce other elements into nanodiamonds, making them potentially useful in cell and tissue imaging, as well as quantum computing.
---
May 2, 2019
In a paper published May 2 in Nature Communications, a University of Washington team reports that two major forces have shaped bat skulls over their evolutionary history — echolocation and diet — generating a huge diversity of skull shapes across 1,300 bat species today.
---
May 1, 2019
In oxygen-poor parts of the ocean, some microorganisms survive by breathing arsenic. This holdover from the ancient Earth was not thought to still exist in the open ocean.
---
Chris Bretherton, a professor of atmospheric sciences and of applied mathematics, has been elected to the National Academy of Sciences.
---
April 30, 2019
A new study published April 30 in the Proceedings of the National Academy of Sciences identified three factors critical in the rise of mammal communities since they first emerged during the Age of Dinosaurs: the rise of flowering plants; the evolution of tribosphenic molars in mammals; and the extinction of non-avian dinosaurs, which reduced competition between mammals and other vertebrates in terrestrial ecosystems.
---
Families, students and children are invited to get their hands wet on Saturday with "Our Watery World," the University of Washington's second annual aquatic science open house.
---
April 26, 2019
Engineering Discovery Days is a yearly event that invites Washington state fourth- through eighth-graders to have fun leaning about STEM with the College of Engineering.
---
April 25, 2019
A UW team will visit Alaska's North Slope Borough the week of April 28 in preparation for a two-year study of how waves, ice loss and warming are affecting the low-lying region.
---
April 19, 2019
A new space race is underway, characterized by the intersecting trends of democratization, commercialization and militarization. Saadia Pekkanen, UW professor of international relations, is lead guest editor for a group of essays addressing such issues and more published online this month in the American Journal of International Law.
---
April 18, 2019
UW scientists are sending a kidney-on-a-chip experiment into space. At an altitude of 250 miles, astronauts will help study how reduced gravity in space affects kidney physiology.
---
April 15, 2019
Over many years, a University of Washington team has shown how logging on the Teanaway River in central Washington caused dramatic changes to the river channel.
---
A team led by researchers at the University of Washington has developed synthetic peptides that target and inhibit the small, toxic protein aggregates that are thought to trigger Alzheimer's disease.
---
April 12, 2019
Over 17 years, the program has evolved into a campuswide, interdisciplinary, student-driven program on climate change research, communication and action. A recent publication looks at the program history and current mission.
---
April 11, 2019
Emily Levesque, UW assistant professor of astronomy, is gathering material for a new book to be called "The Last Stargazers: True Tales of the Colorful and Vanishing World of Observational Astronomy."
---
April 10, 2019
David James Thouless, Nobel laureate and a professor emeritus at the University of Washington, died in Cambridge in the U.K. on April 6, 2019. He was 84 years old.
---
April 8, 2019
A UW team tested how well current water and wastewater disinfecting methods affect antibiotic resistance genes in bacterial DNA. While these methods work well to deter bacterial growth, they had varied success in either degrading or deactivating a representative antibiotic resistance gene.
---
April 4, 2019
A University of Washington team placed first in a national weather forecasting contest that began in September. A UW graduate student also developed a model that for the first time beat out all human competitors.
---
March 29, 2019
A new excavation site in North Dakota shows evidence from the day a giant meteor struck Earth, marking the beginning of the end for the dinosaurs and 75 percent of animal life.
---
March 26, 2019
A University of Washington-led study provides a fuller picture of the relationship between nitrogen oxides — the tailpipe-generated particles at the center of the Volkswagen scandal, also known as NOx, — and PM2.5, the microscopic particles that can lodge in lungs.
---
Researchers have developed a new approach to map huckleberry distribution across Glacier National Park that uses publicly available satellite imagery. Tracking where huckleberry plants live now — and where they may move under climate change — can help biologists predict where grizzly bears will also be found.
---
March 21, 2019
The University of Washington, the Pacific Northwest National Laboratory and Microsoft Quantum announced this week that they have joined forces in a new coalition, the Northwest Quantum Nexus, to bring about a revolution in quantum research and technology.
---
The first survey of methane vent sites off Washington's coast finds 1,778 bubble columns, with most located along a north-south band that is in line with a geologic fault.
---
UW and Microsoft researchers have demonstrated the first fully automated system to store and retrieve data in manufactured DNA — a key step in moving the technology out of the research lab and into commercial data centers.
---
March 13, 2019
UW researchers have created a novel system that can measure platelet function within two minutes and can help doctors determine which trauma patients might need a blood transfusion upon being admitted to a hospital.
---
March 12, 2019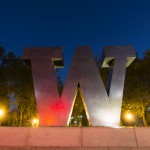 Eight researchers at the University of Washington have been named 2019 Washington Research Foundation Postdoctoral Fellows.
---
March 11, 2019
When coyote parents are habituated to humans, their offspring are more habituated, too — potentially leading to negative interactions between coyotes and humans.
---
Black and Hispanic Americans bear a disproportionate burden from air pollution generated mainly by non-Hispanic white Americans, according to new research from a team led by the University of Washington and the University of Minnesota.
---
March 5, 2019
On March 5, the CERN research board approved a new experiment at the Large Hadron Collider in Geneva to search for evidence of fundamental dark matter particles. UW scientists are part of this endeavor, the Forward Search Experiment — or FASER — which seeks to answer one of the outstanding questions in particle physics: What is dark matter made of?
---
March 4, 2019
Research by UW's Stephen Warren suggests that some icebergs are green because they contain frozen, iron-rich seawater from certain regions of East Antarctica.
---
February 28, 2019
Exhibits and events happening Friday through Sunday showcase the latest in polar science, much of it from the University of Washington.
---
February 27, 2019
As gray wolves return to eastern Washington, a new study finds that one species of deer is changing its behavior to spend more time away from roads, at higher elevations and in rockier landscapes.
---
February 25, 2019
In a paper published Feb. 25 in the journal Nature, a University of Washington-led team of physicists report that it has developed a new system to trap individual excitons — bound pairs of electrons and their associated positive charges. Their system could form the basis of a novel experimental platform for monitoring excitons with precision and potentially developing new quantum technologies.
---
February 20, 2019
A new study outlines more than a decade of success in reducing seabird bycatch in Alaska's longline fisheries, and where there's still room for improvement
---
February 13, 2019
Researchers at the University of Washington wanted to know how Magellanic penguin parents in South America balance the dietary demands of multiple chicks. As they report in a paper published Jan. 23 in the journal Animal Behaviour, when a Magellanic penguin parent returns to its nest with fish, the parent tries to feed each of its two chicks equal portions of food, regardless of the youngsters' differences in age or size.
---
February 12, 2019
A study led by the University of Washington pinpoints which riverside routes in Washington, Oregon, Idaho and western Montana will be the most important for animals trying to navigate a changing climate.
---
February 11, 2019
New research by the University of Washington and U.S. Geological Survey suggests many lakes pose little threat to global carbon levels, at least for now.
---
February 8, 2019
A new University of Washington computer model can predict underwater conditions in Puget Sound and off the coast of Washington three days into the future.
---
February 7, 2019
The Zwicky Transient Facility, based at the Palomar Observatory, has identified over a thousand new objects and phenomena in the night sky, including more than 1,100 new supernovae and 50 near-Earth asteroids. University of Washington scientists are part of the ZTF team and led the development of the collaboration's alert system, which informs science teams of possible new objects or changes to known objects in the sky.
---
February 4, 2019
A UW-led team has found that early spring rainfall warms up a thawing permafrost bog in Alaska and promotes the growth of plants and methane-producing microbes.
---
January 31, 2019
Scientists have just discovered a dinosaur relative that lived in Antarctica 250 million years ago. The iguana-sized reptile's genus name, Antarctanax, means "Antarctic king."
---
Previous page
Next page